Trump's transgender ban and the Pentagon's politically correct absurdity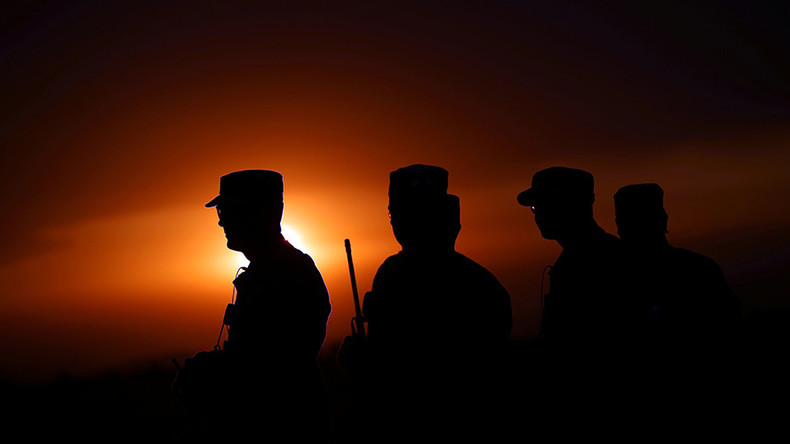 US President Donald Trump seems to be heading for another clash with the Pentagon over his renewed order banning transgender individuals from serving in the military.
When Trump first announced the ban last month, the reversal of policy initiated under President Obama in 2016 caught military chiefs by surprise. Chairman of the Joint Chiefs of Staff General Joseph Dunford led the pushback. He appeared to rebuke the president for making decrees by Twitter, and said there would be no change on Pentagon policy admitting transgenders into the armed forces until a formal order was received.
This week, the White House doubled down by issuing a memo to the Pentagon reiterating Trump's ruling that no transgender individuals are to be allowed to serve in the military. He appeared to soften his order somewhat by giving the Defense Secretary, James Mattis, the discretion on what to do about transgenders who are already in the forces.
It is not clear at this stage if the Pentagon will seek to overturn Trump's order. The ban has sparked protests from LGBT groups, which has resonated with others who have denounced President Trump for appearing to incite racial tensions over his ambiguous response to white supremacist violence. This has been spurred most recently by Trump's pardoning of Arizona sheriff Joe Arpaio, who had been convicted of racial profiling.
Trump's position on the transgender issue cites two reasons for the ban. To reduce the cost to federal government of individual service members who opt for sexual reassignment surgery. The president also claims that transgenders in the military are disruptive of unit cohesion and the overall fighting ability of forces.
Why Trump should choose to pick up this issue is not clear. The numbers do not seem to make sense: the Pentagon does not give out figures, but according to a Rand Corp study the number of transgender people in the US military is around 1,300. Out of a total of 1.3 million US forces that amounts to a tiny minority of 0.1 per cent. Also according to Rand, the estimated cost to federal government for transgender surgery is minuscule compared with the total Pentagon health care budget, some $8 million out of a total $49 billion, or about 0.01 per cent. All this could be a sop to Trump's voter base, who tend to be socially conservative.
At a time when Trump is under fire for sympathies allegedly lying with the racist and bigoted, it seems rather strange that he should give opponents another cause for condemnation, namely banning transgenders in the military, especially since the numbers show the matter to be a very marginal one.
It may be the political symbolism motivating Trump and his base. Trump and his supporters have made a cause of waging war on "liberal politics" and its emphasis on being "politically correct" over "identity issues" of race and gender. The banning of transgenders from the military is another declaration of war against the "liberals" in the Democratic party and much of the media establishment.
But what's interesting is how the Pentagon top brass have reacted. Dunford, Mattis and the other chiefs have let it be known that they are not pleased with Trump's reversal of the 2016 decision by President Obama to lift the ban on transgenders.
Other, perhaps surprising, critical voices include the hawkish Republican Senator John McCain. He said in response to Trump's announcement of the ban last month. "Any American who meets current medical and readiness standards should be allowed to continue serving. There is no reason to force service members who are able to fight, train and deploy to leave the military – regardless of their gender identity."
The Pentagon's resistance to Trump on the transgender issue follows the highly unusual public dissent expressed by military chiefs after the violent racial protests in Charlottesville, Virginia, earlier this month.
While Trump stood accused of making ambiguous statements blaming both sides for violence between white supremacists and anti-racist protesters, the Pentagon chiefs came forth and issued unequivocal public condemnations of Neo-Nazis and the white supremacist groups.
Unlike the president, the military generals said there was "no two sides" to the violence, and that racist groups must be denounced without hesitation.
For all five Joint Chiefs of Staff – representing the Army, Air Force, Navy, Marines and National Guard – to issue a public rebuke of the president was an extraordinary intervention.
But behind the vehement condemnations of racism by the military chiefs, a New York Times report hints that their real concern is to maintain cohesiveness within the ranks and to prevent racial tensions undermining unity.
Since the 1990s, some 40 per cent of new recruits to the US military have come from ethnic minorities, according to the NY Times.
"Maintaining an atmosphere of inclusiveness is vital to recruiting," one veterans' affairs spokesman is quoted as saying.
For US forces already stretched with overseas operations, the last thing that commanders want to see is a problem of racial tensions within the ranks. Added to that are increasing problems of low morale among all branches of the military, which some commentators have linked to the recent frequency of deadly collisions involving US Navy warships.
This would explain why President Trump's handling of racial protests and now the transgender issue have rankled the Pentagon chiefs. It otherwise seems incongruous that military commanders who have no compunction about launching wars on foreign countries and killing civilians en masse should appear to be tenderly concerned about equal rights for ethnic minorities and LGBTs.
Last week, Pentagon chief General James Mattis was visiting Kiev during which he said the US was considering sending lethal weapons to Ukrainian armed forces. Many of the battalions within those forces are openly Neo-Nazi and dedicated to the memory of Ukrainian fascists who collaborated with the Nazi SS during the Second World War. That alone suggests that the Pentagon's concern about "American Neo-Nazis" is a cynical public relations stance.
Similarly, with the Pentagon's apparently "liberal" views of opposing Trump's ban on transgenders, it undoubtedly is less about concern for equal rights and more to do with shoring up image, unity and morale within the US military.
The bloody business of US imperialism is thus strangely coupled with politically correct concern for rights within its ranks. While dropping bombs on civilians, the Pentagon chiefs endeavor to give the impression that they are concerned about the rights of non-white people and whether service members have a bathroom facility for their gender persuasion. Of course, the hyper-politically-correct stance is absurd.
The statements, views and opinions expressed in this column are solely those of the author and do not necessarily represent those of RT.
You can share this story on social media: