Trump's transgender ban will 'degrade military readiness,' should be stopped – retired officials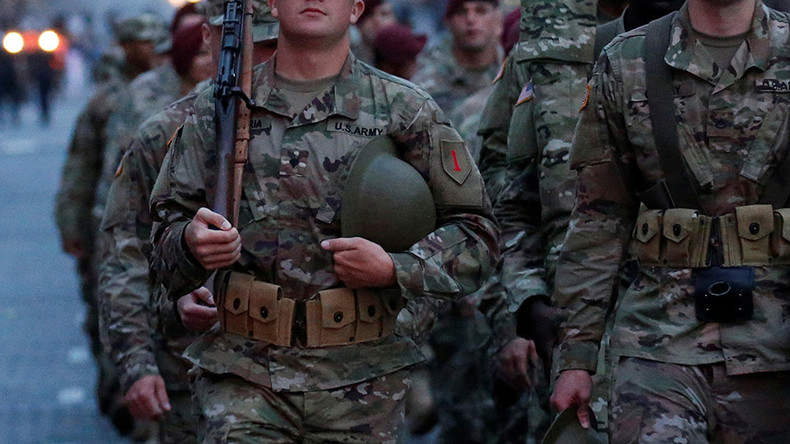 Dozens of retired US military officials have urged President Donald Trump to reverse a proposed ban on transgender service members, claiming the move would "degrade military readiness" and deprive the armed forces of "critical talent."
Fifty-six retired generals and admirals expressed their thoughts in an open letter on Tuesday.
"This proposed ban, if implemented, would cause significant disruptions, deprive the military of mission-critical talent, and compromise the integrity of transgender troops who would be forced to live a lie, as well as non-transgender peers who would be forced to choose between reporting their comrades or disobeying policy," they wrote in the letter.
They went on to state that the ban would "degrade readiness even more than the failed 'don't ask, don't tell' policy."
READ MORE: 'What happened to your promise?': Trump slammed over military transgender ban tweet
"Patriotic transgender Americans who are serving— and who want to serve — must not be dismissed, deprived of medically necessary health care, or forced to compromise their integrity or hide their identity."
President Trump announced last week that the US government would not accept transgender individuals to serve in any capacity in the military, citing "tremendous medical costs and disruption" associated with the service members.
However, the group of retired generals and admirals wrote in their letter that they "respectfully disagree" with Trump's logic.
"The RAND Corporation, as well as research in the New England Journal of Medicine, found that the financial cost of providing health care to transgender troops would be, at most, $8.4 million per year. This amounts to one one-hundredth of one percent of the military's annual health care budget," they wrote.
The so-called disruptions wouldn't be a problem, as "transgender troops have been serving honorably and openly for the past year, and have been widely praised by commanders."
READ MORE: Military transgender ban not official yet - US Joint Chiefs chairman
According to the 2016 RAND study cited in the letter, there are between 1,320 and 6,630 transgender people on active duty in the US military, out of about 1.3 million service members.
Gale Pollock, a retired major general who signed the letter, said that removing trans service members already serving would be costly for the US government.
LGBT advocates have also slammed Trump's decision, including former Army Private Chelsea Manning, previously Bradley Manning.
Meanwhile, the majority of Americans (58 percent) have no problem with transgender people serving in the military, according to a Reuters/Ipsos poll released last week. Only 27 percent of the people surveyed agreed with Trump's ban.
READ MORE: 58% of Americans support transgender serving in the military – poll

The American Civil Liberties Union (ACLU) has also spoken out against the ban, accusing Trump of "trying to score cheap political points on the backs of military personnel who have put their lives on the line for their country."
The organization has urged anyone affected by the announcement to contact it.
If it becomes law, the ban on transgender troops would reverse a June 2016 decision by the Obama administration to allow existing service members to come out as transgender, and for the military to develop policies for recruiting new transgender people.