'What happened to your promise?': Trump slammed over military transgender ban tweet
Published time: 26 Jul, 2017 22:08
Edited time: 27 Jul, 2017 09:13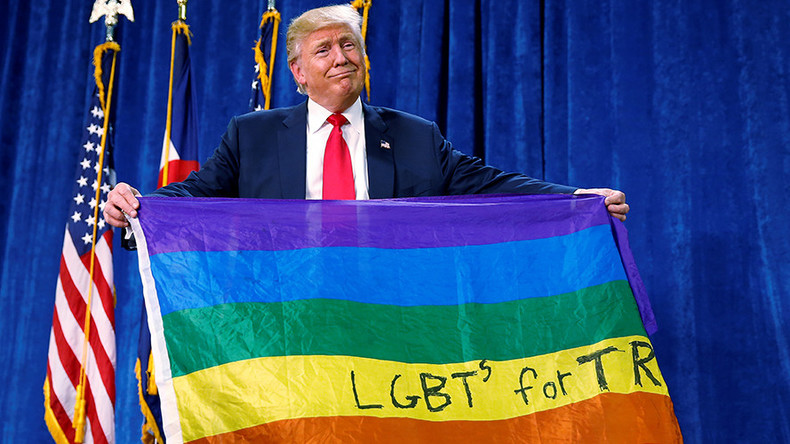 An explosion of condemnation hit not only President Donald Trump, but also left collateral damage on social media, for Trump's unexpected announcement that the US military would "not accept or allow transgender individuals to serve in any capacity."
Trump's shocking tweets Wednesday morning against a year-old policy change that allowed transgender people to serve openly in the US military lit a firestorm on Twitter. Trump claimed that the policy "burdened [the military] with the tremendous medical costs and disruption."
READ MORE: No transgender people to serve in US military 'in any capacity' – Trump
Among those rejecting the president's premise is a 20-year veteran of the elite US Navy SEALs, Kristin Beck, who happens to be transgender.
"Let's meet face to face and you tell me I'm not worthy," Beck, formerly Christopher Beck, said in a message to Trump, Business Insider reported. "Transgender doesn't matter. Do your service."
Former Army private Chelsea Manning, previously Bradley Manning, tweeted that the "biggest baddest" and most well-funded military in the world "cries about a few trans people but funds the F-35?"
"Sounds like cowardice," she added, along with the hashtag #WeGotThis.
Manning's words weren't too far off from a position Trump himself voiced in 1999 in opposition to the Clinton-era "Don't ask, don't tell" policy, which banned gay people from being open and honest about their sexual orientation while in the military.
At the time, Trump told The Advocate that "if a gay person can be a doctor or a lawyer or a teacher or take another position of responsibility, why can't they serve this country in the military?"
"The Pentagon is wasting millions on weapons they don't need instead of focusing on the military needs in the changing world situation," Trump added.
Others were also concerned for the thousands of transgender people currently in uniform, and what ramifications they may face from their own colleagues, as a result of Trump's announcement.
Some pointed out the unintended consequence of such a policy change, that if someone wanted to avoid a potential military draft, all it would take is to claim to be transgender.
An unearthed June 2016 tweet from then-candidate Trump was also circulated. Trump had written just two days after the 2016 Orlando nightclub shooting: "Thank you to the LGBT community! I will fight for you while Hillary brings in more people that will threaten your freedoms and beliefs."
Longtime Republican voter Caitlyn Jenner, previously Bruce Jenner, supported Trump in 2016 against the advice of many LGBT persons. On Wednesday, she joined in criticism of Trump, tweeting, "What happened to your promise to fight" for transgender people, of whom Jenner estimated 15,000 are in the US military.
Jenner faced a backlash on Twitter from liberal and progressive LGBT community members and allies.
The American Medical Association, the largest professional association of physicians, said, "There is no medically valid reason to exclude transgender individuals from military service."
Opposition to Trump's announcement may soon move offline, as the American Civil Liberties Union (ACLU) is ready to challenge any such policy change in court.