No transgender people to serve in US military 'in any capacity' – Trump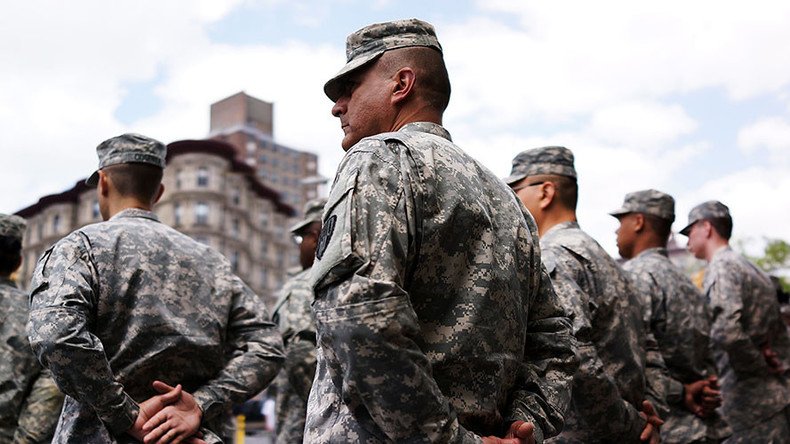 Transgender people will not be allowed to serve in the American military in any capacity, President Donald Trump said, adding that US forces shouldn't be "burdened by" medical costs and "disruption" they would bring.
"After consultation with my Generals and military experts, please be advised that the United States Government will not accept or allow ... Transgender individuals to serve in any capacity in the U.S. Military," Trump wrote on Twitter.
The Pentagon declined to comment on the transgender ban, referring all questions on the issue to the White House.
"We refer all questions about the president's statements to the White House. We will continue to work closely with the White House to address the new guidance by the commander-in-chief on transgender individuals serving the military. We will provide revised guidance to the department in the near future," the Pentagon spokesman said.
READ MORE: 'Readiness and lethality': Pentagon hits pause on plans to accept transgender & immigrant recruits
Transgender people were allowed to serve in the US military last year under former President Barack Obama's administration.
They were provided with medical care and the ability to begin formally changing their gender identity in the Pentagon's personnel system from October 1, 2017.
According to a survey by Rand Corp, there were between 1,320 and 6,630 transgender troops on active duty in the US military in 2016.
Officials told AP that there are currently around 250 troops who have received formal approval to change their gender by the Pentagon, with their fate unclear after the announcement by Trump.
Former US Defense Secretary Ash Carter, who was in charge when transgender people were allowed to openly serve in the military, has slammed Trump for the move.
"To choose service members on other grounds than military qualification is social policy and has no place in our military," he said in a statement.
Transgender troops have already been serving their country capably and honorably, Carter said.
The best-known American transgender soldier, Chelsea Manning, accused the military of "cowardice" after Trump's announcement.
Chelsea Manning, previously known as Bradley, was responsible for one of the largest leaks of classified documents in US history, supplying WikiLeaks with 700,000 files back in 2010.
The whistleblower was handed a 35-year prison sentence in 2013, but the punishment was commuted by outgoing President Barack Obama in January.
During the time behind bars, Manning took the name Chelsea and won the battle to start hormone treatment to transition to her female identity.
There's been a debate on the effect transgender troops may have on the battle readiness of the US military.
The commanders are concerned they may have medical and other issues, hampering them in executing their service duties, adding that trangenders may also become targets of discrimination.
The military was initially given until June 1 to evaluate the possible effects of transgender soldiers, with the term then prolonged for another six months.
A Rand Corp survey said there'll be "minimal impact on readiness and health care costs" due to a small number of transgender troops in the US military.
Within hours of Trump's tweets, protesters descended upon Trump Tower in Manhattan. Another emergency march was called in San Francisco as well.
Earlier this year, the Trump administration caused controversy after it reversed federal protections which had come into force under Obama, and which had called upon schools to allow students to use bathrooms in accordance with their gender identity.
You can share this story on social media: