Trump directs Mattis to implement transgender ban in military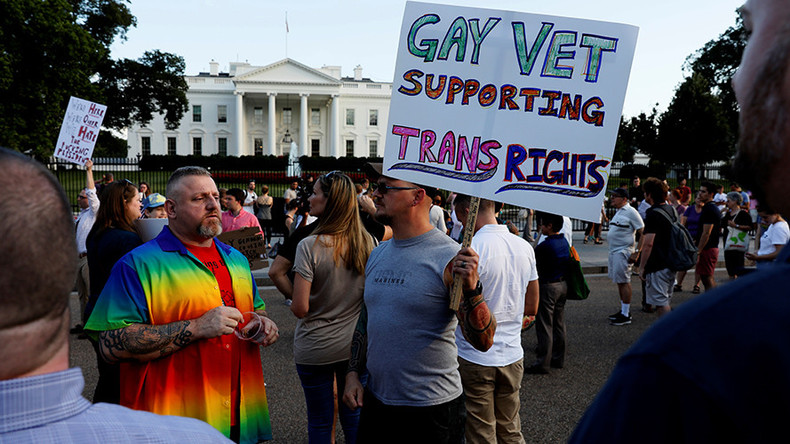 President Donald Trump officially ordered a ban on transgender troops in the US military, tasking Defense Secretary James Mattis with implementing a replacement policy. Already a legal challenge is emerging, as the ACLU vowed, "We'll see you in court."
In one of the last acts of the Obama administration, a de facto ban on transgender people openly serving in the US military was ended. The policy change would go into effect July 1, 2017, and also authorized the Department of Defense as well as the Department of Homeland Security to fund sex-reassignment surgery.
That July 1 deadline was extended to January 1, 2018 earlier this summer, but now implementation of the Obama-era policy change is being put off indefinitely, as a replacement policy is written in the meantime.
"In my judgment," Trump wrote in the Friday memo to the secretaries of the Defense and Homeland Security departments, "the previous Administration failed to identify a sufficient basis to conclude that terminating the Departments' longstanding policy and practice would not hinder military effectiveness and lethality, disrupt unit cohesion, or tax military resources, and there remain meaningful concerns that further study is needed to ensure that continued implementation of last year's policy change would not have those negative effects."
READ MORE: No transgender people to serve in US military 'in any capacity' – Trump
Until a new policy is prepared for Trump, the US military and Department of Homeland Security will operate as they did pre-June 2016. However, currently enlisted transgender troops may not be impacted, it seems.
An anonymous White House official told the Associated Press that currently serving transgender individuals would be dealt with depending on many factors, including their "military effectiveness," budgetary constraints and "unit cohesion," or any factor Mattis considers "relevant."
Trump's memo calls for a "halt" on all sex reassignment surgery funding, "except to the extent necessary to protect the health of an individual who has already begun a course of treatment to reassign his or her sex."
READ MORE: Trump pardons ex-sheriff Joe Arpaio
"We'll see you in court, @realDonaldTrump," the ACLU tweeted.
The RAND Corporation estimates that between 2,000 and 11,000 active and reserve armed service members are transgender, according to a 2016 study.
You can share this story on social media: