Tillerson backs down on ultimatum mission to Russia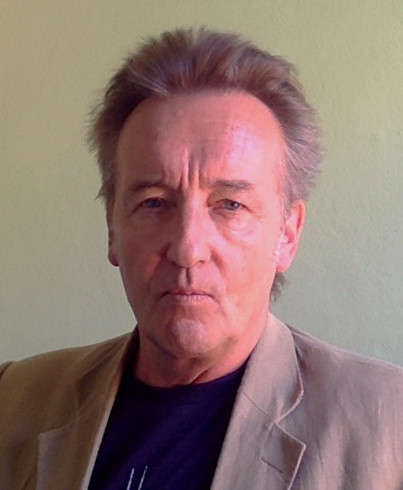 Finian Cunningham (born 1963) has written extensively on international affairs, with articles published in several languages. Originally from Belfast, Northern Ireland, he is a Master's graduate in Agricultural Chemistry and worked as a scientific editor for the Royal Society of Chemistry, Cambridge, England, before pursuing a career in newspaper journalism. For over 20 years he worked as an editor and writer in major news media organizations, including The Mirror, Irish Times and Independent. Now a freelance journalist based in East Africa, his columns appear on RT, Sputnik, Strategic Culture Foundation and Press TV.
Published time: 14 Apr, 2017 11:22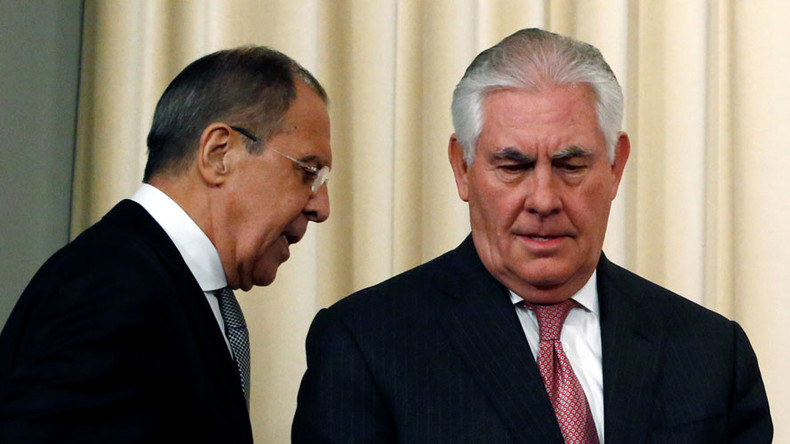 US Secretary of State Rex Tillerson, nicknamed T-Rex, was in Moscow this week roaring with an ultimatum and threats of isolating Russia. After hours of intense talks, the American meekly quit the Russian capital, more like a wounded vegetable-munching sauropod.
The former oil tycoon, famed for his no-nonsense brusque manner, was billed as heading to Moscow ready for a bruising encounter. Western media were relishing the American delivering the riot act to the Russian leadership over its alliance with Syria.
USA Today put Tillerson's mission tersely: "Russia must choose between Assad and US."
The Washington Times headlined: "Tillerson delivers ultimatum to Russia: Side with US on Syria or embrace Iran, Hezbollah."
That was while the US Secretary of State was on his way to Moscow, after departing the G7 summit in Italy.
The American diplomat laid out his agenda: "We want to relieve the suffering of the Syrian people. Russia can be a part of that future and play an important role. Or Russia can maintain its alliance with this group, which we believe is not going to serve Russia's interest's longer term."
If Russia chose the latter option, then it would face greater international isolation and opprobrium, said the US diplomat.
On arriving in Moscow, Wednesday, Tillerson was cordially greeted with a red carpet, but then it was quickly down to business. He spent five hours in closed-door talks with Russia's Foreign Minister Sergey Lavrov, followed by an unscheduled meeting with President Vladimir Putin. That meeting lasted two hours, after which Tillerson emerged for a news conference with Lavrov.
It was the first time a member of the Trump administration met the Russian president. It came after a week of soaring tension over the Syrian conflict in which President Trump accused the Syrian government of deploying chemical weapons on April 4, in Idlib province, killing over 80 civilians. That incident was followed three days later by Trump ordering a barrage of missile strikes on Syria, allegedly in retaliation.
READ MORE: 'Highly provocative': Lavrov says agreed with Tillerson no future US strikes on Syrian govt
Russia has condemned the US airstrikes as "an illegal aggression" and said that accusations against the Syrian government are unwarranted without proper investigation. Moscow has instead called for an impartial study into the chemical weapons incident. This week, Russia vetoed a US, British and French draft resolution at the UN Security Council calling for a probe, because the wording of the draft had prejudged guilt.
Significantly, Sergey Lavrov in his meeting with Tillerson warned the US against any further military strikes on Syria in a preamble to their private discussions.
Maybe the long day of negotiations in Moscow took a toll on the American diplomat's energy, but what transpired in the summary news conference was a remarkable transformation. Seated beside Lavrov, Tillerson appeared subdued and drained. He was bereft of blustering ultimatums which one was led to expect from earlier media comments about his mission to Russia.
The tone was almost conciliatory. There was no demand for Russia to choose between "Assad and the civilized world," as Western media billed beforehand. While Tillerson looked and sounded out of his depth, Lavrov presented a commanding grasp of the situation in Syria, the Middle East and beyond.
Like schooling a novice, Lavrov reminded his American counterpart of the disastrous legacy of US regime change machinations, from Yugoslavia to Afghanistan, Iraq to Libya, Sudan and now Syria. Lavrov also explicitly mentioned how US violations of international law have included colluding with terrorist proxy groups like the Al-Qaeda-linked Nusra Front in Syria and elsewhere.
It was abundantly clear that Russia was not going to comply with Washington's spurious demand to abandon anyone. Lavrov said the fate of Syria was the sovereign right of the Syrian people to choose their political future independently, and not under the dictate of external powers.
Russia, Lavrov reminded his guest, was in Syria legally "working with the legitimate government to fight terrorism" – unlike the US cobbled-together military coalition which, he suspected, is there to protect terrorist proxies like Nusra "for Plan B" to topple the Damascus authorities.
If Tillerson's vacuous performance at the news conference was anything to go by, one could easily imagine that Lavrov and Putin must have wiped the floor with him during their earlier discussions.
Gone were Tillerson's prior tough-talk of laying down an ultimatum to Russia to accept Western plans for regime change in Syria.
Over the past week, Tillerson and other Western leaders have been trying to smear Russia as being complicit in the chemical weapons incident at Khan Shaykhun last Tuesday.
Before arriving in Moscow, the US media reported that the White House had declassified intelligence that "conclusively" showed the Syrian government forces had carried out the toxic attack. US President Donald Trump, his ambassador to the UN Nikki Haley and British counterparts were also provocatively accusing Russia of criminal responsibility.
Well, none of this assuredness implicating Russia was on display from Tillerson in Moscow. Tillerson contradicted his administration by admitting in Moscow "we have no information" showing Russia knew about the alleged chemical attack.
On the contrary, the American diplomat made vague promises to work with Russia going forward to achieve a peaceful settlement in Syria. Though he voiced the opinion, somewhat passively, that he believed the "Assad reign is coming to an end."
More generally, there was apparently mutual recognition that US-Russia relations had sunk to a record low point since the Cold War's end some quarter century ago. Tillerson said the deterioration was not sustainable and the world's "two foremost nuclear powers" must work together for the sake of global security.
Tillerson's meek stance was a far cry from Trump and his various spokespeople back in Washington and New York who were meantime brashly accusing Putin of supporting an "animal" (Assad), "worse than Hitler," and of being in league with "terrorists" belonging to Iran and Hezbollah.
The New York Times declared: "US takes a sharper tone on Russia's role in Syria."
It added: "President Trump and Secretary of State Rex W Tillerson sought on Wednesday to isolate President Vladimir V Putin of Russia for backing the Syrian government in the wake of its [sic] lethal chemical weapons attack on civilians, and worked to build international pressure on Moscow to change course… In Washington, Moscow and New York, the Trump administration publicly chastised Mr. Putin."
Well, whatever happened in Washington and at the UN in New York, there was certainly no chastizement of Putin in Moscow, where Tillerson appeared docile. If anything, it was the US diplomat who was the one feeling chastened from Russian diplomacy and intellectual rigor.
What is obvious is that the Trump administration, in concert with its British and French surrogates, have attempted to use the dubious chemical weapons incident as a pretext for stepping up military intervention in Syria to topple the Assad government. And central to that agenda is a bid to smear and shame Russia into conceding to the Western objective of regime change.
Tillerson evidently received a sharp lesson in geopolitical reality while in Moscow this week. And hence he backed down from his imperious attitude.
The trouble is that Tillerson's timid turnaround is only further indication that the Trump administration is a mess of contradictions and cluelessness. Putting manners on the US top diplomat was a good thing. But the challenge remains of dealing with an unruly, unscrupulous and asinine American administration.
The statements, views and opinions expressed in this column are solely those of the author and do not necessarily represent those of RT.