Orlando shooter's father at Clinton rally: 'Gaffe' or 'signal to supporters'?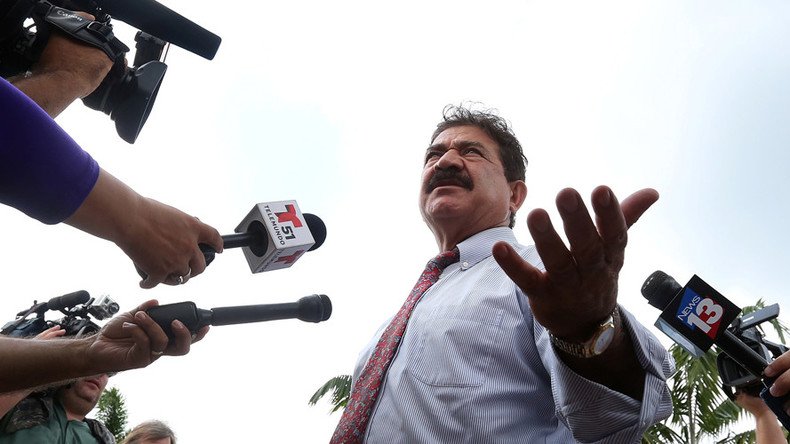 Was the Orlando shooter's father invited to a Clinton rally by somebody high up in her campaign as "a signal to immigrant musses to support her," or was it just a gaffe, and the whole story a "tempest in a teapot"?
Lew Rockwell, president of Ludwig von Mises Institute, and Daniel Patrick Welch, a writer and political analyst, answered these and other questions for RT.
Seddique Mateen, farther of the Orlando nightclub shooter who claimed the lives of 49 people, was spotted on Monday sitting behind Hillary Clinton during a rally in Kissimmee, Florida.
Republican presidential nominee Donald Trump reacted, arguing that there are double standards, because if it had been him standing in front of the mass murderer's father, there would have been "a headline all over the world about Trump."
"But she did not, as I understand it, disavow this man. [Mateen]'s got some pretty harsh views," Trump told Fox News' Sean Hannity.
RT asked Rockwell and Welch if Mateen should have been invited to the rally and if his presence there could somehow affect Clinton's campaign?
RT: What's your take on that?
Lew Rockwell: First of all it is hilarious. Despite the Clinton's campaign's claim that this was just open to the public – nobody gets that close to a candidate through secret service and so forth, unless they are known. The people especially behind the candidate are always very carefully chosen for "diversity reasons," etc.
He said he was invited. Of course he was invited. This was a signal on the part of the Clinton campaign to the immigrant masses that they should all support her. But it quite wonderfully backfired. Some of us think if this guy hadn't been brought to the US by the US government, and apparently he was, because of his Afghan connections, political connections; his hate for Pakistan, and so forth, all those people in Orlando would still be alive. The idea that this guy is… there is some kind of icon of the Clinton campaign. Well, it is really all you need to know about the Clinton campaign.
RT: What kind of effect do you think it will have on Clinton's campaign?
LR: Who knows. If Trump is smart, and he is smart, he'll make a big deal of it. But it is just a part of the rest of it. We learned today that Julian Assange is offering a $20,000 reward to investigate the death of this DNC murdered staffer. The implication being, and sort of a lot of people think he was the one who leaked the DNC e-mails. Was he killed for that? There is all kinds of bad stuff.
I know the typical Americans seem to think that this sort of conduct only goes on in Montenegro, or whatever. It happens here too. The Clintons have got a long list of bodies in their wake. So the fact that they would promote this guy – Mr. Mateen – hold him up as a symbol to people that are interested in these sorts of links, blew up in their face. My guess is this was not Clinton's personal decision. Although, you can't really know – she is very, very much a detailed person, so we can't rule that out. But somebody high in the campaign invited him in, brought him there, put him in that very prominent position, where he was in the frame of her during her speech – quite an amazing thing and sort of as a peek into the heart, if I can use that word of Hillary Clinton.
RT: How do you think the media would have reacted if this had happened at a Trump rally?
LR: I've never in my life seen media hate even for Barry Goldwater back in ancient days as for Trump. It is like the Two Minutes Hate out of George Orwell's 1984 goes on every single day over and over again by the world media. It is the English media, for example, the Canadian media – all English language media, and probably foreign language media too hate Trump, hate Trump, hate Trump! There are many death threats against Trump – they never cover it.
Facebook has fan pages advocating this assassination of Trump. It is not even an issue; nobody cares or they approve of it. Everything that Trump says, or allegedly says, of course, becomes an atomic bomb. On the other hand, there are a lot of people who think anybody this much hated by the media, this much hated by the establishment, can't be all bad.
Red herring on a slow news day
Daniel Patrick Welch, a writer and political analyst, argues that Mateen's invite to the event was just a PR gaffe.
"It is a gaffe – nobody wants this kind of publicity," he told RT. "He was invited along with three million of his closest friends. It is true. They could have, and should have, vetted this more clearly and they could have avoided a public relations gaffe. It is really a cover story for the failure of the American political system."
In Welch's view, the whole thing "is a tempest in a teapot, or a red herring on a slow news day to take away from, or give the impression, that this is an actual vibrant democracy going on in the US, when nothing could be further from the truth."
"There is this political theatre, this joke, farce of a campaign. We have no choice at all – we have a choice between the neoliberal, neoconservative consensus and this right-wing populist, opportunist with open overture to fascism. And you expect people to make an informed choice between those alternatives," he said.
The analyst is confident that this 'gaffe' will have 'zero' impact on Clinton's campaign.
"Everything that comes out that is negative about Clinton gets completely disappeared by the mainstream press. Trump will do something equally outrageous within the next 24 hour news cycle. So the attention will be drawn away from it – I don't think it has any legs at all," he said.
The statements, views and opinions expressed in this column are solely those of the author and do not necessarily represent those of RT.
You can share this story on social media: