Father of Orlando killer spotted among Clinton supporters calling for gun control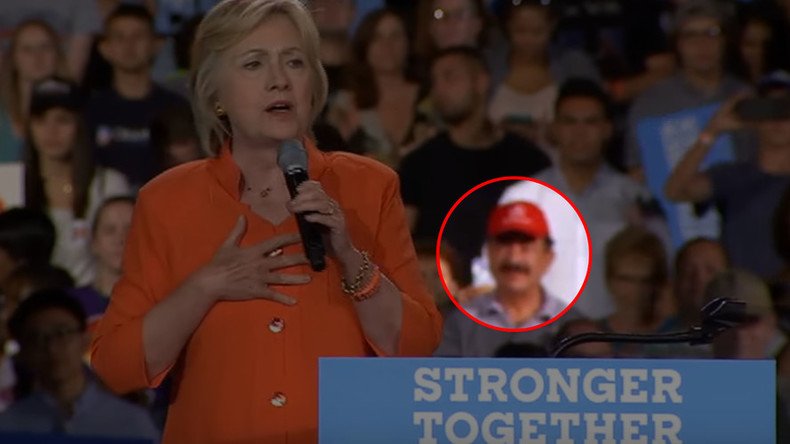 The father of Orlando nightclub shooter Omar Mateen was spotted at a Hillary Clinton rally in Florida on Monday.
Seddique Mateen, whose son was responsible for the massacre which claimed 49 lives, was seen standing behind Clinton as she addressed the Kissimmee crowd.
"I know how many people, families, loved ones, and friends are still grieving, and we will be with you as you rebuild your lives," Clinton said.
When asked about his attendance, Mateen told WPTV: "Clinton is good for the United States, versus Donald Trump, who has no solutions."
Mateen showed reporters a sign he had brought to the event, which read, "Hillary Clinton: Makes the biggest investment since WWII. Good for national security. Ex-CIA chief Morrell 'Hillary told the truth about Benghazi.' Gun control laws."
A Clinton campaign denied accusations that they were aware of his presence. "The rally was a 3,000-person, open-door event for the public. This individual wasn't invited as a guest and the campaign was unaware of his attendance until after the event."
Trump called on his presidential rival to denounce the presence of Marteen at her campaign. Speaking to Fox News' Sean Hannity, he said: "If that were me, this would be a headline all over the world about Trump. But she did not, as I understand it, disavow this man. He's got some pretty harsh views."
When asked about the reaction to his attendance, Mateen said, "Why should they be surprised? I love the United States, and I've been living here a long time."
Mateen expressed his wish that his son had "joined the Army and fought IS. That would be much better," he said.
Mateen also said he has been "cooperating with the federal government" in its investigation of the nightclub shooting.
Mateen is an outspoken critic of Pakistan and Afghanistan and expressed support for the Taliban in the past. He visited Congress and the State Department to lobby for a harder stance on Pakistan in April.
You can share this story on social media: