Trump says '2nd Amendment people' might be able to stop Hillary Clinton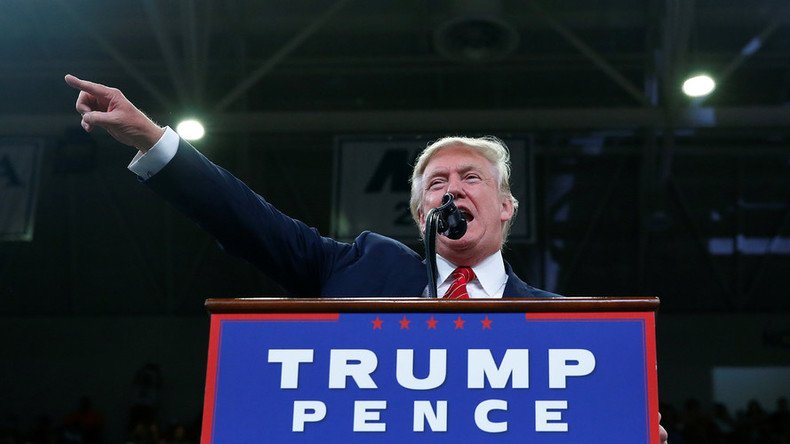 Republican nominee Donald Trump joked about Americans engaging in armed resistance in case Hillary Clinton gets elected and appoints unfavorable Supreme Court justices. The words were quickly interpreted as a call to assassinate his rival.
At a Tuesday rally in Wilmington, North Carolina, Trump warned his supporters that Clinton intended to heavily restrict the Second Amendment rights of Americans to own firearms. The crowd reacted by booing.
"If she gets to pick her judges, nothing you can do, folks," the GOP nominee said. "Although the Second Amendment people, maybe there is, I dunno."
One member of the crowd, who was sitting behind Trump, had a shocked expression upon hearing the comment.
Clinton campaign manager Robby Mook responded by characterizing Trump's words as dangerous.
"A person seeking to be President of the United States should not suggest violence in any way," he said.
The comments immediately raised red flags across social media, with many on Twitter interpreting them as calls to assassinate Clinton or Supreme Court justices.
One Twitter user joked that the mainstream media, which is often ignorant about the Second Amendment's purpose, were suddenly able to properly interpret references to the amendment as a call for resistance against tyranny.
The Trump campaign responded by explaining that the comment was a reference to the "power of unification," rather than a call for assassination or armed resistance.

"Second Amendment people have amazing spirit and are tremendously unified, which gives them great political power. And this year, they will be voting in record numbers, and it won't be for Hillary Clinton, it will be for Donald Trump," said campaign spokesman Jason Miller.
The Secret Service said that it was "aware" of Trump's comment.
You can share this story on social media: