'Trump is unstoppable, the nomination is his'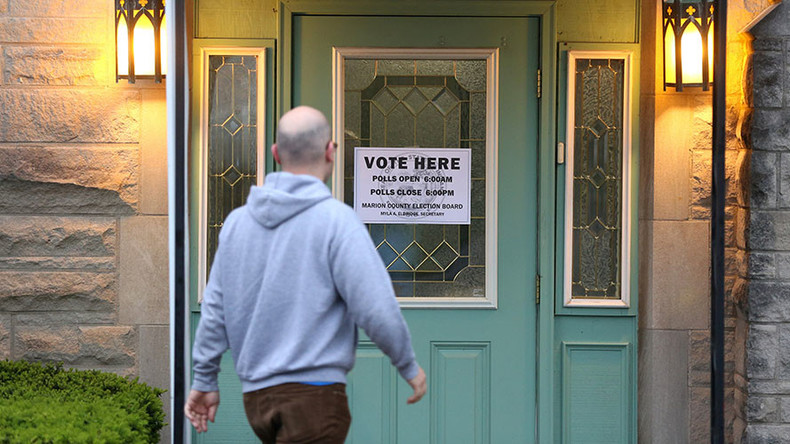 As Ted Cruz has pulled out of the presidential race, it seems very clear that Donald Trump is going to get the 1,237 pledged delegates he needs to clinch the nomination, says Daniel Wagner, CEO of Country Risk Solutions.
In the American state of Indiana, the votes have been counted in the Democratic and Republican primaries. Bernie Sanders defeated his democratic rival Hillary Clinton, while Donald Trump has officially gained another victory for the Republicans. Another Republican candidate, Ted Cruz announced the suspension of his presidential campaign.
RT: What does Trump's victory and Cruz's announcement mean for the Republican race?
Daniel Wagner: It's sort of an indication of Trump's steamroller which has been working its magic for some weeks now. Trump is unstoppable; the nomination is his. I think everybody understands that…
RT: Why is Republican presidential hopeful John Kasich, with so few delegates, still in the race?
DW: …He sees himself as sort of a great white hope if you will. He knows he can't take the nomination; he wants to be the spoiler when the convention happens later this summer. He is imagining that people will coalesce around him. Republican unity is the most important thing right now for most Republicans. I think you're going to see major veteran political players on the Republican side coalescing around Mr. Trump, because it is all about Trump. It is not really about anybody else.
RT: The majority of key players in the Republican Party are publicly against Trump winning the nomination. Do they have any options left to keep this from happening?
DW: I don't see how they do. It seems very clear to me he is going to get 1,237 delegates that he needs in order to clinch the nomination. Once that happens, it doesn't make any sense to me that the Republican sort of base would continue to think that this is not going to happen. It would be in their interest to close ranks around him and to support him, because their object now is to keep Clinton from getting in. And they are not going to do that by beating themselves up in the process.
RT: An ABC TV series took a shot at Donald Trump in a recent episode with terrorists in the show using Trump's slogan 'Make America Great Again' during an attack. So what were the creators of the show attempting to do by drawing this parallel?
DW: I'm not sure, what they were trying to do. Some people are also saying putting Trump in would make China great again. There is an interesting phenomenon that is going on around the world right now. That is a lot of voters in a lot of different places are saying: "We've had enough of politics as usual." You can look what is happening in the elections right now in the Philippines, for example, where there is a character very much like Mr. Trump. Trump is very bombastic and ruffling a lot of feathers, and he seems to be widely popular… I think Mr. Trump may take credit for starting it or he may just be part of what's going on a broader basis.
Richard Becker, from the anti-war Answer Coalition said that everywhere Trump goes there are hundreds of people coming out to reject his message of bigotry and racism.
RT: Ted Cruz has announced that he is suspending his presidential campaign. What does this mean for the race to the White House?
Richard Becker: It seems beyond doubt now that Trump will get the nomination. Trump has built a base by playing to the fears and insecurity of many, many people, and also of course - racism, Islamophobia, anti- Mexican bigotry... So we have this thoroughly reactionary candidate who now appears and someone who is not a part of the Republican establishment by any means headed for the Republican nomination. Everywhere Trump goes including in San Francisco last week and in Southern California the night before, there are hundreds and thousands of people coming out to reject his message of bigotry and racism and everything else that Trump has brought into the campaign.
The statements, views and opinions expressed in this column are solely those of the author and do not necessarily represent those of RT.