US gears up to fight Russian 'disinformation' with… disinformation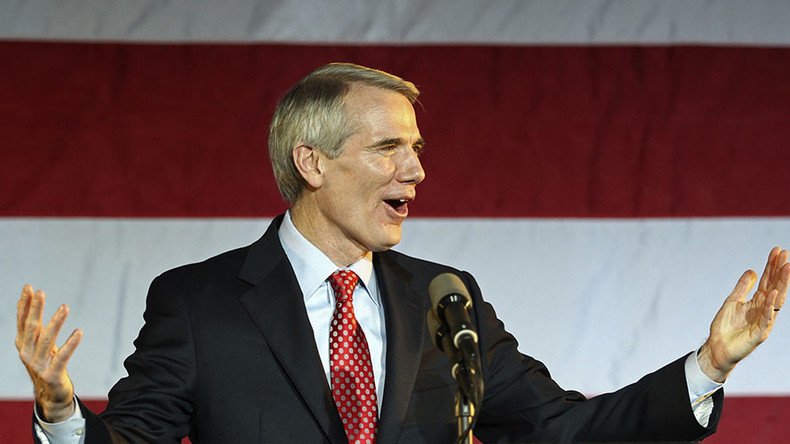 Two US senators are proposing legislation to counter, what they consider to be "disinformation" spread by certain foreign media. What better way to kick-start their campaign than by basing their bill on spurious nonsense?
Republican Senator Rob Portman and his Democratic colleague Chris Murphy are deeply concerned about foreign "propaganda." They demand that Uncle Sam throws even more money at the Broadcasting Board of Governors (BBG), which is already given around $768 million annually.
Not content with the EU's Stratcom East and NATO's Riga-based communications centre, Portman and Murphy want a new center for Information Analysis and Response to analyze "foreign government information-warfare efforts."
What better place to launch the crusade than at NATO's Atlantic Council appendage? An organization funded by such disinterested and neutral parties as the US State Department, Lockheed Martin, the Kingdom of Bahrain and the monarchy of the United Arab Emirates?
Portman certainly couldn't think of a better venue, so he showed up on Wednesday to express his satisfaction that the "US version of events is better." This attitude is not a shock. Most of the US elite, and their media champions believe America has a monopoly on truth. Next, Portman warned that Russia, China and other countries are trying to "manipulate and control information to achieve their national goals, often at the expense of the interests and values of America's allies."
The Senator sounded particularly worried about RT. And it is no wonder. Portman claimed RT spends $400 million a year just for the maintenance of our Washington bureau. Just imagine that? $400 million big ones.
Unfortunately, given that our entire budget for 2016 is 17 billion rubles, or around $248 million in today's dollars, we have no idea where on earth Portman got this numbers – or if he even believes them. That $248 million pays for the global broadcasting and newsgathering operations of round-the-clock TV channels in English, Arabic and Spanish, documentaries, online portals in six languages, the RT UK channel, and yes, RT America – our stateside outpost. To run all of this RT receives one third of the funding the US government allocates for the BBG. Despite modest means, RT can boast 70 million weekly TV viewers, nearly 50 million monthly unique visitors to our digital platforms and a status as the number one international TV news network on YouTube, with more than 3 billion views.
Amazing, the BBG'S Voice of America (VOA) reported Portman's $400 million figure without question, and with no apparent fact-checking. The Senator's – and the supposedly venerated news organization's he seeks to aid – fight against "disinformation" kicks off with a blatant lie. You really can't make this stuff up.
VOA wasn't alone, Germany's own state-broadcaster, Deutsche Welle (DW), also carried Portman's erroneous sums. DW, of course, is never regarded as propaganda in Washington because the administration in Berlin is not a threat to American interests.
This is despite the fact that it receives government funding – $332 million per year – to communicate its country's point of view to the world. When RT contacted DW to correct this blatant falsehood, the outlet's editors treated the issue as a "difference of opinion" before eventually adding RT's budget figure as our own claim, and not the publicly available information that it is, and that has been reported by hundreds of, credible, news outlets.
The BBG, and its supporters, such as Senator Portman, are currently fighting hard in Washington to secure extra resources for their efforts. An intensive campaign has been fought over the past six months to support these objectives. Much of this lobbying has been based on exaggeration and outright lies. Portman's $400 million is one of the most absurd yet. The fact that VOA and DW unquestioningly repeated the deceit speaks volumes.
The statements, views and opinions expressed in this column are solely those of the author and do not necessarily represent those of RT.
You can share this story on social media: