Talking out of both sides of their mouths: Tuesday's bizarre US Senate hearings about RT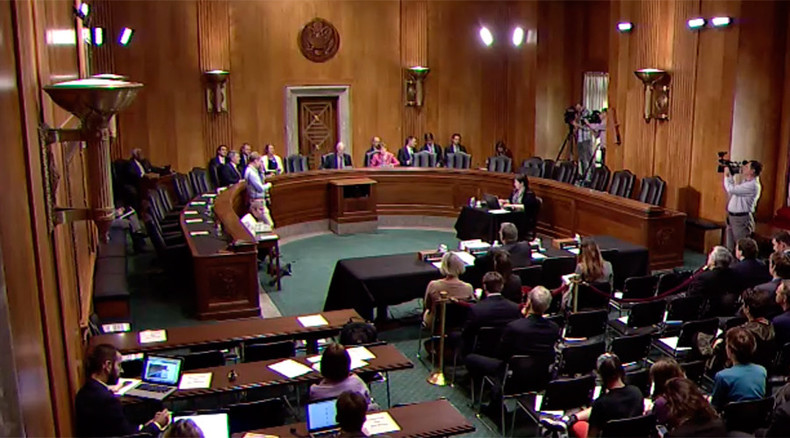 The Broadcasting Board of Governors (BBG) is the parent of Voice of America and RFE/RL, the foreign news broadcasters of the US government. It has an annual budget of $751 million, two and a half times that of RT, but it wants more.
Tuesday's hearings at the US Senate Committee on Foreign Relations were undoubtedly yet another thinly-veiled attempt by fans of the BBG to help it secure a funding increase.
As has become far too common, these supporters of the US government propaganda efforts are talking out of both sides of their mouths. Whatever they might be thinking in private, in public, they apparently can't decide whether RT is ineffective or a massive threat. For their purposes, both answers are equally useful - depending on what opinion they are trying to sell that day.
On Tuesday, some of the usual suspects lined up in front of the Senate to paint Russian media, and specifically RT, as a bogeyman and a threat to America and its values. During the offensive, facts were far from sacred and the truth didn't play a significant role. Instead, we witnessed a textbook example of the menace of unreality as speakers continuously contradicted each other and sometimes even themselves while trying to sell their fear-mongering narrative.
The panel featured four members, all from the think tank circuit, influential to varying degrees but all united in hostility to Russia and all pushing a hawkish foreign policy agenda in Washington. These activists passionately told the senators what the BBG and, it's safe to assume, the rest of the Washington establishment wanted them
to hear.
Take Maksymilian Czuperski, a fawning Atlantic Council staffer.
Would there be any danger that he'd deliver comment that contradicted the party line?
Heather Conley also testified. Conley is a former State Department hack who now plies her trade at the Center for Strategic and International Studies.
Nothing is real
A bigger beast is Peter Pomeranstev, a former television producer and now a lobbyist for the Legatum Institute who has been promoted extensively by Washington-friendly media. Legatum is controlled by Chris Chandler, a vulture capitalist who, along with his brother Richard was an investor in Russia during the "wild east" days of the 1990s. The motley crew of anti-Russia activists and journalists who have been employed by Legatum includes Washington Post columnist Anne Applebaum, British neocon Ben Judah and Cristina Odone, wife of notorious RT-hater and Economist Editor, Ed Lucas.

Veteran Russia watcher Mark Ames, now a correspondent with Pando Daily, wrote earlier this year: "The Chandler brothers reportedly were the single biggest foreign beneficiaries of one of the greatest privatization scams in history: Russia's voucher program in the early 1990s, when each Russian citizen was given a voucher that represented a share in a state concern to be privatized . . . and most naive Russians were fooled or coerced into dumping their vouchers for next to nothing, snapped up by clever vulture capitalists and factory directors from the inside."
These actions left millions of Russians poor, and boosted the wealth of oligarchs, including those from the West. Since Vladimir Putin assumed office, the Chandlers and their fellow-travelers are not welcome in Russia anymore. Hence, they have a grudge. A very big one.
Pomerantsev has made a career out of his obsession with RT. Indeed, were RT to close down tomorrow, the British lobbyist would probably struggle to find any work at all, so single-minded is his professional focus over the last few years.
A close family
At the Senate hearing, the activist was assisted by Dr. Leon Aron, Governor of the BBG and an employee of the American Enterprise Institute (AEI). The AEI is closely linked to the National Endowment for Democracy (NED) and enjoys strong ties to the pro-war Neo-Con movement. In fact, Paul Wolfowitz, who was deputy secretary of defence during America's illegal invasion of Iraq, is on the payroll. Lynne Cheney, wife of George W. Bush's former VP Dick Cheney, is another member.
Aron alleges that RT does not ever "identify itself as a Russia-based and government-funded network." While the US Senators he preaches to might swallow this nonsense, RT viewers won't, because every day they are greeted by our presenters kicking off their hourly news bulletins with "This is RT International, live from Moscow," or a variation thereof. Either Aron believes that Americans and the rest of the world don't know what country Moscow is the capital of, or he's telling fibs.
As for the fact of our public funding, we publish that information on our own website, many times over, to dispel a myriad of myths as to the sources and volume of RT financing. Indeed, a Google search for "Russia Today, state funded" leads to 49.8 million results. Last month, we even published an Op-Edge in this very section, transparently explaining our budget for 2016. If RT were trying to hide it, that dastardly plan hasn't worked.
Sifting through the bluster, it becomes apparent that lobbyists like Peter Pomerantsev and Dr. Leon Aron aren't actually concerned about the evils of government funding. They never criticise the BBC World Service, Euronews, France 24 or Deutsche Welle, for instance. Rather they seem willing to tolerate foreign state broadcasters so long as the countries involved are US allies and NATO members. It's only when a nation has a different perspective that belief in free speech goes out the window and the worst McCarthyite tendencies of censorship emerge.
Confused stances
Aron also delivered some curious rhetoric about RT's influence, saying that the channel is "barely visible" quite literally in the midst of an entire hearing dedicated to showcasing how great a threat Russian media is. In the next breath, he asked for more "money for US international media." If RT is so ineffective, why would our American competitors - who already massively outspend and outnumber all Russian foreign media services combined – need more money?
READ MORE: More money, more problems?
Of course, Pomerantsev is also guilty of schizophrenic viewpoints on RT. Last month, he published another report on his sole topic of alleged expertise for NED, which links him again to Aron, via AEI. He claims: "RT's actual viewership is far lower than what it claims." Again, if this were true, why the need to lobby endlessly on how big a threat RT is? Either the network is a Big Bad Wolf or Little Red Riding Hood, but it sure can't be both at the same time.
The BBG's problem is that it needs to paint RT as an all-powerful foe in order to secure additional funding from the US government. To achieve this, it must keep up its fear-mongering efforts because anxiety - whether imagined or real - has long been the key to getting attention in Washington's reactive political system. As Hollywood learned a long time ago, due to stereotypes, there is no better-imagined scoundrel than Russia.
However, to justify that same largesse, it must give the impression that its networks are then more successful than Russia's. These competing positions have led to a form of institutional flip-flopping which make the BBG and US legislators, think-tankers and public officials that support it look lost at best. Sorry, guys, you can't have your cake and eat it too.
_______________________________
For reference: RT audience
RT is the #1 TV news network on YouTube, with nearly 3 billion views; more than half of that number belongs to the main RT YouTube channel. According to comScore, RT's total monthly online audience has exceeded 32 million unique users. RT is the world leader among non-Anglo-Saxon international TV news channels, and ahead of many international news outlets, including Al Jazeera, Deutsche Welle and Voice of America in terms of worldwide PC audience.
In 2014, Nielsen research found that 2.8 million people in seven major US urban areas watch RT weekly. That's greater than the audience of Euronews, Deutsche Welle, NHK or France 24. According to a different 2014 Nielsen study, RT's Arabic-language news channel has a higher daily audience in six MENA countries than UK's BBC Arabic and Sky News Arabia, the US's Al Hurra or China's CCTV in Arabic. In Egypt, Morocco, Saudi Arabia, Jordan, UAE and Iraq. In just those 6 states, RT Arabic is watched by 6.7 million viewers every day.
In the UK, RT's audience is almost 700,000 viewers weekly, according to BARB public information, and is over 3 times greater than the audience of Fox News and roughly double that of Euronews when it was still measured by BARB (January 2014). According to the Ipsos Affluent Survey Europe 2015, conducted in 21 European countries among the most affluent 13% of the population in each, RT is the fastest-growing pan-regional TV channel among Europe's most affluent individuals.
The statements, views and opinions expressed in this column are solely those of the author and do not necessarily represent those of RT.
You can share this story on social media: