Cranks & propagandists: Meet the Economist editor who desperately wants to gag RT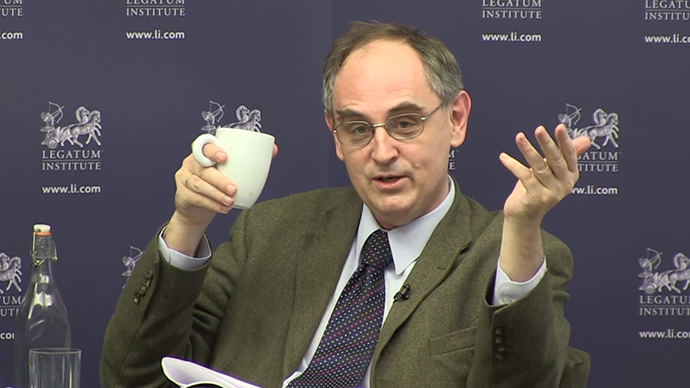 At a time when the Western media machine no longer enjoys singular purchase on the news, and a more balanced view on global events is instantly available, foreign news organizations like RT are being described as enemies.
Just one month after Andrew Lack – the newly appointed chief of the US Broadcasting Board of Governors (BBG) – mentioned RT in the very same breath as the Islamic State and Boko Haram, Edward Lucas, senior editor of British magazine The Economist, advised that RT be pushed "into the media fringes so they are no longer treated as real journalists and real programs but as cranks and propagandists."
RT responds to 'ostracism' calls by Economist editor at Munich conference
Clearly, the mud-slinging "information war" that Hillary Clinton spoke of back in March 2011 is in full swing. And it seems like Western "info troops" are dropping their "dirty bombs" into the info space.
Fear-mongering sells well
Meet one of the soldiers. On top of his journalism, Edward Lucas is also a prolific writer. His books on Russia – ominous titles like 'Deception: Spies, Lies and How Russia Dupes the West' and 'The New Cold War: Putin's Russia and the Threat to the West,' mostly printed with Putin's image looming on the cover – are to Russophobes what Stephen King novels are to horror fans. Unfortunately, however, Lucas is hawking a damaged product to an unsuspecting public. But he should know better, since he's certainly neither a stranger to Russia, nor to the world of publishing.
Lucas, who served as The Economist's Moscow bureau chief from 1998 to 2002, has become something of a self-appointed mouthpiece for the "real story" on Russia. This allows him to offer his fire-and-brimstone opinions at international security meetings (no irony there), where virulent, hysterical views on Russia sell better than lemonade in hell.
READ MORE: When lies and half-truths rule the Washington op-ed pages, danger lurks
But he is, for sure, not even close to being a lone fighter on that battlefield. Meet Lucas' wife, Christina Odone. She heads communications at the Legatum Institute, a think-tank which officially proclaimed "countering Russian propaganda" as its key initiative back in October. Dear Russia-basher Anne Applebaum, who is married to former Polish Foreign Minister Sikorsky, is also onboard the Legatum ship (of course she is). And who was at captain's bridge there until 2014? Jeffrey Gedmin, who, before becoming Legatum's CEO, headed Radio Free Europe/Radio Liberty – one of the main assets of BBG. Yes, that same BBG whose current CEO puts RT on the same challenge list as ISIS terrorists. Connections are pretty tight, aren't they?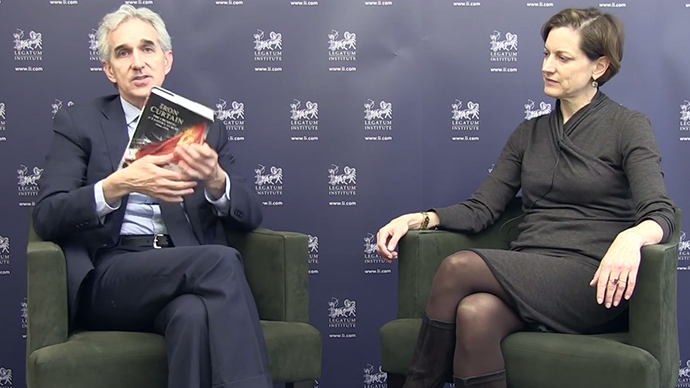 War recipe premiere: How to invade using a TV channel
But back to Munich. In an effort to explain how Russia "won the war in Crimea without really having to fire a shot," Lucas told attendees at the Munich Security Conference that it was accomplished due to "so-called Russian media organizations" that have "corroded and confused the decision-making capabilities of Ukraine that even though the Ukrainians had thousands of troops…Crimea fell almost without a shot." (Lucas never bothers to explain this mysterious mind-altering technique supposedly employed by Russian media, but one might assume it involves amulets and incantations of some sort).
So was this some sort of a desperate cry for bloodshed on the part of Lucas, who, after cheerleading the Western invasions of Middle Eastern countries and planting the seeds of democracy in the burnt-out craters of drone strikes, can't comprehend a peaceful resolution to an approaching tragedy? Does he really believe that the people of Crimea, who marched to the polling stations as opposed to the battlefields to vote (overwhelmingly) in favor of joining the Russian Federation, were deprived of their "decision-making capabilities" by the likes of RT? Calling it a stretch, anyone?
Secure & entice
This was certainly not the first time Lucas had spoken like some medieval warlord intoxicated by the fumes of war.
In September, Lucas fired off a lengthy and deluded letter to the UK House of Commons, where he offered some brilliant insight on how to engage Russia: "Many European countries have no appetite for confrontation with Russia. They take an essentially pacifist stance, that military solutions never solve problems, and that dialogue is under all circumstances better than confrontation. The United States is distracted by multiple urgent problems elsewhere and many Americans wonder why they should be borrowing money to pay for security in bigger, richer Europe."
"That gives Russia, with its bold decision-making and high tolerance for risk and pain, free rein. Our feeble response has allowed Russia to wage war in Ukraine with disastrous effect."
So, quick recap, here's the world according to Mr. Lucas: European countries are much too pacifistic, the US is too busy heroically solving global problems, and Russia is waging war in Ukraine. Simple as that.
The Economist vs RT
Media wars are nothing new to the sphere, but it is one thing to criticize the approach and quite another to call for bans. Just two weeks ago, RT's Anissa Naouai slammed The Economist, which Lucas edits, for its approach to Russian news. In particular, she pointed out that viewers simply cannot verify some facts the magazine cites, and are forced to believe them – even if they are not necessarily true.
Will Stevens, of the US embassy in Moscow, decided to come to the magazine's rescue and asked his followers on Twitter: "whom do you trust? RT for @theEconomist, Fav for @RT_com." RT has so far scooped over 1,500 votes, while The Economist stands with 81 support retweets.
Russia Today teaches us "How to Write Propaganda" https://t.co/JFwwINCUXo#Poll, whom do you trust? RT for @theEconomist, Fav for @RT_com

— Will Stevens (@WBStevens) January 30, 2015
READ MORE: Epic fail! US diplomats find they can't control the narrative on social media
"We have a regulated media space," Edward Lucas might conclude. "In my own country, Ofcom is complaining to RT about its lack of balance. So, there are things we can do but I think those things are the last resort, not the first resort."
Well, indeed RT has come under the British media regulator's gaze after some viewers accused the channel of unbalanced reports on the MH17 tragedy. The public scrutiny even prompted a reaction from Russia's Foreign Ministry. FM Sergey Lavrov warned at the time that taking the channel off air in the UK would be "an absolutely barefaced attempt at censorship."
However (and this might be a big surprise for Mr. Lucas), in late January – after watching 30 hours of RT – Ofcom itself concluded the claims were unfounded.
The statements, views and opinions expressed in this column are solely those of the author and do not necessarily represent those of RT.
The statements, views and opinions expressed in this column are solely those of the author and do not necessarily represent those of RT.
You can share this story on social media: