RT's 2016 budget announced, down from 2015, MSM too stumped to spin?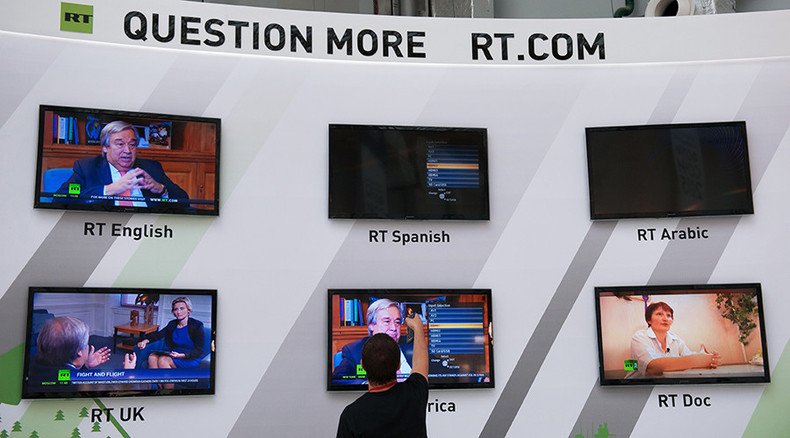 RT – a publicly-funded, autonomous non-profit organization – has been allocated 19 billion rubles, or just over 300 million USD, in the just-announced 2016 Federal Budget of the Russian Federation. 
(UPDATE: In January 2016 RT was subject to a budget cut of 10% alongside other publicly-funded Russian entities.)
The budget represents a nearly 2-billion ruble cut from 2015. Approximately 80% of RT's operating expenses are denominated in foreign currency, with distribution expenses constituting the greatest share. In foreign exchange terms, RT's budget has lessened by more than a quarter over the last two years due to the weakened ruble.
Western media, usually so eager to discuss RT's "lavish" financing, has remained surprisingly quiet about this news, at least for now.
Why 'surprisingly'? Because the popular mainstream narrative about the channel, echoed by everyone from the former BBC chief Peter Horrocks to TIME magazine to the EU Observer, is that the "Western news media is woefully outgunned and outspent by Russia." The problem with this fear-mongering tactic is that the reality never matches the spin.
READ MORE: For propaganda & 'democracy promotion': State Dept seeks budget to counter RT
It's not about the money
The US' Broadcasting Board of Governors (BBG) has requested $751.5 million for 2016 – an increase of $30 million. The BBG, which includes Voice of America and Radio Liberty/Radio Free Europe, is the foreign broadcasting arm of the US government. The BBG would never dare consider itself to be a US propaganda tool, yet Andrew Lack, who lasted all of six weeks as the organization's chief executive, had no problem listing RT alongside such terrorist organizations as ISIS (Islamic State, formerly ISIS/ISIL) and Boko Haram when discussing the "challenges" faced by his country.
The last publicly-reported budget of the UK's BBC World Service, which is funded by the UK public via a license fee, stands at £245 million (or $375 million) a year. The BBC WS, just like the BBG, is a predominantly radio- and online-broadcasting service – a much cheaper endeavor than RT's undertaking, which involves creating original video content and distributing it worldwide via cable and satellite. It's also not a stand-alone entity. In fact, BBC WS leverages the resources of the BBC's International Service, which is a newsgathering department of BBC News (estimated at $530 million), which is part of the British Broadcasting Corporation ($7 billion), funded through a license fee that is charged to every UK household with a TV. International Service also feeds content to BBC World News, the UK's global news channel and RT's closest counterpart. BBC World News is set up as a private entity, owned by the commercial arm of the BBC, and its budget is unknown.
Then of course there's Deutsche Welle, whose budget has been increased to €294 million ($332 million), Qatari-funded Al Jazeera, which is estimated to have spent half a billion dollars in 2013 just to buy Current TV, and various Chinese foreign broadcasting outlets, rumored to receive around $2 billion annually. Plus Euronews, France24…. and that's before you even get to commercial news broadcasters such as CNN, MSNBC, FOX, Bloomberg, Sky News, and dozens of other stations, national and international, beaming from the US and Europe. Their foreign affairs coverage is virtually indistinguishable from that of their state-funded brethren or each other's – or from the majority of thousands of American and European newspapers, magazines, and online publications disseminated in every corner of the world.
Yet, the public officials and media executives of these countries are so alarmed about Russian news media, and RT in particular, that they are crying out in unison about "losing the information war." On top of beefing up their countries' broadcasting budgets, NATO, the UK, and the European Union are all creating special initiatives and even military groups to push back on Russian media, ostensibly in the hopes that "more of the same" will turn out to be the winning formula after all.
American propaganda press lies about RT's popularity
Meanwhile, RT keeps doing what it's been doing so well for years on a fraction of the mainstream's budget: engaging viewers (and readers) with the difference in its content. A great many viewers (and readers), at that. Perhaps that's why the emerging trend in anti-RT spin has been to attempt to discredit the networks' accomplishments, sometimes with 3-year-old "leaked" memos.
Too bad (for the mainstream spin-doctors) that, once again, the narrative just doesn't hold up in the face of facts.
Here are the facts:
In 2014, Nielsen research found that 2.8 million people in seven major US urban areas (Washington, New York, San Francisco, Los Angeles, Chicago, Philadelphia, and San Diego) watch RT weekly. That's greater than the audiences of Euronews, Deutsche Welle, NHK or France 24. According to a different 2014 Nielsen study, RT's Arabic-language news channel has a larger daily audience in six MENA countries than UK's BBC Arabic and Sky News Arabia, US' Al Hurr, or China's CCTV in Arabic, placing it among the top three most watched news channels in the six surveyed states. In Egypt, Morocco, Saudi Arabia, Jordan, the UAE, and Iraq, RT Arabic is watched by 6.7 million viewers every day. In the UK, RT has over half a million viewers weekly, according to BARB, more than 3 times more than the audience of Fox News and roughly double that of Euronews when it was still measured by BARB (January 2014).
RT is the #1 TV news network in the world on YouTube, with nearly 3 billion views (1.5 billion of that is from its flagship English-language channel). RT is the world leader among non-Anglo-Saxon international TV news channels and ahead of many international news outlets, including Al Jazeera, Deutsche Welle and Voice of America in terms of worldwide PC audience. RT's total monthly online audience has exceeded 32 million unique users, according to a comScore study of RT consumption via PCs, mobile devices and YouTube worldwide.
Western MSM lauds itself on objectivity and commitment to facts, so it is ironic that in their slavish commitment to anti-RT narratives, the establishment press disregards basic facts about the network. The latest news about RT's budget seems to have stumped the spin-doctors for the moment, but it's too much to hope that the propaganda won't come blaring back in no time.
Want to tell facts from fiction? Click here: https://www.rt.com/facts-vs-fiction/
The statements, views and opinions expressed in this column are solely those of the author and do not necessarily represent those of RT.
You can share this story on social media: