Money well wasted: America's BBG looks for more cash from Congress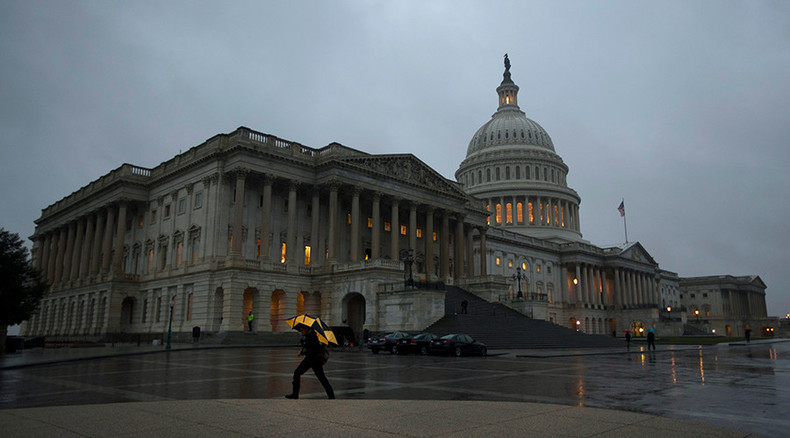 Its own proposals suggest that the US state broadcaster seems to believe that Russia is three times more dangerous than Islamic State. How else to explain the Broadcasting Board of Governors (BBG) bizarre justification for requesting an extra $30.5 million next year from Congress?
According to the BBG, the parent organization of Voice of America (VOA) and RFE/RL, Russia is almost three times more dangerous than IS. This can be discerned from their latest spending proposals. Last week, a selection of BBG's supporters addressed Congress following the Board's $751.5 million funding request for 2016. Naturally, they delivered their regular dose of schizophrenic scaremongering. How the speakers managed to keep straight faces is difficult to understand.
As usual, they all contradicted each other when fitting their statements to suit the particular agenda they were pushing. The first example was when Kenneth Weinstein, a BBG member, tried to minimize RT's influence when saying that the network was part of a group of "secondary platforms." Shortly afterwards, his associate Enders Wimbush, of the Woodrow Wilson Centre, promoted the image of RT - and other foreign broadcasters - as a menace to American interests by emphasizing their "large followings."
This follows a pattern where BBG advocates apparently can't decide whether RT is ineffective or a massive threat. For their purposes, both answers are equally useful - depending on what opinion they are trying to sell that day. This previous editorial elaborates on the technique.
A brief history of change
Interestingly, Wimbush also mentioned China's CCTV and the Qatari-funded Al Jazeera alongside RT. In the early days of rolling news, the USA and the UK completely controlled the English language sphere, through both public and private companies. When both countries launched their invasion of Iraq in 2003, cable and the internet were dominated by the publicly-funded BBC and private, but uniformly pro-war, concerns like CNN, Sky News and Fox News. These outlets conveniently parroted the State Department and UK Foreign Office lines and were happy to embed their reporters with soldiers. This ensured government-friendly output.
Russia, China, France and Germany strongly opposed the American and British campaign that destabilized the Middle East. That incursion is arguably the root cause of today's struggles with IS – even Tony Blair himself admitted that the invasion was "partly responsible". However, with the airwaves dominated by these two countries and their agendas, it was difficult for voices of reason to make themselves heard when it mattered.
Russia launched RT in late 2005 to bring its point-of-view to a larger audience. France followed a few months later with France 24. China eventually turned its CCTV-9 general interest channel into the round-the-clock news service CCTV 24 in 2010. Germany's Deutsche Welle completed its evolution to the same format this year.
While a decade ago France and Germany were considered 'unfriendly' by some elements in Washington, since the departure of George W. Bush, relations have improved. Hence, BBG advocates' obsession with RT, and to a lesser extent, CCTV and the Qatari-backed Al Jazeera. On the contrary, BBC, DW, Euronews and France 24 are never mentioned at Senate hearings, despite likewise enjoying public financing and - more often than not – a clearly stated mission to carry their nation's or organization's points of view to the world. This will likely continue unless a future government in Paris, London or Berlin decides to oppose American interests and reassert sovereignty.
Misinformation
Weinstein, for his part, alleges that Russian splashes out $1.4 billion annually on 'propaganda'. His definition of 'propaganda' appears to be all public funded broadcasters of 'unfriendly' states - US allies' governments can, apparently, fund networks to their heart's content. As it happens, the Russian state allocates $1.4 billion for all national media services. That includes everything, both domestic and foreign, and is not even limited to news. By contrast, the BBC spends over $7.7 billion every year – and is about to get another massive injection from the UK government shortly.
In Washington, the BBG is seeking $751.5 million for 2016, up from $721 million this year. That is merely for foreign broadcasting, primarily radio and online services and very limited TV projects. At the same time, RT's 2016 allocation is less than half that, 19 billion rubles or $287 million at today's exchange rates.
The BBG's submission to Congress claims that it needs this vast sum of money to allow it "to continue to support democratic change at a time of pressing national security challenges, dynamic global communications markets and government-wide spending constraints." This is apparently not 'propaganda'. They go onto insist that the priority for 2016 will be to counter "Russian aggression" and the "ISIL [IS] narrative".
To achieve this, the BBG proposes to allocate $15.4 million of the $30.5 million to combat Russia and only $6.1 million to ISIS. Essentially, the BBG believes that Russia is almost three times more lethal to US interests than ISIS. It certainly seems that reality is not unequivocal, after all.
What do American taxpayers get in return for this largesse? Here are some examples of RFE/RL's output. First, how it 'targets' ISIS. This cartoon was later withdrawn after other journalists friendly to the BBG pointed out how inappropriate it was: "Radio Free Europe runs a cartoon implying all Muslim refugees in Europe are terrorists. Your tax dollars at work".
Furry friends, fuzzy ratings
When it comes to Russia, they try a different tack: bombarding the audience with pet-inspired information bombs. Here's Voice of America (VOA) wowing Russians with news of a Halloween costume dog parade in New York. The condescending tone seems to assume that Russians neither have dogs nor have heard of Halloween themselves. Still in New York, Matilda the cat is featured as VOA continues its hard-hitting series.
When the same reporter, one Victoria Kupchinetsky, veers into the realm of - light-hearted - political coverage, things become even more depressing. Back in 2011, RT's coverage of Porvu Za Putina (I'll Rip it for Putin), which discussed whether sex was the only way for Russia's youth to express their political views garnered 2.6 million YouTube hits. VOA's version of the story? 8,500.The USSR-era production values on their report hardly helped.
Nevertheless, let's look at what happens when the BBG gang decides to cover a serious news story, like this year's UN General Assembly. Here, Kupchinetsky discusses the Obama-Putin meeting. It's noticeable that the journalist interviews her own colleague, the White House reporter Aru Pande, who, it appears, doesn't speak Russian and has nothing to do with the Russian service.
Despite being a Russian language service, VOA didn't broadcast Putin's UNGA speech. Nor did they even show selected highlights from it or even attempt an analysis. Nothing at all. They couldn't even find an angle to use against the Russian President. Putin's speech wound up getting over 1.4 million hits on RT's Russian-language YouTube channel and more again (1.5 million plus) on the flagship English-language platform. That's a lot of traffic that VOA is apparently willingly ignoring. For the record, RT carried President Obama's speech in full as well – again, in both languages.
Does the news matter?
Sometimes VOA/RFE/RL likes to report on RT. Here's their coverage of a six-person anti-RT rally in Washington, artfully edited to obscure the scale of the "event". This protest claimed to support the concept of free speech by calling on legislators to prohibit an international TV news outlet. It takes a very imaginative interpretation of news values for an editor to deem that worth covering.
Of course, there are a lot of indicators pointing to the fact that quite often RFE/RL and VOA are not really concerned with news. Former employee Andrey Babitsky was fired from RFE/RL's Prague bureau for reporting on a topic the network wished to censor, namely war crimes by Ukraine's Aidar Battalion. The Guardian reported that Babitsky said: "I think the situation has changed a lot since the conflict sprung up between Russia and the West. And to a significant extent, Radio Liberty, which for a long time was a journalistic organization, has become a propaganda instrument."
RFE/RL and VOA will, almost certainly, receive extra funding for 2016. However, let's be honest here, the extra cash will make no difference. The BBG's problem isn't money. It's the content they produce. Like much of American policy towards Russia, their narratives are stuck in the past. And the idea that Russia is three times more dangerous than ISIS is nothing short of ridiculous.
The statements, views and opinions expressed in this column are solely those of the author and do not necessarily represent those of RT.
You can share this story on social media: