The first rule of RT Club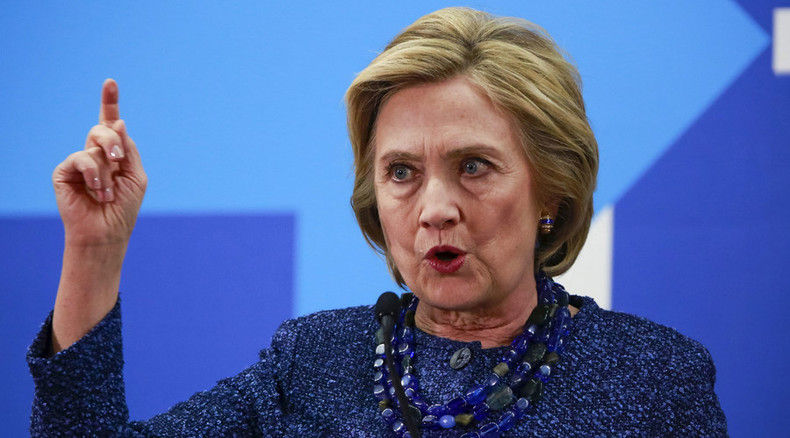 It seems that some members of Hillary Clinton's team are RT viewers. Judging by the Democratic presidential candidate's current release of emails, it appears her staff even had a sort of RT fan club – a secret one.
FADE IN
December 2012. Somewhere in Washington, DC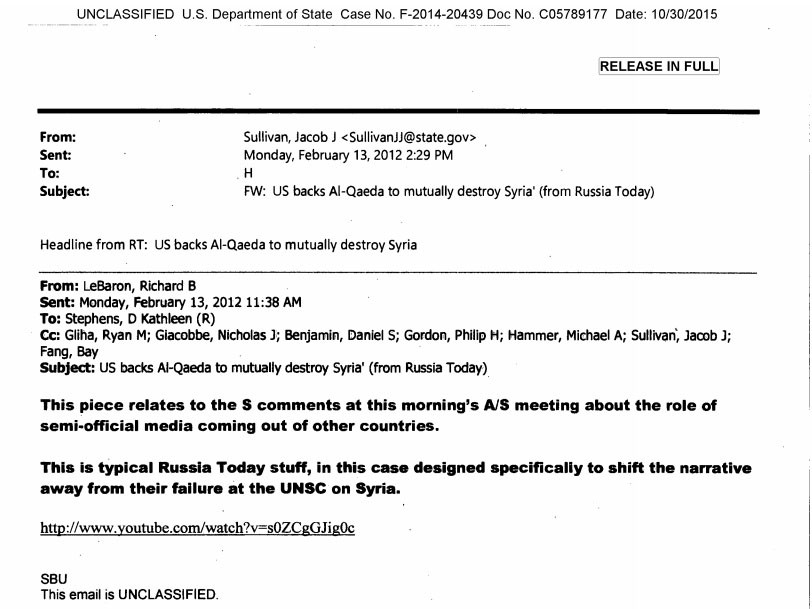 Here we try to imagine what the Clinton crew's RT Club might have looked like.
INT. HILLARY'S BASEMENT
(A BOMB-SHELTER. Concrete walls. One BARE BULB above, Hillary Clinton standing directly beneath it)
HILLARY: Welcome to RT club.
(The Clinton team mill around. Everyone brims with eagerness, but tries to act cool. Everyone spreads out, forming a circle, Hillary at center)
JAKE SULLIVAN (V.O.): Every week, Hillary gives the rules that she and I have decided on.
(PEAKING CHATTER, till Hillary raises her arms and the CHATTER DIES. A couple of COUGHS, FEET SHUFFLING, then, SILENCE)
HILLARY: The first rule of RT club is – you don't talk about RT club. The second rule of RT club is – you don't talk about RT club. The third rule of RT club is – if someone says "I like this" in public, RT viewing is over and we force you to watch CNN. On a loop. For a week.
RYAN GLIHA: I guess Jacob and Daniel told you about the Julian Assange show on RT. Will we watch that?
HILLARY: No, I want to see the documentary about the Russian daredevils climbing the Moscow city skyscrapers.
(The Clinton team looks perplexed at Hillary's forcefulness)
JAKE SULLIVAN (timidly): We are wedded to democracy, Hillary. Why don't we ask the guys what they want to watch?
(HILLARY nods. Words aren't always needed at RT club)
DANIEL BENJAMIN: That Russian Daredevils have almost 4 and a half million views on YouTube. What about the Dinosaurs in Australia?
(There's no response to his appeal. Suddenly a voice speaks up)
PHILIP GORDON: Have you guys seen the clip where a group of crazy Russians throw boiling water out the window at -41 degrees?
HILLARY: That's in Novosibirsk? Anne Bananaboom told me about Siberian nationalism there. Let's check it out.
JAKE SULLIVAN: It has over 1.6 million views. Any takers for a bit of Crowboarding? It's a bird surfing on a roof somewhere in Siberia?
(HILLARY smiles. Michael Hammer raises his hand)
MICHAEL HAMMER: How do we know it's Siberia, Jake?
JAKE SULLIVAN: It's got snow, Mike.
(BAY FANG steps forward)
BAY FANG: Not everywhere that has snow is Siberia, Jake.
JAKE SULLIVAN: That's true. But everywhere in Russia outside of Moscow is Siberia, Bay. And this is outside of Moscow.
(HILLARY knows her team is wrong but stays silent)
RYAN GLIHA (watching): What do you make of this clip, guys? Isn't the bird super cool?
DANIEL BENJAMIN: I like this, Ryan (realizing his mistake)… I mean, darn, I don't like it, Ryan.
(HILLARY looks deflated but realizes she needs to force the team to tow the line)
HILLARY: That's it, people. Over to CNN. What's Richard Quest doing these days? Don't we all love Richard Quest?
The statements, views and opinions expressed in this column are solely those of the author and do not necessarily represent those of RT.
You can share this story on social media: