If you find yourself in a hole, stop digging: Ukraine bans Russian airlines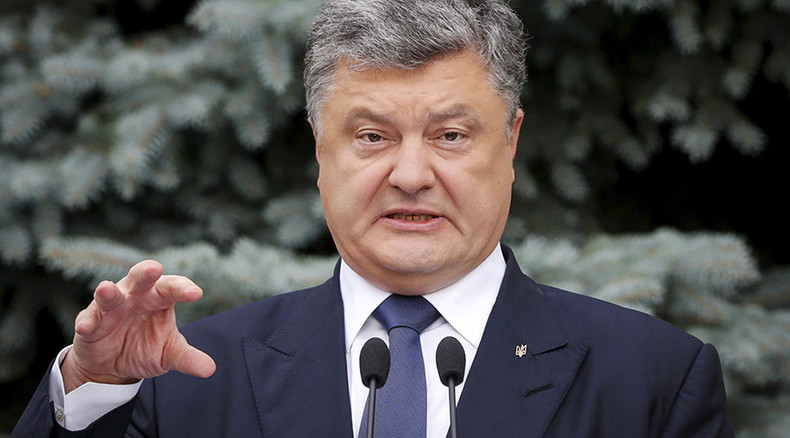 Petro Poroshenko's latest wheeze is to ban Russian airlines from Ukrainian airspace. While it may be a vote-winner amongst western Ukrainian nationalists, it will also severely damage Ukraine's economy.
Ukrainian oligarch Rinat Akhmetov owns the most expensive residence ever purchased in the UK. A 2,322sqm Knightsbridge home that he paid £136m ($209m) for in 2011. His fellow billionaire insider Petro Poroshenko is Ukraine's President. If Akhmetov had spent less time on his personal soccer club, Shakhtar Donetsk, and more time reading up on modern British history at the nearby Chelsea Library, he could have told his colleague about Healey's Law.
In America, it's called the first law of holes. In Britain, it's named after Denis Healey, the 1980's Labour politician, who popularised it. Either way, the adage is the same - "if you find yourself in a hole, stop digging." Instead of maintaining an untenable position, stop and change course. It almost always pays dividends in the long run.
READ MORE: Ukraine to close its skies to Russian aircraft
Poroshenko is in a hole. The Maidan coup, which he passionately supported, has wreaked havoc on Ukraine. The economy has collapsed. Crimea has returned to Russia. A civil war has raged in the country's east. Public satisfaction with his government is creaking as wages atrophy to African levels. Amidst all this, he faces local elections on October 25th. Worryingly for the President, in opinion polls, his party bloc trails the Batkivshchyna party - a vehicle for another oligarch, Yulia Tymoshenko.
Just when Poroshenko probably thought things couldn't get much worse, remarkably, they did. Last week, the World Bank reported that Ukraine's GDP will fall by 12 per cent this year. This is even worse than the 7.5 per cent drop they'd forecast in April. Industrial activity has fallen by 20 per cent, year on year and retail sales have gone off a cliff, down 25 percent.
To compound Kiev's woes, its European and American sponsors appear jaded from its reluctance to reform. Even US Ambassador Geoff Pyatt, who helped to select Ukraine's government last year, has sounded warnings.
READ MORE: Russia restarts gas deliveries to Ukraine after payment - Gazprom CEO
Facing such challenges, you'd expect Poroshenko to unveil a big idea or two. Something akin to Vladimir Putin's hugely popular move to defang Russia's post-Soviet oligarchs in the first years of this century. That move followed a similar economic collapse in Russia. Ukraine badly needs a similar policy and it would have mass appeal across the electorate. Another vote winner could be to clamp down on Ukraine's lawless borders where criminal gangs make fortunes from contraband. The re-direction of customs duties to the state would bolster public finances. Additionally, it would improve law and order.
However, instead of sensible initiatives like these, Poroshenko's cunning plan is to terminate all commercial air traffic with Russia from October 25. This happens to be election day. Back on September 16, Kiev had banned all bar one Russian airline - Utair, a west Siberian concern, established to support the oil and gas industry there. Kiev's excuse was that 27 out of the 29 companies involved had flown to the disputed Crimea province.
Russia responded a fortnight ago by closing its skies to Ukrainian carriers. For Russians this isn't very painful. Due to geographic advantages, Russians don't strictly need to use Ukrainian territory to access any foreign destinations. On the other hand for Kiev, the move appears suicidal. Firstly, 70 percent of passengers on Ukraine-Russia flights are Ukrainian nationals. Furthermore, Ukrainians use Russian airports - especially in Moscow - for connecting flights to global cities. Added to that, the only two direct connections between Kiev and east Asia (Ukrainian International to Beijing and Bangkok) rely heavily on use of Russian airspace, especially the former.
In other words, Ukraine is cutting itself off from the world. This comes at the precise moment when it desperately needs new foreign investment to rescue its moribund economy. With an attitude like this, it's better that sharp objects are kept away from Kiev's ruling elite. Who knows what damage they might do to themselves?
Poroshenko's madness doesn't only imperil transnational trade. It also has the potential to damage the lives of millions of his own people. In 2012, the World Bank reported that around $3.7 billion was returned to Ukraine in remittances from Russia. Meanwhile, Vladimir Putin said in 2013 that up to 5 million Ukrainians were working in Russia. That figure is probably much higher now, given the economic catastrophe Maidan wrought.
Constantin Gurdgiev, Economics Professor at Dublin University, Trinity College, insists that $3.7 billion is a very conservative estimate. "World Bank data is most likely underestimating the true extent of the remittances flows. Official figures understate true numbers of Ukrainian (and exclude dual) citizens working in Russia who have family connections back in Ukraine by a factor probably close to 30 percent. In 2013, Russian authorities estimated that of 11.3 million foreigners entering Russia, some 3 million did so to undertake illegal work," he wrote in his excellent True Economics blog.
READ MORE: Top Ukraine official backs idea 'to help ISIS take revenge on Russian soldiers in Syria'
Interestingly, household remittances from Russia are over 30 times greater than those from the EU to Ukraine. Just let that sink in for a moment. It highlights just how crazy Poroshenko's policy is. Not to mention that "Russian labour markets sustain Kiev by simultaneously reducing demand for social funding of the unemployed, and increasing household consumption and investment, with zero input costs." according to Gurdgiev.
Overall, remittances from Russia accounted for as much as 3.55% of the total value added in the Ukrainian economy in 2012. Again, that percentage is most likely far greater today. Either way, $3.7 billion (and the rest) is a humungous figure in a country where the state spends just $302 million annually on health care.
Attempting to stymie free movement with Russia is mind-boggling. Instead of halting the digging process, Poroshenko has hired a bigger drill to deepen the cavity. For his own good, and that of his country, the billionaire oligarch needs to stop dredging the trench.
LISTEN MORE:
The statements, views and opinions expressed in this column are solely those of the author and do not necessarily represent those of RT.