Top Ukraine official backs idea 'to help ISIS take revenge on Russian soldiers in Syria'
Russian prosecutors have charged a prominent Ukrainian politician with inciting terrorism, after he called for Islamic State to attack Russian pilots involved in the campaign against ISIS in Syria.
Anton Gerashchenko, an adviser to Ukrainian Interior Minister Arsen Avakov, shared a message from a Facebook "friend" who wants to help ISIS militants take revenge against Russian forces in Syria "in accordance with Sharia law."
Gerashchenko said he received a message on Facebook which said that "Russian propaganda channels" and Russian army in almost every report "show off" their military personnel in Syria.
The post, as well as Gerashchenko's Facebook page, were unavailable for several hours. But later the post, as well as Gerashchenko's page, reappeared. An image of the post can be viewed, however, thanks to a screenshot.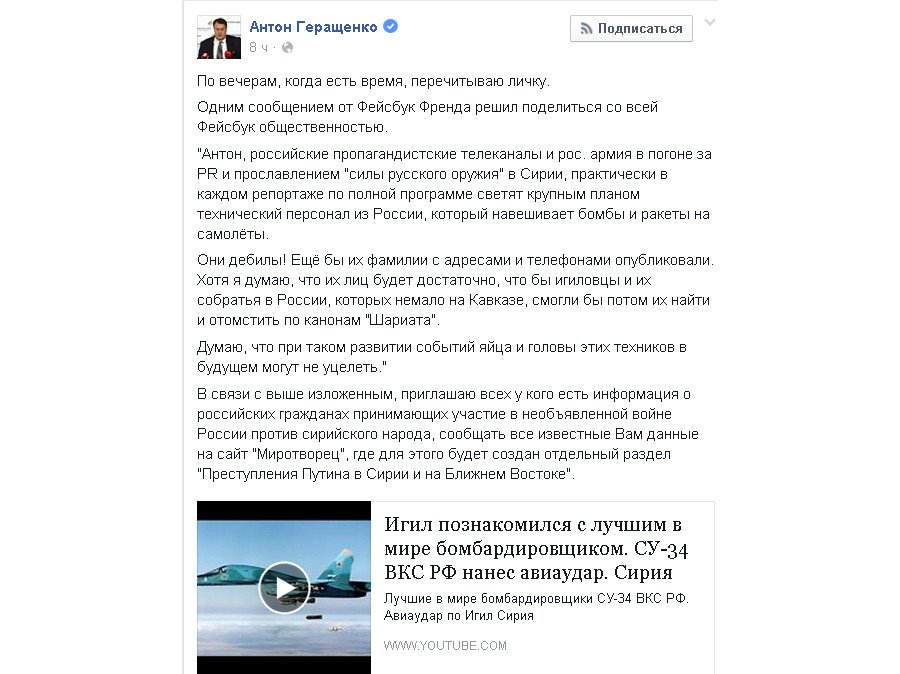 "I think that their faces [on TV] will be enough, so that Islamic State militants and their supporters in Russia, the majority of whom are in the Caucasus region, could then find them and take revenge [on them] under Sharia law," the Facebook user wrote to Gerashchenko.
Gerashchenko, who also attached an RT video showing Russian military jets in Syria in his post, seemed to be inspired by the idea. He urged everyone who has any information about Russian servicemen fighting ISIS in Syria to report the data on the volunteer-made Mirotvorec (Peacekeeper) website. For such information, there would be a special section, entitled "Putin's crimes in Syria and Middle East."
READ MORE: Personal details of murdered journalist & ex-MP found posted on Ukrainian 'enemies of state' database
The majority of Gerashchenko's Facebook friends supported the idea, calling it "brilliant" and "effective." However, not everyone got motivated by such a call.
"Anton [Gerashchenko] is already supporting Islamic State?" "Has Ukraine already solved its own problems" "Anton Gerashchenko, are you nuts?" asked users in the comments under the post.
The Mirotvorec (Peacekeeper) website, which is supported by Gerashchenko, posts very thorough data on anyone who oppose the current Kiev authorities – journalists, activists, MPs and, of course, self-defense forces fighting against the government in eastern Ukraine. They are all labeled "terrorists" or "supporters of federalization."
READ MORE: 'Do not disturb': Top Ukrainian official asks to be left alone over missing Russian journalist
The personal information include their addresses, social media account links, a substantial biography and any mentions in the Ukrainian press. It has its own social media account, which frequently tweets cryptic messages of "successful missions."
Several of those mentioned on the website, with the most high-profile ones like opposition politician Oleg Kalashnikov and opposition journalist Oles Buzina, were killed shortly after their personal details turned up on the website.
LISTEN MORE:
READ MORE: Ukraine blacklists US boxer Roy Jones Jr. over Crimea visit & request for Russian passport
You can share this story on social media: