Ferguson police 'are inflaming tensions by declaring state of emergency'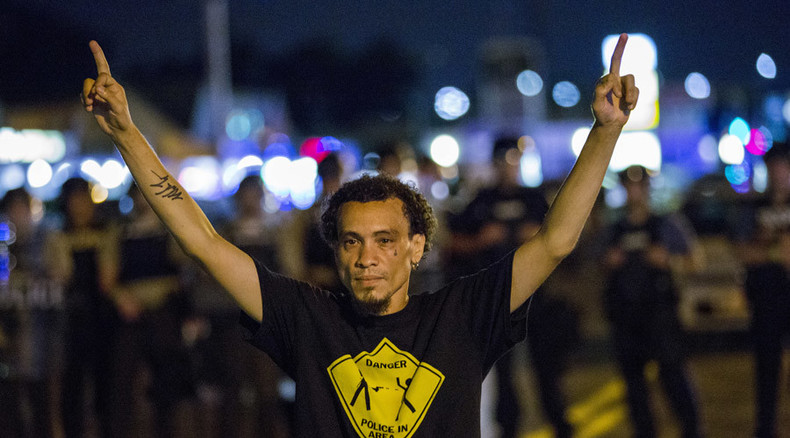 When US police declare state of emergency over protests, like they did in Ferguson, it creates a context in which people don't feel safe, and they want to get out of those situations and resist, says Samuel Sinyangwe, an activist and policy analyst for the group WeTheProtesters.
Several dozen people were arrested in St Louis during an anti-police brutality rally. A state of emergency was declared in Ferguson on Sunday after a black man was shot in a gunfight with police.
READ MORE: State of emergency declared in St. Louis county; activists arrested at federal courthouse
RT: Over the last 24 hours more police shootings are occurring. Is it a case that lessons have not been learned from a year ago?
Samuel Sinyangwe: I think that the police are still acting violently toward us. We've seen in St. Louis a number of black people killed since Michael Brown was killed. In fact, going all the way back to 2013, we've seen a trend of about every two months a black person is killed by police in St. Louis. So when the police are acting violently like this, we must continue to protest. We've seen some changes over the past year, most notably a Civilian Review Board has been passed, but more work clearly needs to be done in order to prevent this sort of militarized and over-policed presence that we saw before the events over the weekend – they clearly inflamed tensions.
READ MORE: State of emergency: Protesters, police face off following Mike Brown's death anniversary
RT: Why has it been so difficult for those changes you've just outlined to take place, given that this is such an important issue?
SS: Because there is an entire system in place that has been built up over decades, if not generations, that needs to be dismantled. We need to address police union contracts, for example, that in many ways have prevented civilian oversight from being effective and empowered. We need to address a culture that basically takes the police narrative for granted. I think we've made some progress on that. Now when people are killed by police, they've started to question the story – but more work needs to be done. For example, we saw the events [at the weekend]. People are very quick to immediately attribute the shootings to the boy who was killed. And we really don't know the facts – the investigation is not complete. And yet, people are very quick to blame what happened on a person who experienced the most violence that day.
RT: Do you think the demonstrators have been trying to be more restrained now, approaching things differently?
SS: I think the demonstrators have been peaceful. We've seen protests over the past year have taken place – dozens and dozens and dozens of protests. The vast majority were peaceful. I think that has continued just because there are a few outside agitators who may come in and try to disrupt the movement, [and that] is not an indictment on the protesters. If anything, it shows that there is resistance to clear progress that has been made on both sides. People are happy about some of the progress being made, are happy about the community that is being built, and we're excited to continue that work.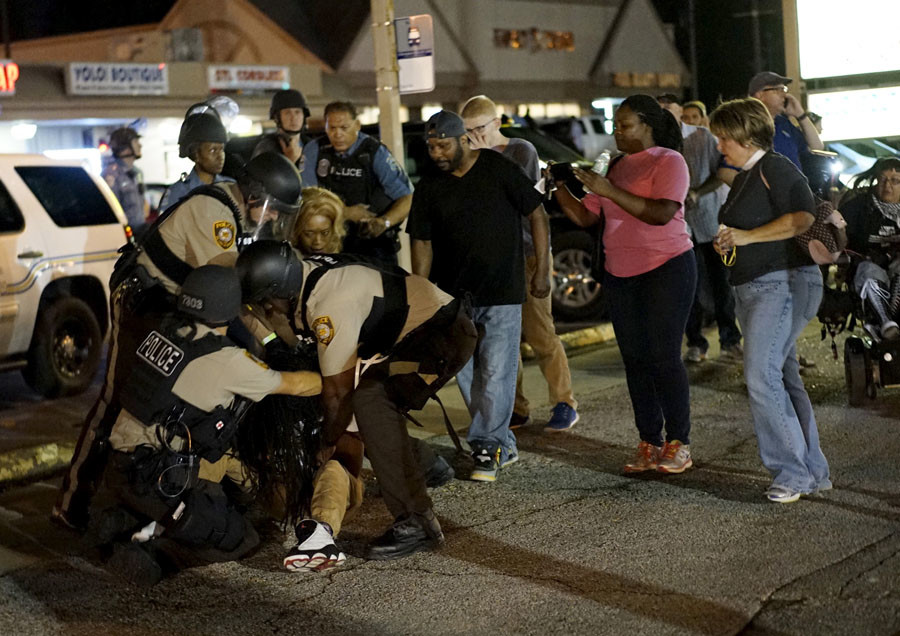 RT: Do you fear that we could see the repeat of the scenes we saw in Ferguson a year ago?
SS: We've seen them declare a state of emergency, which is very bad, because when you think about it, the police in St. Louis are killing black men at a rate higher than the [general] US murder rate. Yet, when we see sustained protests – that is considered an emergency. I think that is precisely the problem. The police are inflaming tensions by basically declaring a state of emergency. We saw yesterday how they responded with armored vehicles again, really activating the traumas of communities. And when they do that, it not really only inflames tensions, but it creates a context in which people don't feel safe, people feel like they have to get out of those situations, they have to fight back, they have to resist. The police should be making us feel safer, instead of inflaming things.
READ MORE: Ferguson 1 year on: 'Anti-police-brutality movement grown really powerful'
RT: A survey has found that police have killed 1,000 people since Michael Brown's death. Do you think those figures could be misleading, or do you believe they are accurate?
SS: They are absolutely accurate. My work at mapping police violence – data work – actually collects comprehensive data on police killings. We have found more than 1,160 people were killed by police since August 9. But again, this isn't anything new. Over a thousand people were killed by police in 2013, over 1,000 in 2014, and already more than 700 in 2015. So we have seen a consistent pattern of violence toward us – that is what we're fighting to stop.
The statements, views and opinions expressed in this column are solely those of the author and do not necessarily represent those of RT.
LISTEN MORE: