State of emergency: Protesters, police face off following Mike Brown's death anniversary
Published time: 10 Aug, 2015 17:40
Edited time: 11 Aug, 2015 04:31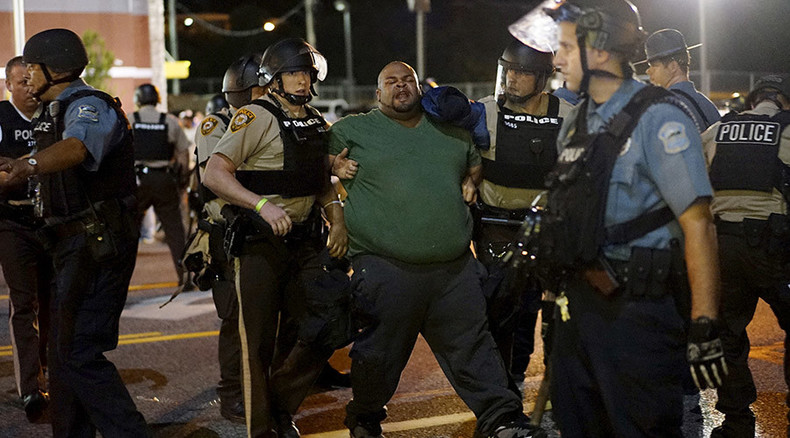 Following a night of protests in Ferguson that resulted in shots fired, demonstrators continued to make their voices heard Monday as St. Louis County declared a state of emergency in an effort to maintain order. The renewed protests follow the one-year anniversary of the Michael Brown shooting.
11 August 2015

04:22 GMT

Police have said the "12-year-old girl" who was arrested is actually 18 years of age.

03:54 GMT

Dramatic photos of police arresting and facing off with demonstrators in Ferguson tonight.

03:52 GMT

A 12-year-old girl has reportedly been arrested, according to accounts on social media.

03:48 GMT

Demonstrators have linked arms as police stand on the other side of the street.

03:46 GMT

A drone has reportedly been sighted above the protest.

03:20 GMT

Police have reportedly started making arrests and kicking people off the streets.

According to law enforcement, frozen water bottles were thrown at officers.

03:03 GMT

Police say rocks and bottles have been thrown at officers near W. Florissant.

03:00 GMT

Hundreds of people are reportedly out on West Florissant.

02:56 GMT

Some protesters are questioning the police's use of riot gear in the face of peaceful demonstrations.

02:48 GMT

The evening in Ferguson has been quiet compared to the flurry of arrests made earlier in the day. A few marches peaceful have been reported.