Protesters take roasted pig's head to Ferguson police department (PHOTOS, VIDEO)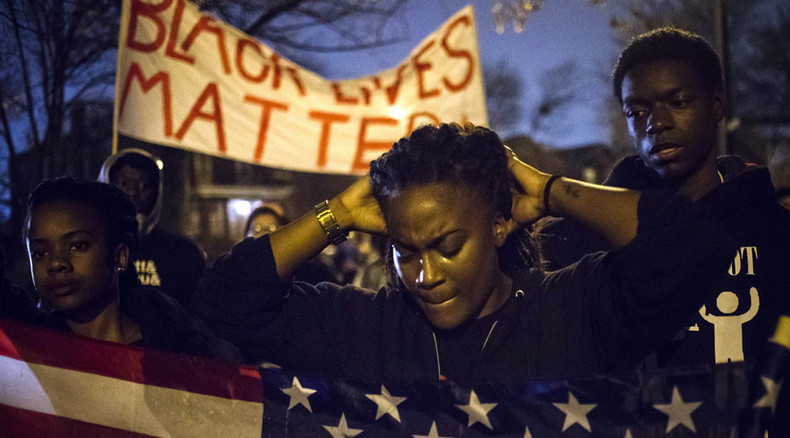 Americans fighting for social justice and against police brutality kicked off the weekend with nationwide demonstrations, exactly one year after police shot and killed an unarmed black teen in Ferguson, Missouri.
Year of protest: Ferguson erupts into rioting after white officer kills unarmed black teen (pt. 1)
The St. Louis suburb has once again become the epicenter of the Black Lives Matter protests that have gripped the nation in the past 12 months. Civil rights activists, religious leaders and others converged on the mostly black community of about 21,000 to commemorate the life and death of 18-year-old Michael Brown.
The highlight of Saturday's peaceful rally in Ferguson was a roasted pig dressed as a police officer, in reference to officer Darren Wilson, who shot and killed Brown on August 9, 2014.
The pig became the mascot of a peaceful march during the day, until the protesters ate it all, excluding its head. At nightfall protesters took the head to the police department building, where hundreds of people had converged.
The weekend's events, many of which have been organized by Brown's father, include marches, concerts and a moment of silence that is to commence midday Sunday at the location of Brown's death at the hands of Wilson on August 9, 2014.
Brown's tragic death kick-started months of clashes with authorities both in Ferguson and around the country. They were exacerbated further by subsequent police killings of unarmed black men in several US cities.
Similar peaceful protests took place around the nation to show that black lives do matter. Most have been marked by concerts and family events organized by volunteers throughout the nation.