Severe thunderstorms leave Toronto underwater, 300K without power
Published time: 9 Jul, 2013 03:08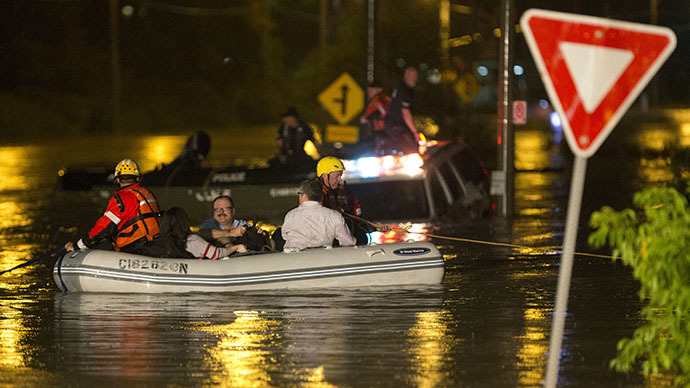 Severe thunderstorms hammered Toronto Monday, leaving cars stranded throughout the city and over 300,000 residents without power.
The Canadian city was hit with a month's worth of rain in just one day, with approximately 3.5 inches of rainfall beginning at 4:00 pm EST. Commuters were soon stranded in traffic, with public transit enduring long delays. 

Environment Canada, the national weather service, put Toronto under a severe thunderstorm warning through Monday night because of a "cluster" of storms approaching from the southern Ontario cities of Brampton and Mississauga. Total rainfall is expected to near or exceed 4 inches. 
Flash flooding has left hundreds of passengers stranded aboard the Richmond Hill public train, according to the Globe and Mail, with as many as 1,000 people thought to be stuck in cars. The water was ankle deep and forced commuters to the upper level of the cars and to open the windows for extra air. Rescue crews were still en route at 9:52 pm EST. 
#flood24pic.twitter.com/TtnbfWiE21

— DS Canvas Creations (@DSCanCreations) July 9, 2013
A train carrying as many as 1,400 other people was in a similar situation, with emergency crews only able to provide one small raft, according to Kim MacDonald of the National Weather Network. 
A passenger trapped on the GO Ttain told @weathernetwork that a police truck on the scene just floated away in the flood water. #onstorm

— Kim MacDonald (@KMacTWN) July 9, 2013
Mayor Rob Ford told CBC Radio "it's all hands on deck" and the city has "brought in everybody to deal with the storm." 
City officials warned residents to be safe but patient in waiting for overwhelmed utility workers, namely Toronto Hydro, to start turning the lights back on. 
CARS STILL TRAPPED in water on DVP @ Dundas St. #Toronto#onstormpic.twitter.com/MZZuKam13o

— Jeremy Cohn (@JeremyGlobalTV) July 9, 2013
"There's not a lot that will change once it starts getting dark," Hydro spokeswoman Tanya Bruckmueller told the Canadian Press. "It'll be harder for the crews … they need to be able to identify where the damage is so it'll take longer in the night." 
427 pic.twitter.com/sqO2edEhi8

— Leslie Roberts (@lrobertsglobal) July 8, 2013
Flooding plagued highway routes to the south of the city and traffic lights were reportedly out through the region. Porter Airlines, headquartered in the heart of the city, had canceled all flights while Air Canada announced many of its flights would be delayed or canceled, as well. 
Toronto police issued a release Monday "advising the public to remain in their homes, avoid underpasses and low-lying areas. If in a stalled vehicle, please remain in your vehicle if possible until help arrives."