Five dead as US Midwest fights record floods
Severe flooding in six Midwestern states has forced evacuations, inundated homes, shut down bridges and left a number of Americans dead. And meteorologists expect looming storms to dump more rain on the flooded cities.
Five Americans are dead as a result of the severe weather conditions, which brought heavy downpours that flooded basements, forced evacuations and prompted residents to build makeshift levees and sandbag walls.

In Clarksville, Missouri, residents are hurriedly trying to keep the Mississippi from spilling over, placing sandbags on the edges of the rising river section.

In Michigan, the state university is flooded, its campus drowned in a river of rainwater that has turned its athletic field into a lake. In Indiana, levee breaks have caused further damages as the infrastructure failed to hold back the ferocity of the storm water.
Some towns in Indiana saw 14 feet of water -- record flood levels that haven't been experienced since 1958.
The Illinois River and the Mississippi have risen so high that barges struck bridges, broke away, and became submerged. Barge shipping was temporarily brought to a halt, slowing the transportation of coal and grain.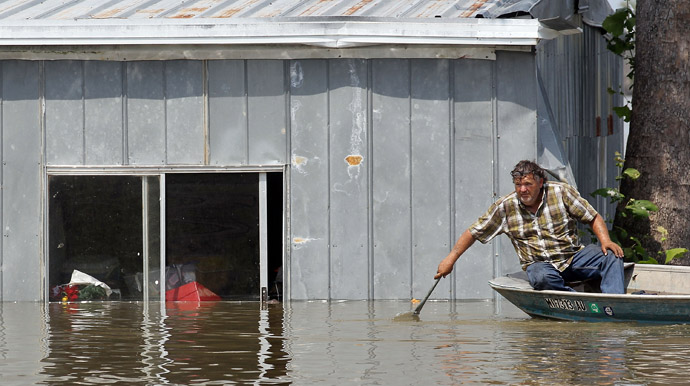 Along a 15-mile stretch of the Mississippi near St. Louis, 114 barges broke loose and 11 sank in the waterways. Shipping resumed Tuesday, but the submerged barges remain buried beneath the river.
"The more I see the water come up, the more I'll cry," Starlynn Winchell, a resident of Spring Bay, Illinois, told CNN. Heavy downpours have flooded rivers in Illinois, Missouri, Iowa, Indiana, Mississippi and Michigan, prompting Missouri Gov. Jay Nixon and Illinois Gov. Pat Quinn to both declare a state of emergency.
Although the worst of the flooding occurred Sunday, Meteorologists predict that impending storms could dump more rainwater on the flooded regions and cause further devastation.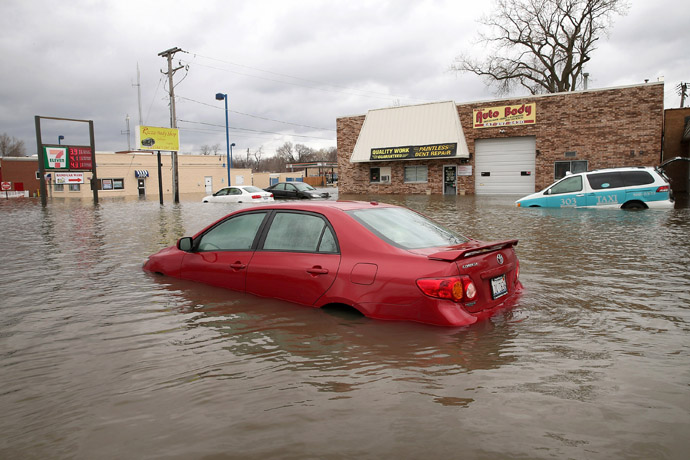 "If it gets another foot (higher), it's going to become another issue," St. Louis Mayor Tom Thompson told AP. Townsfolk "are kinda watching and holding their breath. ... Some things are going to really be close to the wire."
The portion of the Mississippi near Grafton, Ill., was 10 feet above flood stage, forcing downtown businesses to close down as the water flooded into the city. And communities across the Illinois River will witness record flooding if the lingering storms worsen the conditions.
"Along the Illinois, any increase is going to be cause for alarm, adding to their uncertainty and, in some cases, misery," Mark Fuchs, a National Weather Service hydrologist, told AP.
Meanwhile, snow has blanketed Minnesota and the Dakotas, and meteorologists worry that once the snow melts, the Missouri and Mississippi rivers will rise even higher than their current level.
Residents across the Midwest are bracing themselves for more rain and continue to build sandbag walls along river edges most vulnerable to flooding.
"The level of concern is high," Fuchs told AP. "It does look like we're going to see a bit of a bump up from this rainfall event."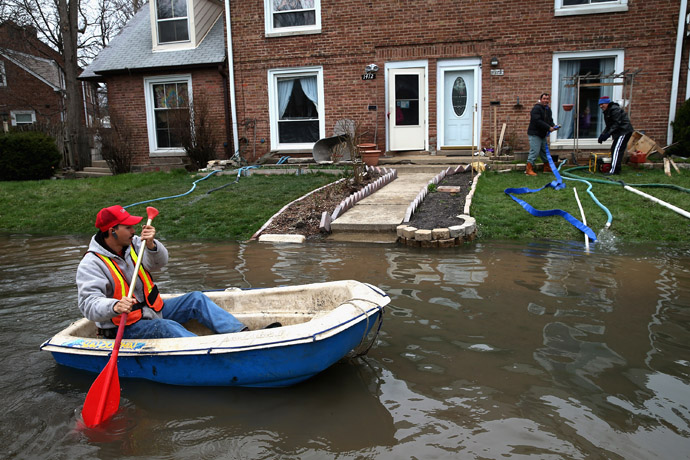 You can share this story on social media: