Tear gas as thousands return to Taksim Square in Istanbul (PHOTOS, VIDEO)
Police again used tear gas after thousands of protesters flocked back to Istanbul's Taksim Square and gathered in other Turkish cities in a third day of protest. PM Erdogan stressed he'll not give in to pressure calling the protesters "marauders."
Follow RT's LIVE UPDATES on the protests 
In Istanbul's Taksim Square, a festive morning atmosphere returned to tension after nightfall as police tried to disperse protestors with tear gas, AFP reported.
Teargasing followed clashes between police and protesters that erupted near Erdogan's office in the former Ottoman palace in the city. Tyres and garbage were set on fire and police had to use water cannon to put the flames out.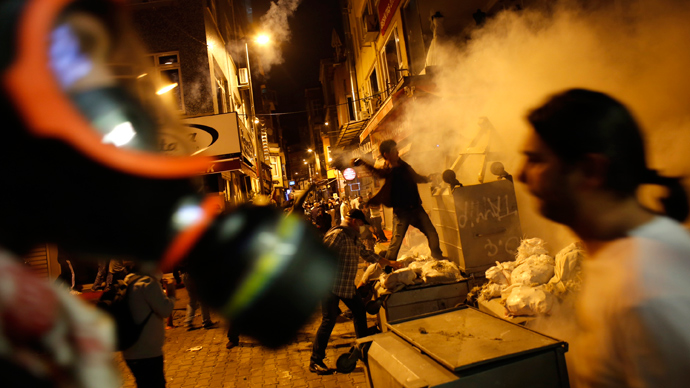 Earlier in the day, police also used tear gas to disperse hundreds of people in Ankara's main Kizilay square, while at the same time there were clashes between security forces and demonstrators in Izmir and Adana, Turkey's third and fourth biggest cities.
The demonstration marks the third day of the protests in Turkey, which started as a peaceful sit-in against the re-development plans in Gezi Park, but turned into nationwide riots after the police brutally cracked down on protesters.

Crowd significantly swelled. My estimate: 80-100,000 protesters in Taksim. Many more outside Taksim.

— Mahir Zeynalov (@MahirZeynalov) June 2, 2013
While the mass protests were marred by violent clashes with the police, in which two people were reportedly killed and over 1,000 injured, as well as scenes of vandalism with cars turned over and buildings and vehicles covered in graffiti, there was some marked display of public support for the protesters and that of collective responsibility too.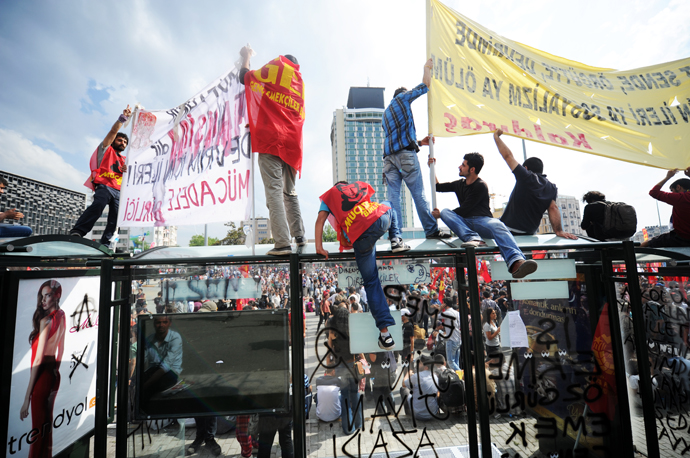 Those demonstrators who remained in the streets overnight, after the police had backed down and allowed the protests to continue, had cleaned Gezi Park and the surrounding areas piled with empty teargas canisters and rubble.

The real tear bomb: after the police attack, PEOPLE cleaned Gezi park twitter.com/DirenGezi/stat…#occupygeziparki#OccupyIstanbul

— Occupy Sydney (@occupySYDNEY) June 2, 2013
A free food stall has been set up in the park for exhausted demonstrators, while Twitter users posted reports of shops, pharmacies, hotels, and ordinary citizens aiding protesters with supplies, masks, medicine and refuge.

This is how every citizen is participating in the protests #occupygezi#occupytaksim#occupyistanbul#occupyturkeytwitter.com/DeSoNiR/status…

— Sinan (@DeSoNiR) June 2, 2013
Amid the ongoing anti-government protests in Turkey, Washington has called on all parties to "calm the situation." The White House in particular urged security forces to "exercise restraint." In a statement released on Sunday, spokeswoman Laura Lucas said the US believes peaceful public demonstrations "are a part of democratic expression."

Meanwhile, Turkish Prime Minister Recep Tayyip Erdogan on Sunday stressed he "will not seek permission from marauders" to implement the building plans for Taksim, which sparked the initial sit-in protest in the park.
Erdogan seemed to remain defiant of the protests, calling them "ideological" and manipulated by the opposition "unable to beat [the government] at the ballot box."
"Everyone in this country has the right to hold a rally within boundaries of democracy and laws. However, no one has the right to act against laws, conduct acts out of democracy and give damage to shop keepers, residents or pedestrians. No one has the right to increase tension in Turkey by using uprooted trees as an excuse," Erdogan said, as quoted by the Turkish Weekly.

Turkish PM Erdogan: "I will not seek permission from hoodlums to implement my plans for Taksim" #OccupyGezitwitter.com/57UN/status/34…

— Stun ☠ (@57UN) June 2, 2013
"Is this democracy?" Erdogan rhetorically asked, citing the damage to property caused by the protests. He also apparently disagreed, without elaborating, with the protesters calling him a 'dictator', saying he is in fact the "one who serves the people."
The Turkish leader also blasted social media - the primary source of information for the protesters - which have experienced a harsh crackdown on traditional media under Erdogan rule.
"There is now a menace which is called Twitter," Erdogan said. "The best examples of lies can be found there. To me, social media is the worst menace to society."
An investigation into the use of excessive pepper spray by security forces at the Taksim Gezi Park has been launched by the Turkish Interior Ministry, he added.
Teargas was again fired on Sunday in Ankara to stop around 1,000 protesters attempting to march to the prime minister's office, AFP reported.

But in Istanbul the atmosphere has remained peaceful, with jubilant demonstrators dancing in chains and chanting. While many waved communist party flags and banners, the crowd has remained "very detached" and with "no leader," Mahir Zeynalov, a reporter from the Turkish daily newspaper, 'Today's Zaman' tweeted.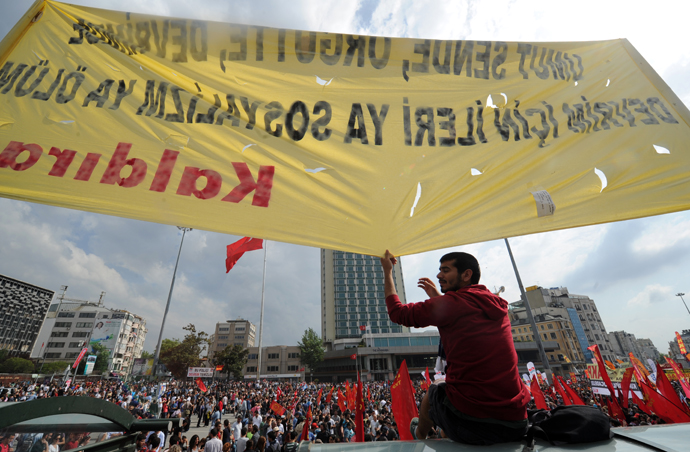 "It's not about a park anymore," Istanbul-based political columnist Yavuz Baydar told RT.
Baydar believes the protests stem from the city's "heritage of diversity," and have brought together people, even with opposing political views, who wish to live "together in peace in urban environments."
"A lot of people have been sending the message by these revolts – apart from the destruction et cetera – to the government, to Erdogan in particular, in person, that there should be no more patronization, there should be no more humiliation, that respect must come back to the political approach and implementation… That has to do with the way people feel fed up with the interference, micromanagement of their lifestyles," Baydar said.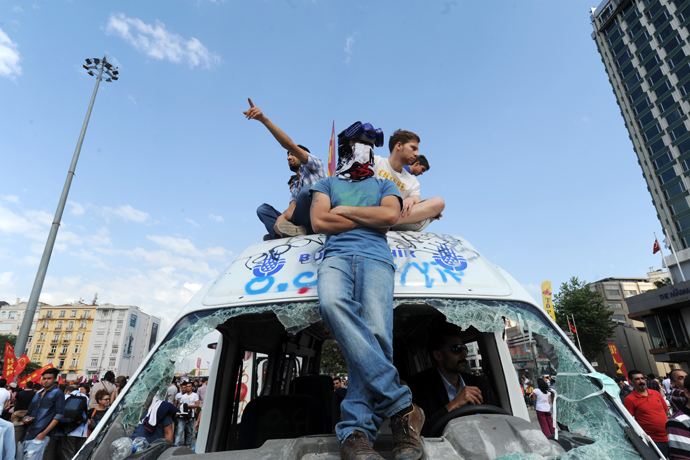 You can share this story on social media: