Rebels accuse Assad of large scale massacre after US speaks of arming opposition
Published time: 4 May, 2013 19:50
Edited time: 4 May, 2013 20:08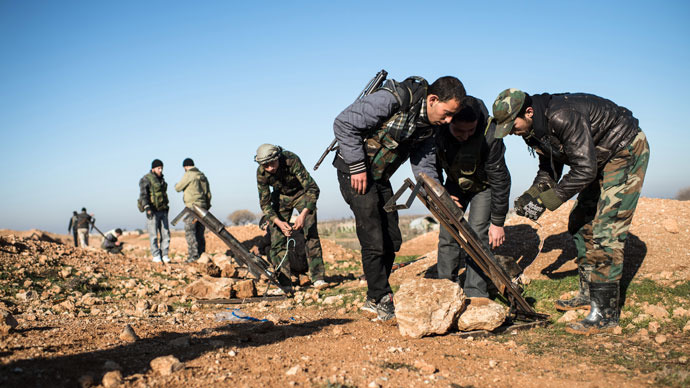 Syria's opposition has accused government forces of massacring at least 62 people. The allegations come after the US has publicly admitted that it's now considering supplying arms to the rebels.
The Syrian Observatory for Human Rights claimed that bodies were discovered in the Ras al-Nabaa district of the coastal town of Banias, which is mainly inhabited by Sunni Muslims.  

"We have identified 62 citizens by their names, photos, or videos, including 14 children," the activists told AP, adding that the toll could rise.

The group backed their accusations by posting a graphic video online, which shows the bodies of ten people, half of them children, they say were killed by the forces loyal to president, Bashar Assad.

The activists added that hundreds of Sunnis are currently fleeing Banias in fear for their lives.

The accusations come just two days after the opposition National Coalition blamed goverment troops for murdering around 100 people in the village of Bayda, also situated not far from Banias.

Despite the allegations being hard to verify, the US has hurried to denounce the Syrian regime for staging a "large scale massacre".

"We strongly condemn atrocities against the civilian population and reinforce our solidarity with the Syrian people," Jennifer Psaki, the US State Department spokeswoman, said in a statement.

"The United States is appalled by horrific reports that more than 100 people were killed May 2 in gruesome attacks on the coastal town of Bayda, Syria," she added.

In the wake of the events, Syrian journalist, Ali Mohamad, told RT that he isn't sure that pro-Assad forces were behind the killings as accusations by the opposition always coincide with fresh foreign pressure on Damascus.

"Each time a big and important event regarding Syria was happening whether in the UN Security Council or in any other entity, each and every time there were talks about massacres and violations of human rights," he said. "This is beyond being by chance anymore. I do believe it's synthesized and the timing is very suspicious, not to say more."

"The opponents of the Syrian regime can accuse it of many things, but being stupid isn't one of these things. And it'll take a lot of stupidity to time the massacres and graphic violations of human rights before big decisions are being made," the journalist added.

Mohamad stressed that the US plans to arm the rebels won't help prevent the Syrian civil war, but would only lead to more blood being spilled.  

"The only way out is talks and the only way to actually solve the crisis and put an end to it is diplomacy and negotiations. And the statement made by the Russian Foreign Ministry is not only accurate, but it describes the only possible solution to this crisis," he said. "Let's remember that people are talking about the massacre today and applying weapons mean more massacres. Because there were concerns about the massacres committed by the rebels and that doesn't seem to bother the NATO nations or the US. So, giving more weapons mean more dead people and more dead people don't in any way mean something good for the country."

On Friday, Russia's Foreign Minister, Sergey Lavrov, said that the stance of Moscow and Washington on Syria is important, but not everything depends on it as the solution to the crisis can only be found "in direct talks between the opposition and the government as agreed by the Geneva protocol."

As for the plans to send weapons to the opposition, the FM stressed that it's a bid for the "military scenario", which will be paid for "by more and more Syrian victims."