Talkalakh massacre: Syrian rebels, govt trade accusations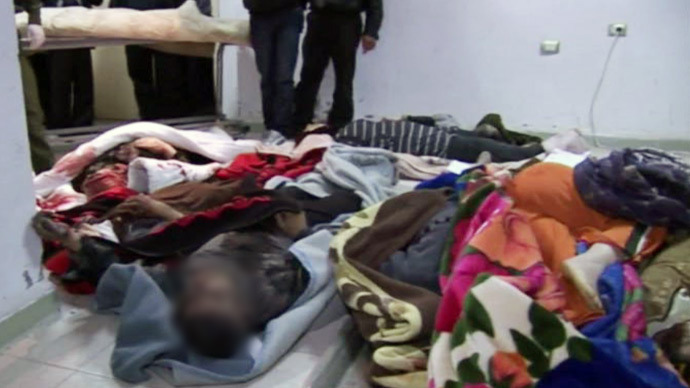 Syrian rebels and government forces have accused each other of killing 13 civilians, most of them women and children. Their bodies were discovered in Homs province in western Syria near the Lebanese border on Sunday.
The bodies were found in the Burj neighborhood near the town of Talkalakh, RT's crew reported from the site.
State media blamed unidentified rebel fighters for the night raid. SANA news agency said the victims were robbed and killed before an army unit intervened.
The pro-rebel London-based Syrian Observatory for Human Rights blamed the army troops for the deaths, claiming the civilians were killed as government forces stormed the neighborhood.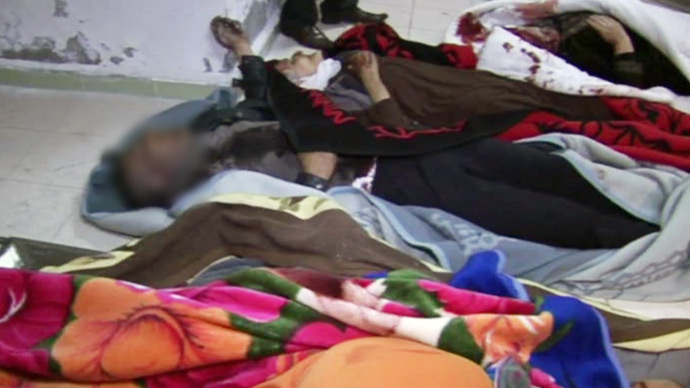 Talkalakh saw a rare ceasefire between the army and fighters of the Free Syrian Army in mid-March, sponsored by local sheikhs. However, the already-shaky agreement was strained further after Damascus claimed that a large group of militants had infiltrated the town from across the border.
Lebanon's Sunni-dominated north is largely supportive of Syrian anti-government fighters, most of whom share their faith. Damascus has blamed its Shiite allies in power in Beirut for not doing enough to curb the flow of fighters and arms through Lebanese territory into Syria.
RT refrained from publishing its footage of the victims' bodies due to the graphic nature of the material.

You can share this story on social media: