Syrian opposition claim dozens killed in 'massacre' by Assad forces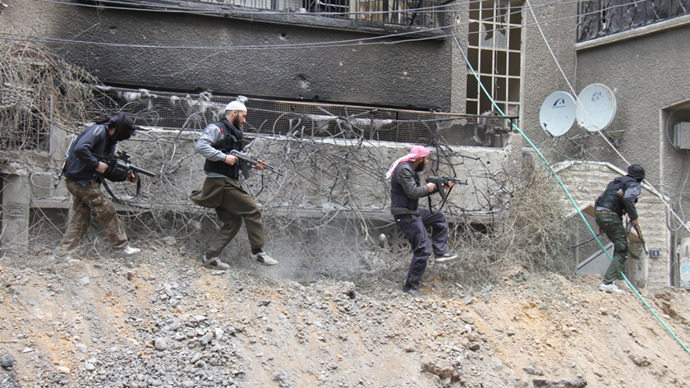 Syrian opposition activists allege that government troops have killed at least 85 people during the storming of a Damascus suburb following five days of fighting.
According to the Syrian opposition, the number of victims of what they described as a "massacre" at the Jdeidet al-Fadel area in the country's capital may be higher than 250, including women and children. However, it was impossible to independently verify the information.
A member of the Revolution Leadership Council opposition group, Jamal al-Golani, claimed that the victims were mostly shot at close range, adding that the presence of army patrols made documenting all of the dead difficult. He said he had counted 98 corpses in the streets and 86 more people were "executed" in makeshift clinics.
The alleged killings happened during and after pro-government forces stormed an area where there were up to 270 rebels, according to Golani.
Another opposition activist, Abu Ahmad al-Rabi', said that they "documented 85 summarily executed, including 28 shot in a makeshift hospital after Assad's forces entered Jdeidet al-Fadel."
Menawhile Syria's SANA state news agency has reported that "Armed Forces units inflicted heavy losses upon terrorists" in the town.
The rights groups also released footage of the alleged aftermath of the bloodshed in the area, but it is difficult to ascertain what exactly took place, as journalists are not allowed in the area.
President Assad's government has also been involved in a war of words with the opposition and rights groups, maintaining that his forces are only interested in fighting terrorists who are being sponsored from abroad, and that massacring his own people for the sake of dominating the country is a heinous twisting of actual events.
Meanwhile, Russia, one of Syria's closest allies, has been advocating a dialogue between the president and the opposition, and has repeatedly blamed foreign powers for exacerbating the crisis and allowing Islamic extremists to flourish in the war-torn country.
The Syrian uprising has been going on for two years and has killed over than 70,000 people, according to UN estimates.