Swiss jets not scrambled over hijacked plane because 'airbases closed at night'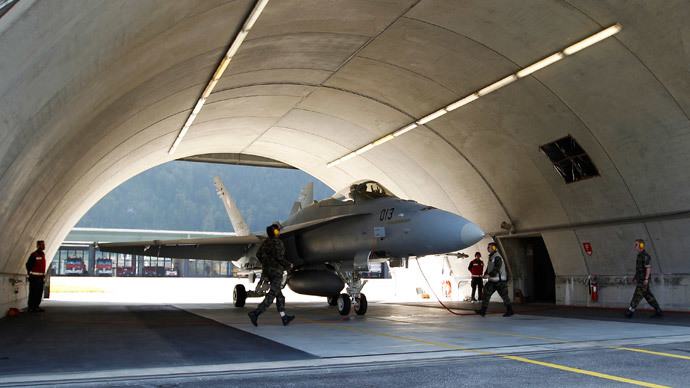 An incident with a highjacked Ethiopian passenger jet has exposed the Swiss Air Force's inability to deal with threats in 'off-duty' hours. An emergency escort to the aircraft in distress was carried out by vigilant colleagues from Italy and France.
Early on Monday morning, an Ethiopian Airlines co-pilot told ground control he had highjacked flight ET-702 from Addis Ababa to Rome and was going to land in Geneva. The Swiss Air Force was caught off guard and missed a rare opportunity to go on a real mission. It turned out that they were unable to scramble any jets because they only work during office hours!
"Switzerland cannot intervene because its airbases are closed at night and on the weekend," Swiss Air Force spokesman, Laurent Savary, commented to AFP later on, adding that it is "a question of budget and staffing."
According to Laurent Savary, the Swiss Air Force operates during office hours only, specifically from 8am until a lunch break at noon. A return to cockpits happens at 1:30 pm and they watch over Switzerland's skies until 5pm.
When the Boeing 767-300 with 202 passengers, highjacked by 31-year-old co-pilot Hailemedehin Abera Tagegn got to Europe, it was still too early for the Swiss pilots to gear up for the urgent mission.
So the job was done by Italian and French military pilots. Italian Air Force Colonel, Girolamo Ladiciccio, said, the order to intercept the Boeing from the Ethiopian capital came from NATO command. Two Italian, and later a couple of French fighters ensured the Ethiopian aircraft did not stray from its route and harm national security.
And the fears were justified, as more details about the hijacking drama continued to emerge.
In an audio recording published on Italian media websites, a voice said to be the captain could be heard threatening to "crash the plane."
"We thought the co-pilot had gone mad," said Francesco Cuomo, a 25-year-old development economist who was among the ET-702 passengers, as reported by Switzerland's, The Local.
The story proved that Swiss business wakes up earlier than its national military. Geneva airport opens for business flights at 06:00 am, whereas the Air Force remains inoperable until 08:00 am.
The Ethiopian aircraft had to circle the region for some time until the green light to land in Geneva was given around 5:30 am (04:30 GMT).
When the plane safely landed in Geneva at 6:02 am (05:02 GMT), Swiss military technicians had not even started to warm up the engines of the country's F-18s and F-5 Tigers fighter jets.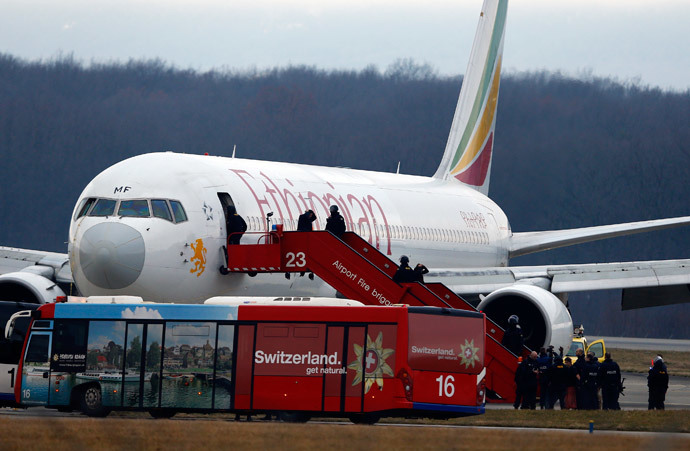 With plans to re-arm the Air Force with Swedish Gripen fighters, Switzerland has postponed a decision on round-the-clock operations till 2020, a Swiss Air force spokesman said.
Swiss airspace remains under constant electronic surveillance, Laurent Savary stressed, but so far the Alpine nation has had to rely heavily on its neighbors, primarily France, which is allowed to escort suspicious planes into Swiss airspace.
"There is no question of shooting it down. It's a question of national sovereignty," he explained.
The majority of comments for the AFP article published at Yahoo! news service about the unpreparedness of the Swiss Air force were pejorative.
"I'm sorry sir, but you are not permitted to invade us. You don't have an appointment" (Toecutter)
"If we ever have to invade Switzerland, it's a 5:30pm kick-off time." (Thomas)
"I'm sorry, but could you please invade us during normal business hours?" (K Dad)
"Although no Swiss Air Force fighters were scrambled, the report of the hijacking WAS passed on to the Swiss Navy...." (PHILLIP L 1)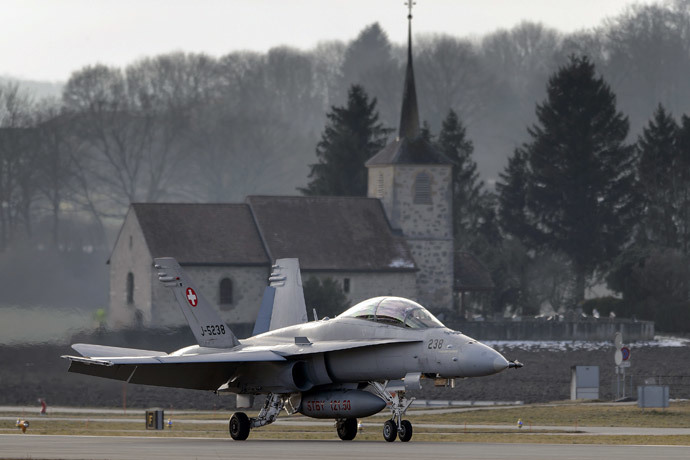 Co-pilot Hailemedehin Abera Tagegn was arrested by Geneva police after he got out of the plane's cockpit using a rope. He asked for asylum. It is believed that the co-pilot will be charged with hostage seizure, a crime punishable with up to 20 years in prison in Switzerland. In Ethiopia hijacking is punishable with 25 years in prison.
The scandal about the inoperable Air Force might affect the purchase of Sweden's Gripen fighter jets by Switzerland. This is yet to be decided by an upcoming public vote. So far, according to a poll published on Monday, up to 53 percent of Swiss citizens would vote against the deal.
You can share this story on social media: