Switzerland arming in preparation for European meltdown?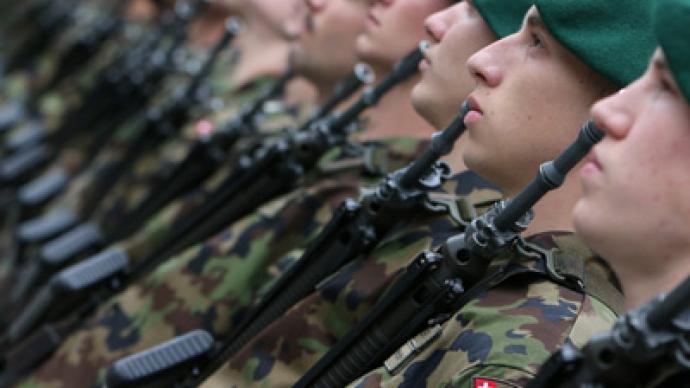 The Swiss Army is preparing contingency plans for violent unrest across Europe. A nation mostly famous for its banks, watches and chocolate fears it may face a massive influx of European refugees in the near future.
One of the world's richest nations openly expressed concerns over the possible outcome of Europe's continuing financial troubles, and is currently conducting army exercises against the possibility of riots along its borders.In September, the Swiss military conducted exercises dubbed 'Stabilo Due,' with scenarios involving violent instability across the EU.Switzerland has maintained an avowedly neutral stance for decades, and refused to join the eurozone when presented with the opportunity.Bern's biggest fear is likely the disorganization of neighboring nations' armies that would follow general instability; the eurozone crisis and the severe austerity measures in the EU are forcing member-states to significantly slash their military budgets. If protest continues to spread across Europe, police and armed forces may find themselves ill-equipped to manage the unrest."I will not rule out that we will need the army in the coming years," Swiss Defense Minister Ueli Maurer said last Sunday.The Swiss Defense Ministry has pressed ahead to modernize the country's army despite political opposition. With its multibillion-Franc military budget and an army of around 200,000 soldiers, the country also plans to purchase new 'Saab Gripen' jet fighters.

"Minister Maurer, accompanied by whispers from the top uniformed leadership in Switzerland, is trying to raise awareness that Europe's massive fiscal-cum-political crisis could get very unpleasant," John R. Schindler, a professor of national security affairs at the US Naval War College wrote in an article for the XX Committee website.The Chief of the Swiss Armed Forces, Lieutenant General André Blattmann, likewise revealed plans to deploy an additional four battalions of military police (1,600 soldiers) to protect strategic points across the country. Blattmann is expected to present the plan in December.Professor Schindler predicts that, "if the next Anders Brievik were to target Muslims, not fellow Europeans, things could get unimaginably ugly very quickly," which could trigger widespread Muslim uprisings in Europe. Switzerland, however, stands in stark opposition to the multicultural policies and thinking now common in other European nations. In 2009, Switzerland passed a national referendum banning the construction of Islamic minarets . And while the global economic crisis has forced several European nations to cut military expenditures, Switzerland has maintained relatively consistent levels of defense spending.
You can share this story on social media: