Fighter jet crashes in Switzerland, 2 crew missing
An F/A-18 fighter jet crashed in central Switzerland during a training flight, the Swiss Federal Department of Defense has reported.
The crash took place near the village of Alpnach, in the Swiss canton of Obwalden, where a military airport is located.

At a media conference following the crash, Swiss Armed Forces chief André Blattmann said a pilot and a passenger were on board the jet. He said the fate of both remains unclear, but the chances that anyone survived the crash were slim.

"The images of the scene make us fear for the worst," Blattman said.
Defense Ministry spokeswoman Karin Suini told Itar-Tass that the jet "was designed for 2 pilots."
Local eyewitnesses have described the details of the incident to Blick.ch.
"I stood on the balcony, as the two F/A-18 flew by very low. Then there was a bang. A jet had slammed into a cliff," one eyewitness said.
The man immediately went to the scene of the crash, and saw some debris, including engine parts, lying on the road. The crash also started a fire in the forest above, he said.

Another eyewitness told Neue Luzerner Zeitung that the jet suddenly lost altitude after turning toward the village of Alpnach. The pilot was seen trying to pull up some 30 meters above the lake, but a second later there was a huge explosion.

"I felt like I was in a movie," the eyewitness said.

Residents of a nearby village reported a massive presence of police, firefighters and ambulances at the scene of the crash, including a rescue helicopter.
A local railway line was reportedly interrupted due to a power outage caused by the crash.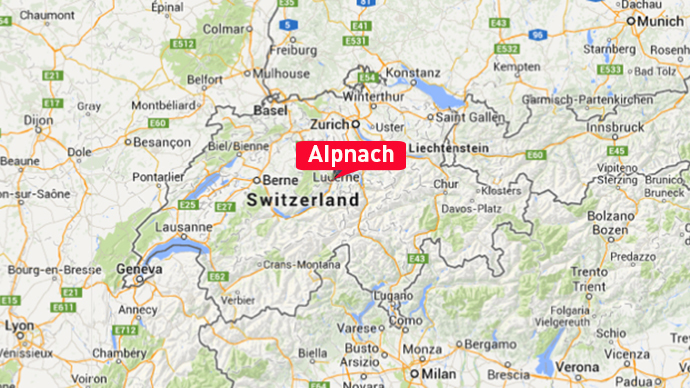 According to SRF, this is the second incident involving an F/A-18 aircraft belonging to the Swiss Air Force. The first crash took place in the canton of Valais in April 1998, killing two pilots.
Switzerland purchased 34 US-made McDonnell Douglas F/A-18 Hornets in 1996, and the Swiss Army started operating them in 1997. Ten years later, Switzerland asked to be included in the F/A-18C/D upgrade program, to extend the use of its F/A-18 fighters.
You can share this story on social media: