Co-pilot hijacks Ethiopian plane, lands in Geneva to ask for asylum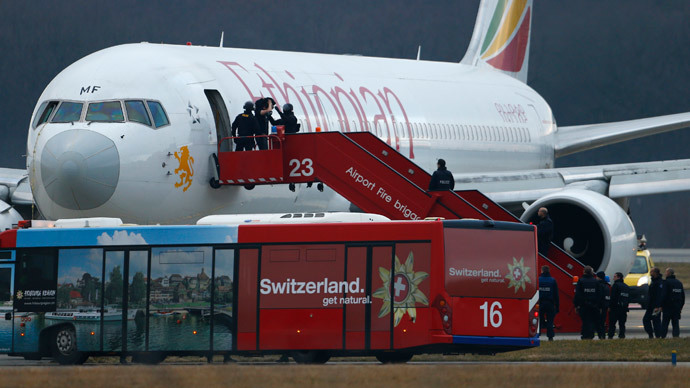 The co-pilot of Ethiopian Airlines flight ET-702 to Italy hijacked the aircraft and landed it in Geneva. The hijacker, who requested asylum in Switzerland, was detained by local police.
The Boeing 767-300 flight from Addis Abba to Rome "was forced to proceed to Geneva Airport," an Ethiopian Airlines press release said.
The plane landed at Geneva International Airport (GVA). All passengers and crew are currently safe the airline said.
It added it is "making immediate arrangements to fly its esteemed customers onboard the flight to their intended destinations."
Airport police said the hijacker has been arrested and the situation is "under control." No injuries were reported in the incident.
At a media conference later on Monday Swiss officials said the hijacker was the co-pilot of the plane. He seized the chance to take control of the aircraft when the pilot went to bathroom and directed it past Italy to Switzerland.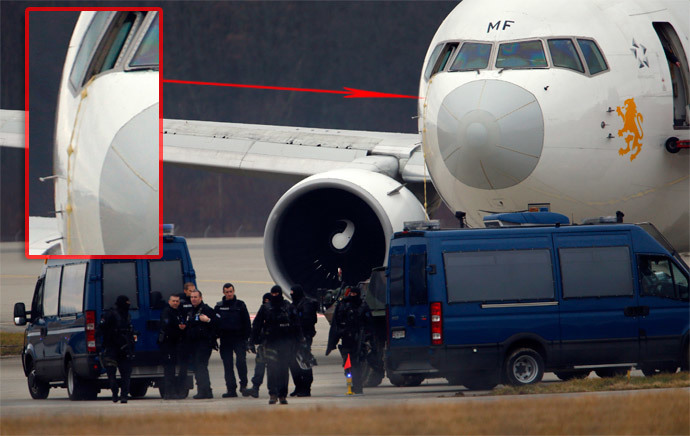 After the landing the hijacker, who is in his early 30s, escaped the cockpit through a window using a rope and surrendered. The co-pilot was unarmed and at no point were the passengers or other crew members at risk, police spokesman Pierre Grangean stressed.
Earlier an alleged record of radio communication between the flight crew and GVA traffic control surfaced, in which the co-pilot requests asylum or assurance that he would not be expelled from Switzerland.
According to Air Traffic Control (ATC) Geneva (GVA) is back open again. http://t.co/XrN4P1yzoN

— Airline Reporter (@AirlineReporter) February 17, 2014
The Boeing 767-300 was flying over Sudan when it signaled a hijacking, said AirlineReporter.com, an industry news blog, which was the first to break the news.
A flight tracking app for mobile devices showed the flight circling over the Swiss city several times before landing.
GVA diverted or canceled at least 11 Monday arrivals amid the ET702 landing turmoil. The airport remained closed for approximately two hours while dealing with the emergency.
Passengers were seen leaving the plane and being searched by police. Then they boarded a bus parked near the end of the runway away from the terminal building.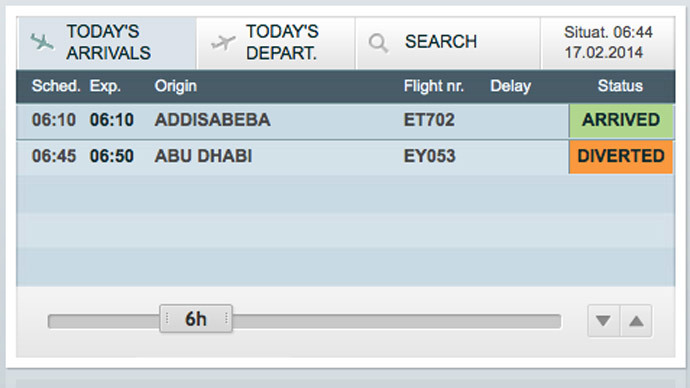 Ethiopian Airlines ET702 flies from Addis Abba to Milan via Rome. It was scheduled to land in the Italian capital at 4am local time (03:00 GMT) on Monday.
The airline press release reporting the plane diversion was briefly deleted from the airline's website minutes after publication, only to return shortly afterwards. The only difference between the two versions is the name of the flight, which was called '702' in the initial text, as opposed to 'ET-702' in the revised version.
You can share this story on social media: