​S. Korea to pay over $800mln towards US military presence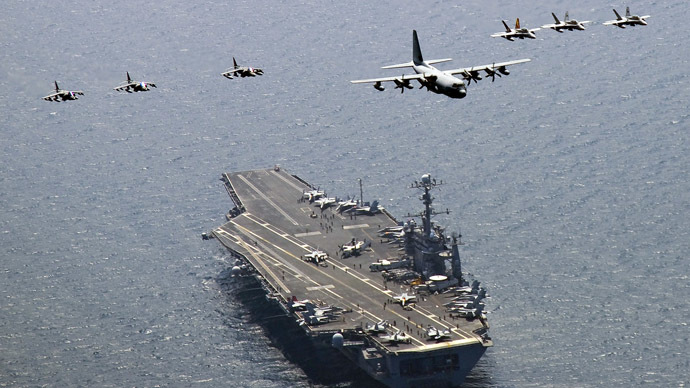 Seoul has struck a deal with the US to cover the costs of stationing 28,500 US troops in the country. The five-year cost-sharing plan stipulates South Korea pay 920 billion won ($866,5 million) in 2014, a 5.4 percent rise from the previous year.
"The US side demanded a large-scale hike, considering US forces strengthened Korea's readiness in light of a serious security threat in the Korean peninsula and its budget situation, but the government put in the utmost efforts and drew agreement that minimizes our burden," South Korea's foreign ministry said in a statement.
Now the deal is subject to parliamentary approval in Seoul. The renewed agreement, which was reached after almost six months of tough negotiations, will last until 2018. Under the previous Special Measures Agreement (SMA), written in 2009 and expired at the end of 2013, Seoul paid $819 million last year.
The US and South Korea, which have shared the cost of hosting American soldiers since 1991, also agreed on a maximum 4 percent annual increase in the amount until 2018, said Foreign Ministry Spokesperson Cho Tai-young.
This comes as the US starts boosting forces in the region. On January 8, Washington pledged to send an extra 800 troops and about 40 M1A2 tanks along with other military equipment to South Korea by the end of the month.
The deal comes amidst spiking tensions in the region, partly explained by the fact that Seoul is still technically at war with North Korea, where the leader Kim Jong-Un's uncle has recently been executed.
On a larger scale, however, the US's traditional rival in the region, China, has been going through a territorial rift with Washington's traditional ally, Japan. The tensions focused on disputed islands located in the East China Sea saw Beijing enact an air defense zone over the East China Sea, while Tokyo and Washington sent aircraft to penetrate it.
Beijing warned the US not to "meddle" in the territorial dispute over the bit of land known as the Senkaku in Japan and the Diaoyu in China. But US Vice President Joe Biden reiterated in December last year that Washington does not recognize the air defense zone.
In December last year, S Korean authorities also announced that the country will expand its air defense zone. That move raised tensions with China as the new zone encroaches on air space that was claimed by Beijing. The American government said they "appreciated" South Korea's actions.
South Korea is not the only Asian country where the US has deployed its military bases. The country currently has tens of thousands of troops located in Japan, South Korea, the Philippines and elsewhere in the Pacific.
You can share this story on social media: