US deploys newest surveillance aircraft to Japan amid tensions with China
Published time: 2 Dec, 2013 21:38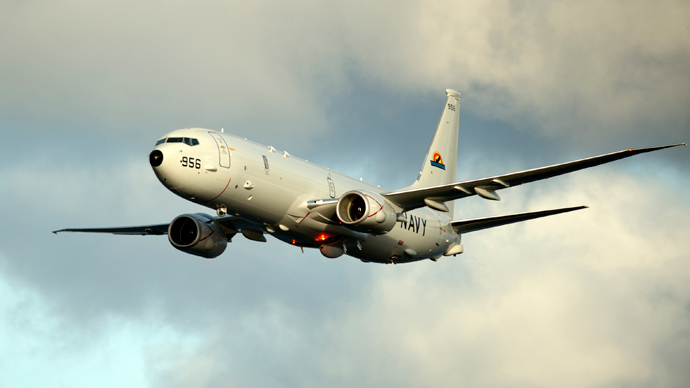 As tensions mount over China's declaration of a new air defense zone, the United States Navy has deployed next-generation surveillance aircraft to Japan.
Outfitted with advanced radar, anti-ship missiles, and mines, the P-8A are intended to boost American ability to monitor submarines and other ocean-going vessels in the region. According to Reuters, the P-8A's patrol of the waters nears Japan will mark the first time they've been used anywhere. Four more are scheduled to deploy later this month.
The new surveillance aircraft arrived in Okinawa, Japan on Sunday, one day before Vice President Joe Biden landed in Tokyo. He is expected to reassure allies such as Japan and South Korea over disputes with Beijing and raise American concerns over the ADIZ zone when he visits China later this week.
Tensions in the region currently revolve around tiny islands in the East China Sea known as the Senkakus in Japan and the Daioyu in China. The U.S. does not take a stand on the sovereignty of the islands, but it does recognize Japan's administrative control over the territory and has declared the mutual defense treaty between the two counties applies towards the islands as well.
According to U.S. officials, the deployment of the P-8A Poseidon aircraft was planned before China unilaterally announced an expanded air defense identification zone (ADIZ) that included islands in the East China Sea controlled by Japan but claimed by Beijing.
"This was scheduled for a long time," said an unnamed Navy official to the Agence France Presse."It's a rotational deployment."
Meanwhile, South Korea also voiced concern over the ADIZ after meetings with Chinese officials failed to confirm that Beijing's moves were only aimed at Japan.
For its part, Beijing claims the new ADIZ – which requires all aircraft to submit flight plans to China before they enter the area – is not aimed at any country in particular.
In response to the ADIZ declaration, the United States, Japan, South Korea, and Taiwan have all flown aircraft through the area without complying with China's requests, indicating that they will not recognize the new parameters. Since flying two B-52 bombers over the zone last week, U.S. officials say they continue to operate normally within the region.
"The Chinese reaction to our operations has been normal," Pentagon spokesman Colonel Steven Warren said, according to AFK. "We haven't changed our operational tempo."
Although the U.S. continues to fly military aircraft over the ADIZ without notifying China, it has advised commercial airlines to comply with China's request for safety reasons. This move has sparked some anger in Japan, where Biden spoke of the need for the two countries to cooperate in order to reduce regional conflict.
"I believe this latest incident underscores the need for agreement between China and Japan to establish crisis management and confidence-building measures to lower tensions," Biden told Japan's Asahi Shimbun newspaper.