South Korea expands air defense zone in territory row with China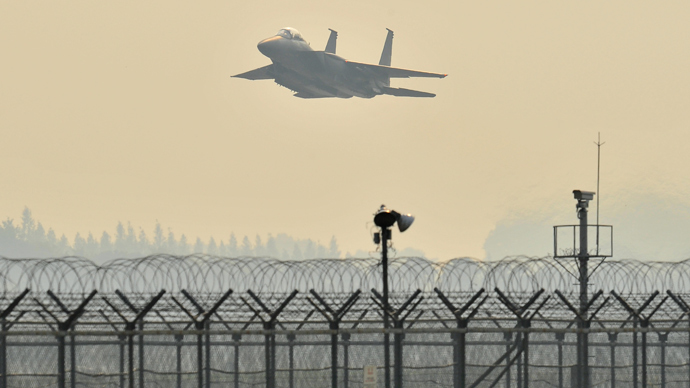 South Korea has announced it will expand its air defense zone in a move that could raise regional tensions with China. The new zone encroaches on air space that Beijing had previously claimed, sparking outrage from its Asian neighbors.
The South Korean government said that the new zone will come into effect December 15, AFP reported. The area included in the defense zone will encompass the Ieodo submerged rock formation that China calls Suyan.
"We will coordinate with related countries to fend off accidental military confrontations and to ensure safety of airplanes," South Korean defense ministry spokesman Kim Min-seok told AFP on Sunday.
The American government released a statement in support of Seoul's plan to expand its air defense zone.
"We appreciate (Republic of Korea or South Korea) ROK's efforts to pursue this action in a responsible, deliberate fashion by prior consultations with the United States and its neighbours, including Japan and China," said US State Department spokesperson Jen Psaki.
Seoul's decision to expand its air defense zone comes after Beijing declared its authority over a new air zone which encroached on the territory of its neighbors. China's Air Defense Identification Zone (ADIZ) requires all aircraft passing through the area to report their flight plans to the Chinese authorities or face "defensive emergency measures."
Both Seoul and Tokyo were outraged by the announcement of the ADIZ and have since flown military aircraft through China's defense zone. The Japanese have taken issue with the ADIZ because it covers a group of islands in the East China Sea that are the source of an ongoing territorial dispute with Beijing. The Senkaku islands – known as the Diaoyu to the Chinese – are currently controlled by the Japanese.
"This is one of the most serious challenges ever posed by China to freedom of movement both on the sea and in the sky," an adviser to Japanese Prime Minister Shinzo Abe said in response to China's announcement on November 23.
Washington has also condemned the ADIZ although it has called on its airlines to obey the new Chinese regulations. Defense Secretary Chuck Hagel said that the announcement was "a destabilizing attempt to alter the status quo in the region."
"We remain steadfast in our commitments to our allies and partners. The United States reaffirms its longstanding policy that Article V of the U.S.-Japan Mutual Defense Treaty applies to the Senkaku Islands," said Hagel in an official statement on November 23.
In late November two US military B-52 bombers flew over territorially-disputed islands in the East China Sea without informing Chinese authorities.
The US-Japan mutual security treaty was signed in 1960. Under the treaty both sides are required to assist each other in case of a third-party attack on their territory.
You can share this story on social media: