US to boost military presence in South Korea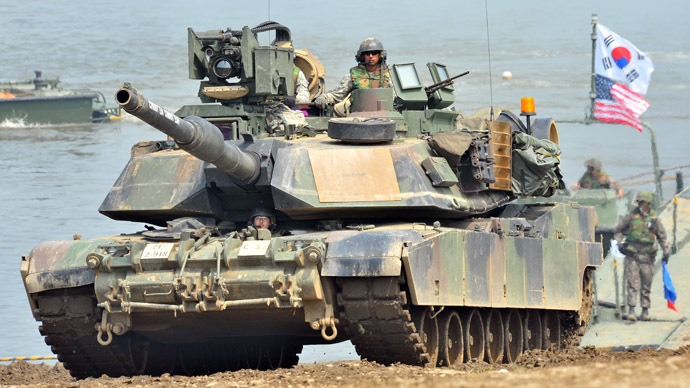 The US pledged to send another 800 troops and about 40 M1A2 tanks along with other military equipment to South Korea on February 1 as part of Washington's "pivot" to Asia.
The personnel and equipment will come from the 1st US Cavalry Division based at Fort Hood, Texas and will serve in South Korea for nine months.
After the nine months are up, the troops will leave, but the equipment will stay and be used by other US soldiers rotating in, Reuters quoted a Pentagon spokesman as saying.
"This addition of forces to Korea is part of the rebalance to the Pacific. It's been long planned and is part of our enduring commitment to security on the Korean peninsula," Army Colonel Steve Warren said.
"This gives the commanders in Korea an additional capacity: two companies of tanks, two companies of Bradleys."
The US already has about 28,000 soldiers in South Korea. The announcement of additional deployment comes amid international concerns over purge in the top ranks of North Korean leadership and the execution of North Korean leader Kim Jong Un's powerful uncle last month.
An expanded US military presence also comes amid a standoff between China and Japan around disputed islands. The islands located in the in the East China Sea, known as the Senkaku in Japan and the Diaoyu in China, have lately strained bilateral relations of the two leading Asian economies.
Tokyo, which believes the islands are an inherent part of Japanese territory, has made it clear it "cannot accept at all" the Chinese claim over the disputed territory's airspace.
Recently, events intensified after Washington expressed its discontent after China enacted a new air defense zone over the East China Sea. Beijing demanded explanations from the American ambassador after the negative response, and advised the US to "correct its mistakes immediately."
Beijing has warned Washington not to "meddle" in the territorial dispute between China and Japan.
In early December US Vice President Joe Biden responded that the US wholeheartedly rejects China's self-declared right to control airspace above the disputed islands.
The US currently has tens of thousands of troops deployed throughout military bases in Japan, South Korea, the Philippines and elsewhere in the Pacific.
You can share this story on social media: