Snowden shortlisted for Sakharov Prize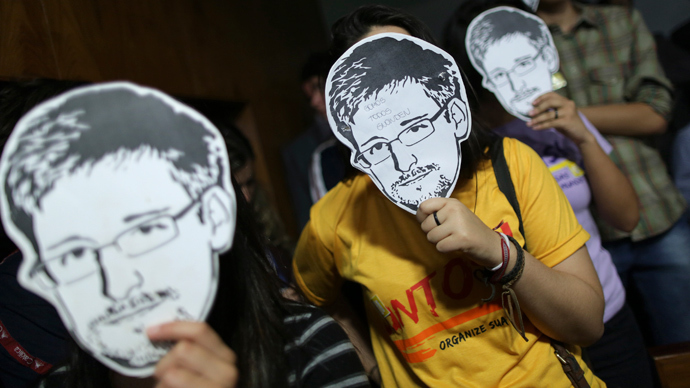 Whistleblower Edward Snowden has made the shortlist of finalists for this year's Sakharov Prize for Freedom of Thought. The other nominees include Pakistani women's rights activist Malala Yousafzai, and three Belarusian dissidents.
Snowden – a former CIA/NSA employee – leaked insider details of America's domestic and global spy program. The revelations sparked an international diplomatic scandal, as some of America's key European allies lashed out at Washington for its surveillance foul play. Snowden is wanted in the US on espionage charges. He was granted temporary asylum in Russia, where he currently resides. 
Snowden's Sakharov Prize nomination is supported by the Greens and the leftist GUE/NGL.
Also on the list of finalists for the Sakharov Prize is Pakistani activist Malala Yousafzai. She's been touring Pakistan on a campaign for the right to women's education, freedom and self-determination in Pakistan. The Taliban, which is opposed to giving women more rights, gunned her down in October 2012. But 16-year-old Yousafzai survived and recovered, and has since become a symbol of the fight for women's rights and worldwide access to education. 

Her Sakharov Prize bid is backed by the Alliance of Liberals and Democrats for Europe (ALDE), the Socialists & Democrats (S&D), and two center-right groups: the European People's Party (EPP) and the European Conservatives and Reformists Group (ECR).
The other Sakharov Prize finalists are Belarusian dissidents Ales Bialatski, Eduard Lobau and Mykola Statkevich. They are considered political prisoners and have been in jail since the mass peaceful demonstration in Minsk on 19 December 2010, against the disputed re-election of President Aleksandr Lukashenko.
Their nominations for the prize enjoy strong Polish backing in the European Parliament, and were put forward on behalf of all Belarusian dissidents.
The Sakharov Prize was established by the European Parliament in 1988, to honor individuals or organizations who have dedicated their lives to the defense of human rights and freedom of thought. It is named in honor of Andrey Sakharov, a Soviet nuclear physicist, dissident and human rights activist.
The winner will be announced on 10 October, and the winner will walk away with a hefty sum of 50,000 euro.
Past laureates of the prestigious Prize include Kofi Annan, Nelson Mandela and Aung San Suu Kyi.