'F**k tourism': Vandals deface Paris' Sacré Coeur basilica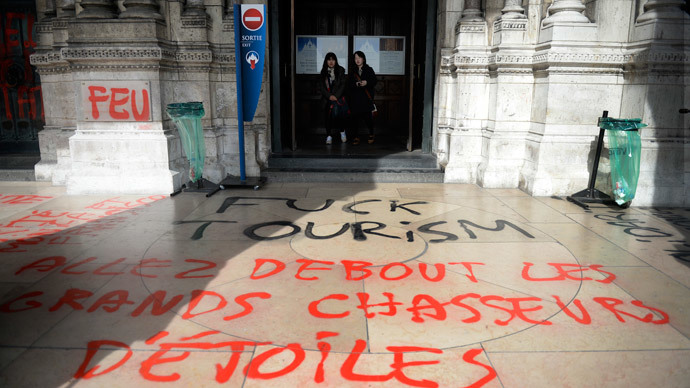 Unknown vandals have painted red graffiti, with anti-religious "Neither God, nor master, nor state" and rebellious "Down with the authorities" slogans on the doors of the 19th-century Sacré-Coeur basilica atop Montmartre in Paris, France.
The marble entrance of the one of the world's most famous attractions has also been tagged in red and black paint, saying "F*** tourism" and "Set fire to chapels."
"1871, long live the commune," which referred to a Paris Commune revolt against the government in Paris that began in 1871 on March, 18 and left thousands dead, was also painted on the doors of the church.
According to the local press, the act of vandalism was performed overnight Monday to Tuesday. Clean-up crews have already been deployed to erase the words.
The graffiti, written just a few days ahead of municipal elections scheduled March 23 in Paris, has been strongly denounced by Parisian authorities.
"I strongly condemn the graffiti that was sprayed last night on the entrance of the [Sacré-Coeur]. Such defacing - and it's not the first - is unacceptable," said Paris Mayor Bertrand Delanoë.
Both candidates for municipal elections, Anne Hidalgo, from the Socialist Party and Nathalie Kosciusko-Morizet, from the conservative UMP party, condemned the act and called for a strong response to the incident.
Et le vandalisme ne s'arrête pas là. Les touristes ont pu découvrir un très élégant "FUCK TOURISM". #Classepic.twitter.com/3eqRVilVor

— RetN Mademoiselle (@RetNdemoiselle) March 19, 2014
According to France's Interior Minister Manuel Valls, the act was "an offense to Catholics and a serious attack on a monument that is an icon of Paris's architectural heritage."
Though city authorities have not yet revealed who was behind the act, the finger of blame is being pointed at extreme leftist groups.
According to Delanoë, the basilica has always been a target for anarchists and far-left activists who believed the church was built as a symbolic punishment of supporters of the Paris Commune.
A popular tourist destination, which draws millions of visitors each year, Sacré Coeur is a Roman Catholic Church and minor basilica, dedicated to the Sacred Heart of Jesus. The basilica is considered as a double monument, political and cultural.
The damaging acts of vandalism can be spotted not only in France. On Tuesday a student broke a 19th-century statue of 'the Drunken Satyr' in the Academy of Fine Arts of Brera in Milan, Italy, while taking picture of himself. The Greco-Roman statue's leg was torn off and broke into pieces on the floor.
L'entrée de la basilique de Montmartre #Paris taguée. Poke @Christianophobipic.twitter.com/iKyOCHJhbM

— Яoland (@CigogneEnColere) March 19, 2014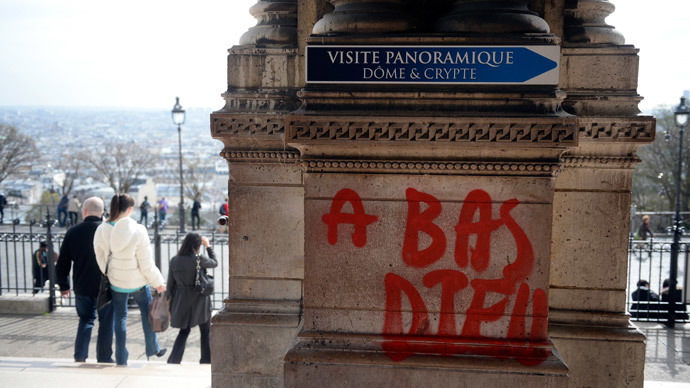 You can share this story on social media: