Damaging selfie: Student breaks 19th century statue in Milan while taking pic of himself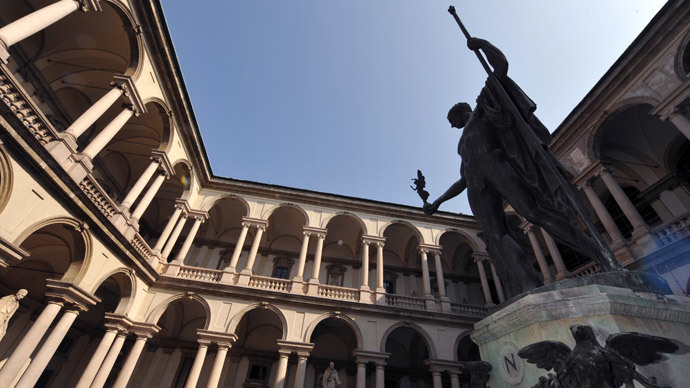 Taking funny selfies takes some imagination and creativity, but trying too hard can lead to unexpected results. Thus, in one such attempt to take a pic of himself, a student broke a 19th century statue in Italy's Brera Academy.
According to witnesses, a young man, believed to be a foreign student, climbed onto a statue of The "Drunken Satyr" in the Academy of Fine Arts of Brera, causing the Greco-Roman statue's leg to be torn off and break into pieces on the floor.
The Academy's staff only noticed the damage on Tuesday morning, but as there was no working CCTV in the hallway, there is no official evidence and it is almost impossible to track down the offender, Corriere della Sera in Milan reported.
A guy climbs on a statue of the famous Milan Brera Academy of Art to take a selfie & snaps off a leg via @Linkiestapic.twitter.com/DlkZYFdQIX

— dublinist (@dublinist) March 19, 2014
The "Drunken Satyr" statue depicts a Greek sculpture showing a human-like figure with animal features drunkenly sleeping. Fortunately, the damage was caused to a copy of an Ancient Greek model that was discovered in Rome's Castel Sant'Angelo around 400 years ago.
Even though the copy is twice younger and therefore it does not match the value in the original (in fact, this is why the statue was in the hallway), the Academy is indignant over the accident.
"We think this is an accident," the director Franco Marrocco told the Corriere della Sera. "The statue was assembled in pieces and the block was already partly detached: we had planned the restoration."
#Brera: studente scassa er Fauno http://t.co/DJqXTOLjHS Se 'n so furti, so crolli. Se 'n so ladri, so grulli. #selfiepic.twitter.com/GivRertnIM

— Romano Pugile (@erpugileromano) March 18, 2014
Luckily, the young man did not try to take a selfie in a nearby room full of more valuable works of the most famous sculptors of the era, including Antonio Canova.
As for the original "Drunken Satyr," the statue is safe and sound in the Glyptothek museum in Germany.
You can share this story on social media: