40-foot sinkhole swallows classic muscle cars at National Corvette Museum
Published time: 13 Feb, 2014 01:44
Edited time: 14 Feb, 2014 12:07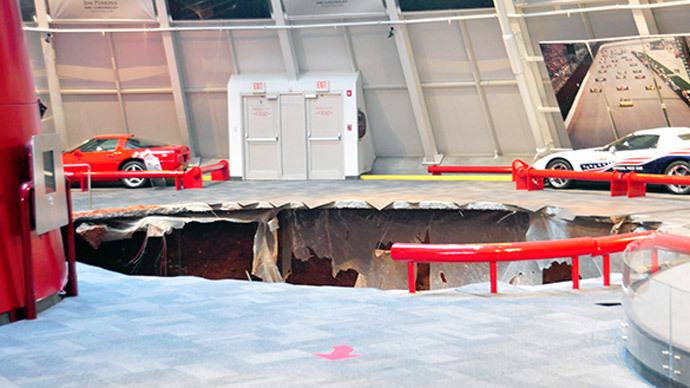 A massive sinkhole opened inside the National Corvette Museum early Wednesday morning, swallowing eight cars and sending officials into a frenzy trying to lift the muscle cars to safety.
The sinkhole began opening just before 6:00 AM at the Bowling Green, Kentucky museum. Officials were tipped off when the security alarm went off. No one was hurt in the accident.
"No one was in or around the museum at the time," the museum said in a statement. "The Bowling Green Fire Department arrived on the scene and secured the area. The Fire Department has estimated the size of the hole is 40 feet across and 25-30 feet deep."
The most heartbreaking shot yet of the Corvette Museum sinkhole http://t.co/Xml6HNIw2ipic.twitter.com/ejtXyZu2XS

— Jalopnik (@Jalopnik) February 12, 2014
Images taken at the scene show two cars in the hole, yet museum staff said eight Corvettes had fallen into the sinkhole. Six of the cars were owned by the museum and two were on loan from General Motors.
The hole developed in an area known as the Sky Dome. Engineers are examining the surrounding geology to determine if there is any risk of the hole worsening.
"It's pretty significant," museum executive director Wendell Strode told USA Today. "Before we do anything, like remove the other cars, we want that assessment, so we know if there's any structural damage to the Sky Dome."
The following cars were involved in the incident:
1962 black Corvette
1984 PPG pace car
1992 white 1 millionth Corvette
1993 ruby red 40th anniversary Corvette
1993 ZR-1 Spyder on loan from General Motors
2001 Mallett Hammer Z06 Corvette
2009 white 1.5 millionth Corvette
2009 ZR1 "Blue Devil" on loan from General Motors
There was no official estimate on how much the damage would cost, although Strode told the Bowling Green Daily News that the expense is likely near $1 million. Officials are also unsure of how long it will take to repair the museum.
"Safety will be paramount, but we will also want to save the cars as fast as we can," Strode said. "Every car has a story behind it. There's been tears shed back there this morning."
What caused the sinkhole is unknown, but much of Kentucky sits on top of carbonate bedrock, where karst conditions are known to develop. Karst is vulnerable to developing sinkholes, sinking streams, caves, and other conditions that do not bode well for the buildings at the surface.
"Dissolution sinkholes form over long periods of time, with occasional episodes of more rapid subsidence or collapse," noted the Kentucky Geological Survey. "It is the collapse of the loose cover over the bedrock or soil that causes the problem. Sometimes the collapse will occur in an area with no indication of previous subsidence."
Images and video of the incident quickly went viral Wednesday, with Corvette aficionados getting in touch with Butch Hume, president of the Louisville Fall City Corvette Club.
"I think anybody who has a Corvette was stunned when they heard that. Are you kidding me?" Hume told the Kentucky Courier-Journal. "We're all feeling the same way. Oh man, that's a shame."