RT tops YouTube 2013 trending news videos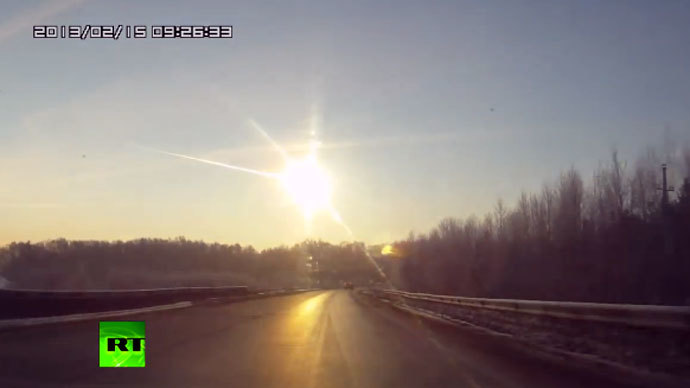 RT's footage of the Chelyabinsk meteorite has been recognized by YouTube, as the website looks back on what's been trending in 2013. The video received 38.5 million views - thanks to viewers like you, who helped make and share the footage.
Just months after RT became the first news network to join YouTube's "One Billion Views" club, it was revealed that the channel's compilation of the Chelyabinsk meteorite footage had become the most viewed online news video since February 2013.
While RT's documentary crew captured the first footage of the aftermath, the channel's web team immediately began collecting local videos of the rare cosmic event and broadcasted the first eyewitness accounts.
As a result, RT was the only international channel to show almost instant live coverage of the event, with all other broadcasters relying on its feed. For that, it was awarded the Golden Nymph for the Best 24-hour News Program at the Monte Carlo Television Festival.
As of Wednesday, RT's viral meteorite video - which was made from four dashcam clips and a webcam clip courtesy of YouTube users – had received 38,556,333 views, with 55,955 likes and counting.
Other most trending videos include the terrorist attack at the Boston Marathon - posted by The Boston Globe - which received 24.4 million views. Footage of the Texas fertilizer plant explosion also made the list. The blast was caught on camera by a motorist, and received 23.3 million views.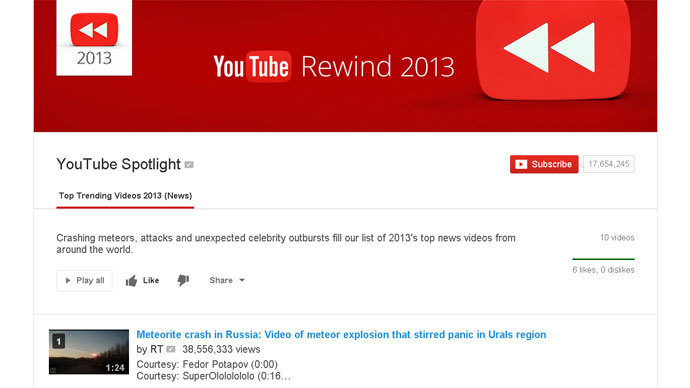 The bulk of the list shows what the internet news reader is after - raw, first-hand videos of incidents and people playing a direct role in them. This trend defines "a new kind of visual journalism," according to the Pew Research Center's Project for Excellence in Journalism (PEJ).
It also highlights interest in live news stories, as opposed to entertainment clips. This year, RT's video came just 3.5 million views short of entering the overall list of YouTube's trending videos. What will the next year bring us? Question more!