RT is top news producer on YouTube – Pew Study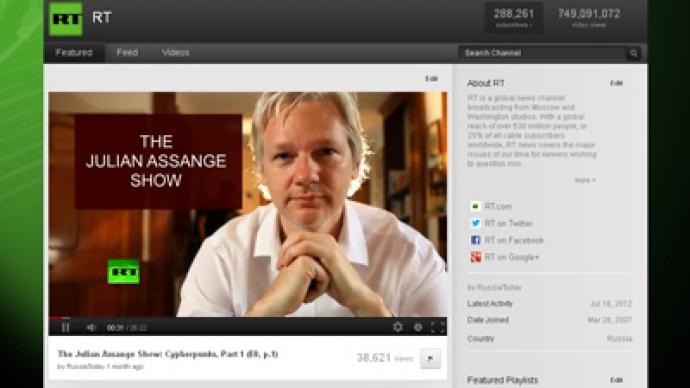 With billions of daily views, YouTube is no longer just about cats, Bieber and Gaga, it is taking over as a global news generating platform, a Pew study shows. And in the YouTube kingdom of official news producers, RT rules.
In just seven years of existence, the YouTube video hosting website has grown into an important source of news, creating "a new kind of visual journalism," says a fresh study by the Pew Research Center's Project for Excellence in Journalism (PEJ). Capitalizing on a drop in TV news popularity, YouTube has enabled millions of people worldwide to track major news events at a one-click distance. Middle East unrest, Costa Concordia luxury liner sinking, a stage collapsing at Indiana State Fair videos and the like were widely viewed for weeks after traditional broadcasters switched to newer agendas. The website gets more than 4 billion video views a day, about a third of which come from the US, said PEJ. The 20 most viewed tsunami videos collectively got over 96 million views.YouTube is home both to professional news and amateur evidence. During its 15-month research, the US-based center picked the 260 most popular news videos uploaded to the website – and just over a half of them still came from official news organizations.
In new media era, RT watches you!
RT comes on top having generated 8.5 per cent of the 260 most popular videos picked by the PEJ. Over 285,000 people follow the RT YouTube channel. The channel's videos have been viewed almost 750 million times – this by far outstrips Al Jazeera English with its 382 million views, Sky News with 52 million and Fox News with 23 million.
Why so popular? A good part of the most viewed RT's videos are not edited news packages at all – they are first-person video accounts of worldwide events, such as the aftermath of Japan's 2011 earthquake and tsunami or football fans clashing in Poland. "Raw video is a 'native' format for YouTube – this is your first stop if you want to share a great eyewitness video you've just shot, and your first stop if you want to see one," says RT's web promotion chief Mikhail Konrad."'No comments' videos are, in a sense, a universal news element, tied to no specific language, requiring no commentary or presentation. This is what goes viral across the web," adds Konrad. The PEJ study suggests that RT broadcasts online videos to later share them again on YouTube."A lot of our videos are produced specifically for YouTube, bypassing scheduled TV news bulletins," remarks Konrad. "This allows us to move as quickly as possible and be the first to reach viewers online." RT is the first Russian media outlet to open its channel on YouTube. Founded in 2005, the global multilingual news network, previously known as Russia Today, has built a large international following. The channel broadcasts to 430 million people in more than 100 countries.
You can share this story on social media: