Alyona in Forbes 30 under 30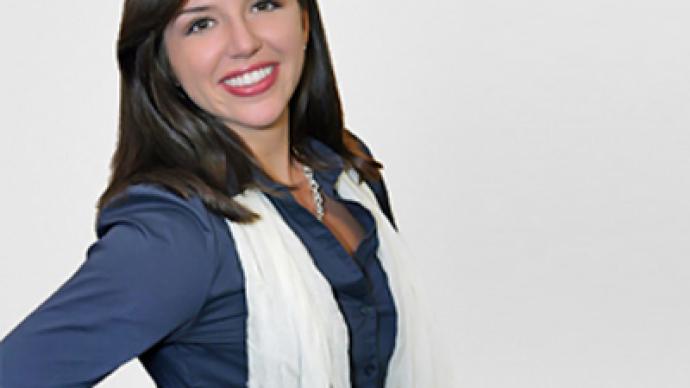 Alyona Minkovski, the host of RT's daily hour-long news program The Alyona Show, was recognized for her talents by Forbes, who placed her this week on the 30 Under 30 list for 2011.
The line-up, published on the magazine's website on Monday this week, chronicles the hottest up-and-comers in categories ranging from entertainment and finance, to energy and music. Minkovski, 25, made the ranks of this year's list of precocious media stars surging through the industry, alongside the likes of Jon Kelly of New York Times Magazine, the Washington Post's Ezra Klein and The Hairpin's Edith Zimmerman."Who is reinventing the world? Who should you hire today? Who will you be working for in 20 years? Who, in short, under the age of 30, matters?" asks Forbes of this year's rising stars. They polled readers of the magazine and a panel of a dozen industry experts to settle on what they say is yields this "360 ultra impressive up-and-comers" list.To say that Ms. Minkovski is deserving of a place on this year's list is an understatement. In the two years that she has hosted The Alyona Show on RT, she has interviewed on-air such noteworthy figures as whistleblowers Julian Assange and Daniel Ellsberg, former White House hopeful Congressman Dennis Kucinich, musician and activist Immortal Technique and current presidential candidates Gary Johnson and Buddy Roemer in a fearless, no-holds-barred method that the mainstream media often ignores in favor of more friendly fodder for the news-neglected masses. Or, as Alyona likes to say, "the real headlines with none of the mercy." That, she says, comes natural thanks to her actual passion for the subject matter that she discusses every evening from RT's Washington DC studios. "There was a time when you would have had to turn over a lot of stones to find 30 obvious rising stars in the media industry — 30 people who will clearly, without a doubt be running newsrooms, networks and ad agencies in 10 years time. No longer. Technology, from digital publishing tools to social media to online video distribution, has put an end to the days when even the most promising prospects had little choice but to spend years in obscurity, fact-checking and making Xeroxes while waiting for a job worthy of their talents to open up," says Forbes."It's definitely exciting for myself and the entire team that makes the show possible every day," Minkovski says of her placement on this year's list. "We work hard and appreciate the recognition from Forbes. Hopefully this will bring more viewers to the show!"So far this year the program has already seen a surge in viewership and popularity, thanks of course to Minkovski's undying passion for bringing out the truth in the topics she covers and a show that speaks right to her audience — an audience that wants to be informed of what they should actually be informed of. Not only did Alyona cover (and continues to) the Occupy Wall Street movement, but the show broadcast live from New York City during the height of the protests. Additionally, her annual Halloween edition of the show has received widespread recognition for parodying the mainstream pundits that are barely worthy of the mocking that Minkovski delivers.The Alyona Show is broadcast out of the RT America studios in Washington and airs live daily at 6 p.m. EST.
You can share this story on social media: