Manning admitted to releasing collateral damage video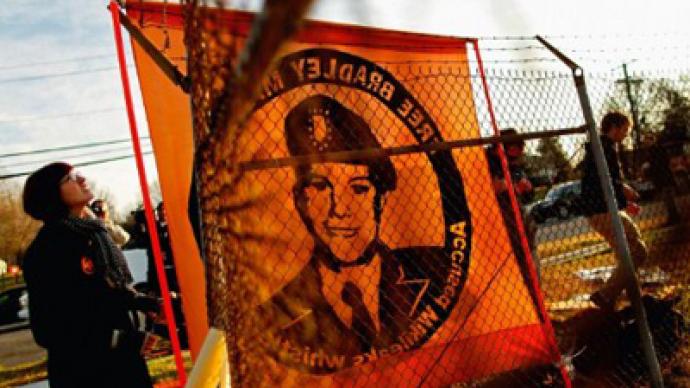 Four days into a pre-trial hearing against Bradley Manning, the courtroom is quickly becoming just as heated as the documents that the alleged whistleblower is being accused of leaking online.
On day four of the hearings on Monday, the prosecution against Private First Class Bradley Manning supplied the court with a series of email messages between the alleged WikiLeaks contributor and a contact named Eric Schmiedl. According to the correspondence, Manning took credit for releasing the controversial "collateral damage" video that displayed the US military helicopter launching cold-blooded attack on civilians. According to those in the courtroom, Manning emailed Schmiedl to ask him if knew about WikiLeaks, then told him, "I was the source of the 12 July 07 video from the Apache Weapons Team which killed the two journalists and injured two kids."Mark Johnson, a computer forensics expert, also told the court on Monday that he could tell that files were successfully loaded to WikiLeaks from Manning's personal computer, a Macbook Pro laptop. Additionally, Johnson claims that a contract the soldier had saved on his online buddy list included an alias believed to be linked to Wikileaks founder Julian Assange. "They had been in contact with each other at some point," Johnson told the courtroom.Upon cross-examination, however, Johnson admitted that the computer in question was not password-protected, essentially allowing for anyone to open up the machine and use it for any action they'd like.On Saturday, Captain Steven Lim, a superior of Manning's also said that data on file at the Sensitive Compartmented Information Facility where intelligence analysts work, including Manning, was strewn about the compound and security was exceptionally lax. A day later in the trial, Intel analyst Sgt. Chad Madaras said from the stand that he had also used the same workstation as Manning.On Monday, Special Agent David Shaver told those at the hearing that while he found US diplomatic cables on Manning's computer, he never bothered to check to see if they matched anything released by WikiLeaks. A day earlier he told attorneys that he had found thousands of cables, but it was not until cross-examination on Monday that he admitted that the files he found did not match up with the documents in question.Writing of the incident from the media center outside of the courtroom, Wired's Kim Zetter explains that there was no match given Shaver's testimony, before adding on Twitter, "That last story should come with a caveat about how confusing the testimony was. Reporters are unclear what Shaver was saying at times."Over the weekend, witnesses told the court that Manning had been disciplined for sharing videos online before any connection with WikiLeaks was alleged. Despite this, however, his superiors failed to revoke Manning's security clearance, although discussion was made in which the possibility was brought into question, just never followed through with. Additionally, Manning had approached his superiors as early as April 2010 via email to discuss the emotional distress he was faced with as he suffered from gender identity disorder, a matter which became increasingly stressful as he tried to copy with military life. On Monday, Manning's roommate Spc. Eric S Baker took the stand and testified that Manning was often sitting at his computer in the barracks, but also noted that he didn't talk to Manning that often — something he said he initiated himself because he thought his roommate was "gay."As the fourth day of the hearing wraps up, proceedings are expected to continue leading up to Christmas as the prosecution and defense continues to bring witnesses to the stand. Although Manning's attorney had request nearly 50 witnesses to speak from the stand, the US government refused their plea and instead only offered mere a fraction of that number. On Monday, the government called 15 of their own witnesses. One name of important that managed to show up in support of Manning, however, wasn't on anyone's list. Daniel Ellsberg, the former DoD employee that released the Pentagon Papers to the mainstream media amid the Vietnam War showed up and introduced himself to Manning during Monday's proceedings.
You can share this story on social media: