RT wins prize for best 24-hour news coverage at leading international TV festival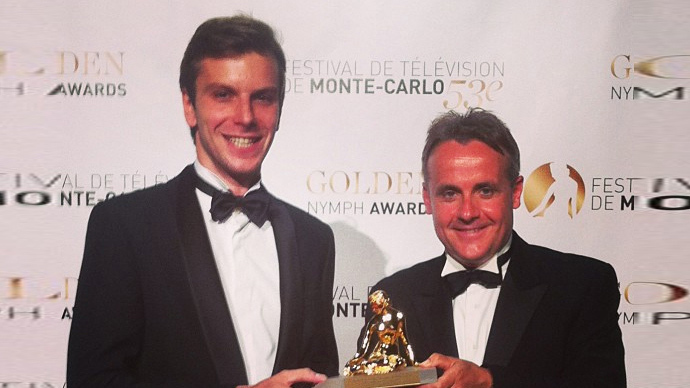 RT was showered with praise on Thursday, capturing the Golden Nymph for Best 24-hour News Program at the Monte Carlo Television Festival for its coverage of the Chelyabinsk meteorite explosion earlier this year.
"It's extremely gratifying to be recognized by your peers, and I am very proud of all that our network has achieved at its relatively young age," said Margarita Simonyan, RT's editor-in-chief. "This award, first and foremost, is a credit to our correspondents, whose tireless efforts made it possible for viewers all around the world to learn the details of this historic event."
Founded in 1961, the festival is one of the oldest and most prestigious in the world. The jury, staffed with editors from the world's leading news networks, picked RT's entry for best live coverage of an event as it unfolds ahead of CNN, Al Jazeera and Sky News.
When a blinding ball of light unexpectedly appeared in the morning sky in Chelyabinsk on February 15 only to explode seconds later, RT was the only international channel to show almost instant live coverage, with all other broadcasters relying on its feed. By coincidence, a documentary crew had been filming near the city, and was able to film the impact of the shock waves from the blast (which injured over 7,000 people) and the reactions of locals minutes after the event.

RT also immediately began collecting footage of the explosion, caused by a 9,000 ton asteroid, mostly captured on dashboard cams of passing drivers, and uploading the footage on the internet. The video of the entry from different angles became an instant viral hit, and has since been seen more than 38 million times on YouTube alone.

In the studio, the team broke off from its standard schedule to broadcast live interviews with witnesses and scientists, discussing the unusual cosmic occurrence, which could not have been predicted in advance.
Qatar-based network Al Jazeera had been nominated for its coverage of protests in the Muslim world following the release of the YouTube film Innocence of Muslims, while CNN was put forward for the live reporting on the escape of blind Chinese civil rights activist Chen Guangchen to the US embassy in Beijing.
RT, which recently became the first news channel to attract 1 billion views on video-sharing network YouTube, was also nominated for a Golden Nymph last year, but this marks its first win at the festival.

You can share this story on social media: