'Ask our US friends': Putin turns NSA spying into punchline for joke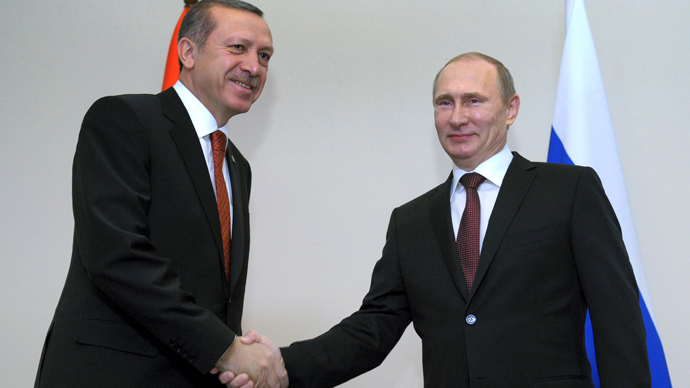 Quick-fire quips at the Russian president's meeting with the Turkish PM as Putin hinted at NSA capabilities to tap any phone call, even those made by the Ukrainian leader – he also explained why Erdogan couldn't take away an Arctic 30 activist with him.
Russian President Vladimir Putin and Turkey's Prime Minister Recep Tayyip Erdogan met for a joint press conference to sign several key trade agreements in St Petersburg on Friday. After the formal intro, the Q&A developed into something unexpected.

"The Ukrainian President allegedly said that Kiev cannot sign an agreement with the EU because Russia was blackmailing Ukraine… can you comment?" a Russian journalist from Interfax asked Putin.
The reporter was referring to alleged accusations of blackmail made by Kiev during a phone conversation between Ukrainian President Viktor Yanukovych and his Lithuanian counterpart, Dalia Grybauskaite. The Lithuanian presidential aide, Jovita Neliupšienė, earlier on Friday claimed that Moscow had warned Kiev to cancel the EU integration agreement. 
Putin said he had no information about the alleged accusations: 
"I do not know what the president of Ukraine and the president of Lithuania were talking about. Maybe we can ask our American friends and they can tell us. But they haven't said anything to us yet," he joked in a clear reference to the scandal with the US National Security Agency's surveillance program and their tapping of EU leaders' phones. 
While speaking about Kiev's suspension of preparations for EU integration that was announced on Thursday, Putin said that Russia was ready to hold three-way talks with the EU and Ukraine.
"There shouldn't be any politicizing, Turkey has much experience of negotiating with the EU, we will ask the advice of the Prime Minister on how to behave in this situation," Putin said, giving the Turkish Prime minister a sly smile.
Erdogan got the cue laughing and saying it "was not a joke," as Turkey has been negotiating its accession to the European Union for 50 years and still finds itself frustrated.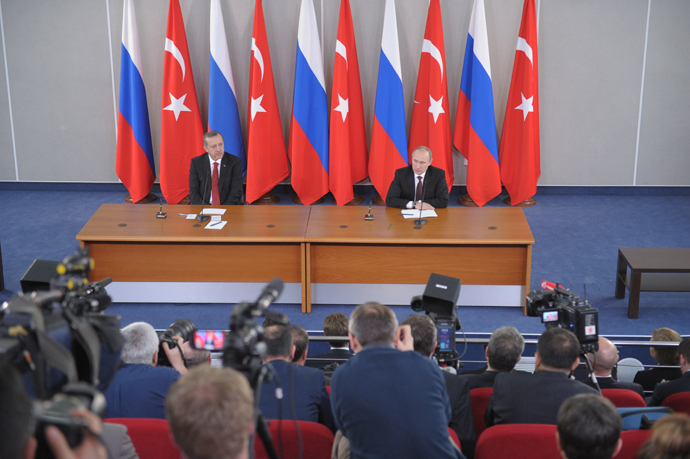 A reporter also asked Erdogan whether the PM could take the Turkish Greenpeace activist Gizem Akhan, who was freed on bail on Friday, back home with him. The activist faces a jail term of up to seven years if found guilty of hooliganism and cannot leave Russia till the court proceedings are over.
Putin cut in saying "He came with his wife. Who can he take home?" 
"As far as I know, the Prime Minister is planning to visit the State Hermitage Museum with his spouse," he added. 
Putin noted that Russia had no desire to exacerbate a situation that has caused wide criticism from the EU community or interfere in the legal side of this case. 
He was referring to the protest staged by Green Peace activists, who scaled the Prirazlomnaya oil platform in the Arctic Sea in September in order to stop its operations. The activists' detention has sparked a sharp reaction among the group's supporters and human rights organizations.
Erdogan said that the question of the Turkish activist was discussed and it was "very important that she was released on terms of bail," adding that it was also "important to get out from behind bars for those who know the taste of freedom."