Europe in shock as Ukraine kills integration plan, says 'mission is over'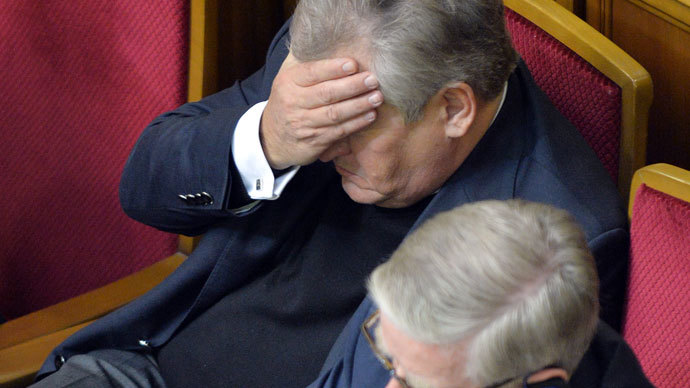 The EU is utterly disappointed by Ukraine's decision to align itself closer to Russia and halt its preparations for signing a European trade and political agreement, effectively killing the country's chances to eventually join the bloc.
"This is a disappointment not just for the EU but, we believe, for the people of Ukraine," EU foreign policy chief Catherine Ashton said in a statement, claiming that "the most ambitious" pact ever offered to a partner by the EU would have helped the country's economy. 
The decree signed by Prime Minister Mykola Azarov's government on Thursday orders the "halt of the process of preparing the Association Agreement between Ukraine and the European Union." 
The decision was taken to "ensure the national security of Ukraine" and "restore lost trade volumes with the Russian Federation" after considering the effects on trade relations with Moscow, legislators said. 
The announcement follows the Ukraine parliament's earlier refusal to pass a bill that would see jailed former Prime Minister Yulia Tymoshenko allowed to travel abroad for treatment  - a key EU deal condition for the summit that was scheduled in Vilnius, Lithuania, next week. 
The EU envoy at the negotiations, Polish politician Aleksander Kwasniewski confirmed that the deal would not go ahead saying the "mission is over… The accord will not be signed in Vilnius." 
Many European politicians as well as Ukraine's own opposition have already slammed Kiev's decision. 
Swedish Foreign Minister Carl Bildt critcized Ukraine's decision, saying the "Ukraine government suddenly bows deeply to the Kremlin" due to the Russian "politics of brutal pressure." 
A "deep disappointment at the unilateral decision" was also voiced in a statement by EU envoys Aleksander Kwasniewski and Pat Cox, who highlighted what they call a "dramatically increased pressure from Russia in recent weeks."
British Foreign Secretary William Hague in the meantime called the decision a "missed opportunity." 
Not all European countries however have adopted such a critical approach. It was Ukraine's "sovereign right to make a decision which path she wants to follow," German Foreign Minister Guido Westerwelle said.

Call to impeach
Arseniy Yatsenyuk Ukrainian opposition leader and a former Minister of Economy called for President Viktor Yanukovych to step down. 
"If Yanukovych is refusing to sign the agreement, then it is not only state treason but also grounds for the impeachment of the president and the dismissal of the government," he said in parliament.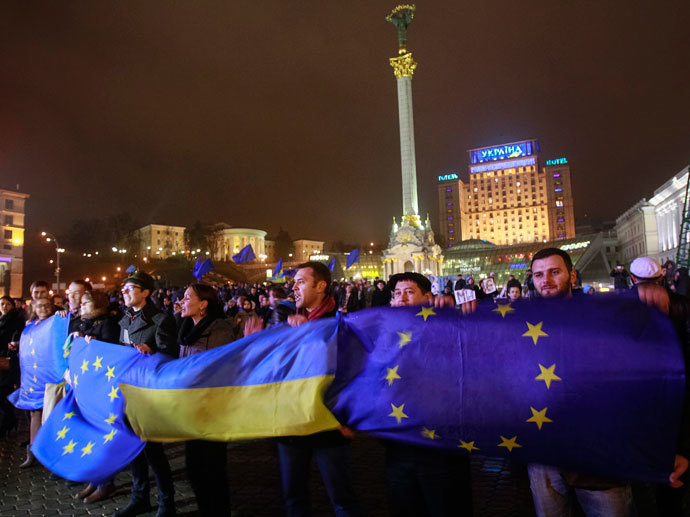 People have begun flocking to Kiev's main Square and home of 2004 Orange revolution. More than 1500 protesters with banners gathered in the Maidan Square to voice their opposition to the government's decision, local media reports. A number of MPs have also joined the protests, more are planned for this Sunday. 
Police have cordoned off the presidential administration building as more security vans arrive at the scene. 
EU integration roadblock
After the cabinet's decision, EU Enlargement Commissioner Stefan Fuele canceled his Friday trip to Kiev. President Yanukovych, however said that despite "difficulties" his country would continue towards European integration.
Russia welcomed Ukraine's decision to actively develop ties with Moscow, while President Putin said he wasn't completely against Ukraine's association with EU. But trilateral trade talks should take place before Ukraine signs an agreement with the EU. 
"We favor this, but only before decisions are made," Putin said."How can we hold negotiations on issues that have already been agreed upon and endorsed?"
EU's 'ridiculous' plan to help Ukraine
The European Union has actually done nothing to convince Ukrainian leaders that association with the EU would actually solve its economic crisis, Polish MEP Pawel Zalewski stated earlier this week. 
As compared to hundreds of billions of euros channeled into Greek, Spanish and Portuguese economies, he said, one billion offered to Ukraine was inadequate and "ridiculous."
"It's a ridiculous amount compared to the resources allocated to rescue Southern Europe from bankruptcy," Zalewski said as cited by PR Newswire.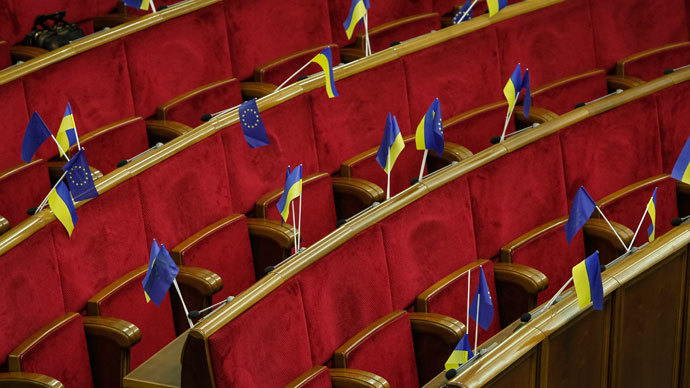 In the meantime Russia has the
"means and willingness"
to offer Ukraine what the EU lacks, which is money, Eric Kraus, Managing Director of Anyatta Capital told RT, adding that Ukraine is a
"vital part"
of the European Russian speaking space.
"The European Union offers a lot of words," Kraus said, implying that nothing tangible would have come out of the deal. "What they don't offer is what Ukraine needs – and that's money."
"Ukraine is not vital to the EU," Kraus explained. "It is a part of a geopolitical chess game and they'd like to take that piece. They are not going to spend a lot of money for it. They can't, they've got Portugal, they've got Greece. Pretty soon they've got France."
The financial analyst also explained the economic problems that Ukraine is facing.
"The problem is that Ukraine is in dire economic strains. Ukraine is 2-6 months from default. They cannot raise money in markets. They are running a deficit. They are having a lot of trouble keeping the currency stable."

You can share this story on social media: