Putin victorious as Ukraine postpones 'trade suicide', halts talks with EU
Facing its most important economic crossroads since the collapse of the Soviet Union, Kiev has aligned itself closer to Russia, and has suspended preparations to sign an EU trade deal.
Ukraine will "restore an active dialogue" with the Customs Union and the CIS, officials in Kiev declared. At the same time the country's authorities have proposed that Ukraine, Russia, and the EU create a three-way commission to improve and strengthen trade relations.
However, Ukraine's president, Viktor Yanukovich, said he still had his eye on integration with the EU, and he plans to attend the Vilnius summit on November 28.
"We still have a bit to go to the top. We do not fear difficulties and are confident that we will continue towards European integration," Yanukovich said Thursday.
After the decision, thousands of Ukrainians took to the streets in protest, chanting 'Ukraine is Europe' and many have taken to social media, and are expressing their disappointment in the government's decision to pivot away from the EU.
Despite strong criticism from the EU and Ukrainian opposition, some believe that Kiev's decision was a smart tactical move which would allow reassessing its position in negotiations, before grabbing the questionable deal the EU has to offer.
Outcry from EU
The EU called the landmark move away from Europe "a disappointment not just for the Union, but for the people of Ukraine."
EU foreign policy chief Catherine Ashton said the signing of the pact "would have provided a unique opportunity to reverse the recent discouraging trend of decreasing foreign direct investment in Ukraine and would have given momentum to negotiations on a new standby arrangement with the IMF."
The reaction and comments from EU officials represent real "pressure and blackmail," Vladimir Putin said. "When we heard that Ukraine has suspended – not canceled but suspended – negotiations with the EU and wants to review everything, we heard a threat from the EU to Ukraine up to the point of holding mass protests."
Trilateral trade talks
Putin said he supports the idea of trilateral trade talks, but only if they are held prior to Ukraine's signing an association agreement with the EU.

"We favor this, but only before decisions are made. How can we hold negotiations on issues that have already been agreed upon and endorsed? What is our role in such negotiations? It's equal to zero, but we are surely prepared for such a discussion if it is substantial," Putin said Thursday in Moscow.

If Ukraine signs a trade deal with the EU zeroing its trade tariffs, then this would automatically and drastically affect Russia if it upholds its own free trade zone with Ukraine.

"It may just kill entire sectors of the Russian economy," including agriculture, aircraft and car manufacturing, Putin said, adding that Russia spent 17 years negotiating with the World Trade Organization to balance the tariffs and ensure the safety of its economy.

Tymoshenko case pressure
The release of the jailed former Prime Minister Yulia Tymoshenko was one of the conditions for successful signing of the Association Agreement between Ukraine and the EU. One of the options for removing the Tymoshenko stumbling block was a bill that would allow the jailed former PM to travel abroad for medical treatment, but all six draft bill proposals on the issue were rejected by Ukraine's parliament.
Ukraine's 10-year gas contract with Russia's Gazprom is costing the country $6 billion according to President Viktor Yanukovich. The deal was brokered in 2009 by then Prime Minister Yulia Tymoshenko and she is currently in jail on charges of abuse of power stemming from that agreement.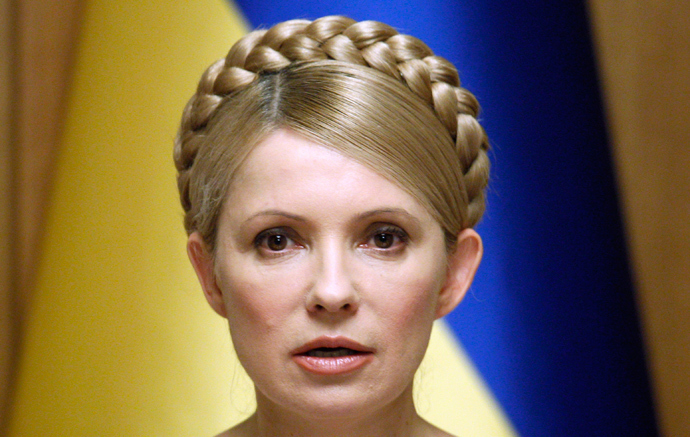 Yanukovich said back in March that this contract "is killing" Ukraine. "We currently pay about $510-515 for [1000 cubic meters of] gas. It's not a market price; I have no clue how Russia found a way to convince Tymoshenko to sign this contract," the Ukrainian President said, adding he does not blame Russia for signing the gas deal.
"It's very difficult for us to accuse Russia of something. They secured their national interests […] It's now their right to change the contract or not to change it. For this reason, we now need to seek ways to resolve this issue," Interfax has quoted Yanukovich as saying.
Geopolitical analyst William Engdahl believes that Tymoshenko has been made into a "straw woman for Western and especially the US State Department pressure on Ukraine" to make concessions towards the West and NATO.
"Yulia Tymoshenko became a symbol and it had little to do with her actual activities. Her corruption with the gas deal she made when she was in office is well documented. She was tied in with mafia elements that made billions at the expense of Ukrainians and also the Russians," Engdahl told RT. "I think she was made a symbol for another agenda and that is to put pressure on Ukraine to make concessions towards the West."

Between Customs Union and EU
Europe has been courting Ukraine into an associate trade membership for the past four years. Russia has warned Ukraine that a step toward joining the European Union would be "trade suicide" and result in billions in lost trade revenue - and that joining the Russia-led Customs Union is more beneficial.
The European Commission promised that moving west to Europe would save Ukrainian exporters nearly $490 million over 10 years, as 95 percent of goods would have zero customs duties.
But fostering good relations with its neighbor is no less important to Ukraine, as, according to official data published on Ukrstat.org, in 2012 it exported 25.6 percent of its goods and services to Russia, importing 32.4 percent from it respectively.
Both the EU trade zone and the Customs Union offer a list of benefits to the Ukrainians.
The analysts say that joining the Customs Union would create jobs in certain industries like car- and aircraft manufacturing and shipbuilding. The remaining export restrictions to the union's members will also be removed.
Moscow also indicated it would then help Kiev with loans and the two will be able to negotiate more favorable prices for gas and oil.
On the other hand, those in favor of joining the EU are attracted by the European standards of work and living, hoping that in five years' time EU companies will be providing jobs on the Ukrainian soil.
As for the immediate pluses, getting the European goods for 10-15 percent cheaper and exporting raw and semi-manufactured goods to the EU on more favorable terms are among the points named by experts. However, all other sorts of Ukrainian goods are not as likely to sell in Europe.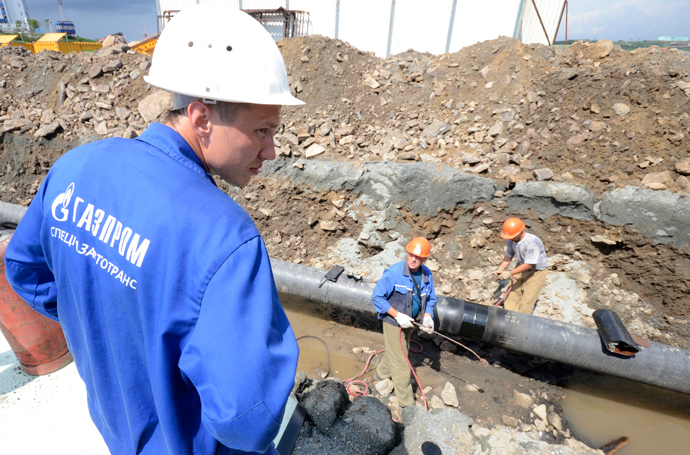 Political analyst John Laughland has argued that a trade deal with the EU would have "finished Ukraine off."
"It would have been a coup de gras to an economy which is already very weak. And I'm not just saying that out of polemical reasons," Laughland told RT. "Anybody who has followed the sad story, very sad, and in some cases catastrophic story of the Eastern European economies as I have in the 1990s and 2000s, I'm thinking especially of countries in the Balkans, weaker countries like Bulgaria and Romania. But also now countries like Greece and Cyprus. Anybody who has followed the history of those countries over the last 15-20 years can see how signature of this agreement and indeed the preparation for the signature is absolutely catastrophic for the economies, because the industries can't stand up to the competition, because EU regulation is too costly for these weaker economies and because their natural markets are in the East, particularly with Russia. It would have been signing a suicide note."
Gas divorce?
Over the last decade Ukraine and Russia have both been trying to sever their complicated gas relationship. Moscow has been building a maze of pipelines to circumvent Ukraine to deliver gas to Europe, and Ukraine has been wooing foreign companies in joint ventures in shale and offshore reserves.

However, after Naftogas, Ukraine's state-owned oil and gas company, said it was cutting ties with Gazprom, Yanukovich contradicted that statement saying he "hoped for a compromise" with Moscow.

Since 2010 Kiev has gradually reduced the volume of purchases of gas from Russia, compensating the deficit with supplies from Poland, Hungary and Germany. In 2013 Naftogaz has purchased about 11 billion cubic meters of Russian gas while in 2010 this figure stood at 40 billion cubic meters.
Debt and downgrades
Ukraine's depreciating currency reserves and massive deficit have brought it close to economic collapse.

The at-risk currency has prompted the big three rating agencies to downgrade their outlook on Ukraine. Fitch downgraded Ukraine's long-term foreign local currency issuer default rating to 'B-' from 'B' following S&P's downgrade of its debt rating  to 'B-' - the same junk level as Greece and Cyprus. Moody's cut its rating to Caa1 from B3 in September putting them at "very high default risk."

Ukraine's government reserves are so depleted they may no longer be able to keep national energy company Naftogaz afloat, and may be forced to privatize it. Such a proposal was drafted in April, but still has not been voted on in the Ukrainian parliament amid controversy.

Meanwhile, Ukraine remains deep in the debt hole of the International Monetary Fund (IMF), and the uneasy negotiations on unfreezing the latest loan are ongoing. The 2010-agreed $15.5 billion loan was frozen after Ukraine received about $3 billion as the IMF said the government did not meet the fund's demands.

Kiev still had to pay back its earlier debts, however, transferring some $3.74 billion to the IMF in 2012. In 2013 the IMF expects an even larger payback – about $5.8 billion.

This week, Kiev received the fund's latest demands, which included drastically increasing the gas bills of Ukrainians while freezing salaries at the current level and doing additional budget cuts. The Ukrainian Prime Minister Nikolay Azarov has called the move "the last straw" in EU talks, saying that the European block has ignored Kiev's calls for help to negotiate new IMF credit.

You can share this story on social media: