Ukraine U-turn: Gazprom kicks off Bulgarian part of South Stream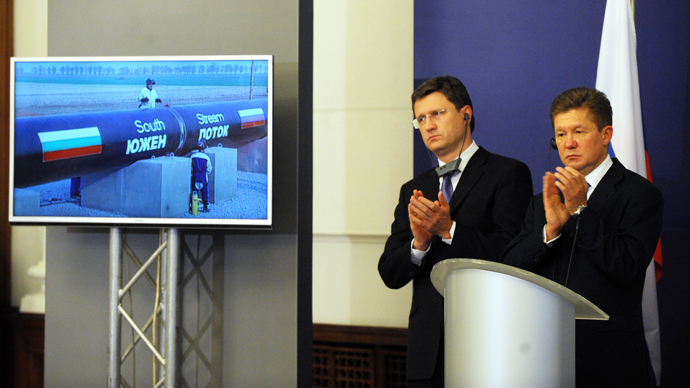 Gazprom, Russia's state-owned natural gas giant has broken ground on the €3.5 billion Bulgarian onshore section of the South Stream pipeline. Disputes between Moscow and Kiev are resurfacing and Russia wants to speedily complete the pipeline.
In return, Gazprom CEO and Chairman Aleksey Miller promised customers would get discounts on the gas supplies that travel through Bulgarian territory. Miller also said other local energy suppliers will have access to the South Stream system, a condition the company has never before agreed to.

Bulgarian Energy Holding, a state-owned group, will borrow 620 million euros from Gazprom at an annual interest rate of 4.25 percent over 22 years, Economy and Energy Minister Dragomir Stoynev said at Thursday's briefing in Sofia.The agreed interest rate is almost half the before discussed 8 percent.

A big portion of the work will be done by Bulgarian companies, and Stoynev expects the project to yield revenues of $3.1 billion between 2013-2014. The only collateral on the loans will be dividends Gazprom receives from transporting gas through Bulgaria.

Gapzrom has agreed to fully compensate for any leftover unused material post-construction, Stoynev said.
Even though Sofia was among the first countries to sign an intergovernmental agreement in 2008, negotiations over the 540km-long part of the pipeline were the most difficult for Gazprom, Kommersant reports.
As gas disputes between Gazprom and Kiev's Naftogas intensify, the importance of the South Stream project as a bypass to the traditional route through Ukraine is increasing.

"With the South Stream transit risks are gone forever," said Gazprom CEO Aleksey Miller. Transit through Ukraine stood at 61 billion cubic meters in the first nine months of 2013, while in FY 2012 the figure was at 84.2 billion cubic meters.

The South Stream pipeline will stretch 2400 km and by 2019 could have a 64 billion cubic meter annual capacity, delivering natural gas to Bulgaria, Serbia, Hungary, Slovenia, and Austria and Italy in one direction and Croatia, Macedonia, Greece and Turkey in a second.
The undersea portion that runs the Black Sea will be able to transport 15.8 billion cubic meters of Russian gas to Eastern Europe.
Gazprom pumps 17.8 billion cubic meters of gas annually to Bulgaria through Ukraine and Romania, Bloomberg News reports. Bulgaria spends as much as 1.4 billion euros annually on gas imports
Most recently, Gazprom demanded Ukraine urgently pay a $1 billion overdue gas bill, raising fears of a new "gas war".
Pricing disputes over advance payments in have caused major supply disruptions, both in 2006 and 2009, when Russia shut off gas to Ukraine, leaving many customers without heat.

The first effort to circumvent Ukraine was the Nord Stream project, which connects Russia and Germany under the Baltic Sea. It is estimated to have cost $7.4 billion and opened in November 2011.

You can share this story on social media: