Nazism: UN condemns while Estonia celebrates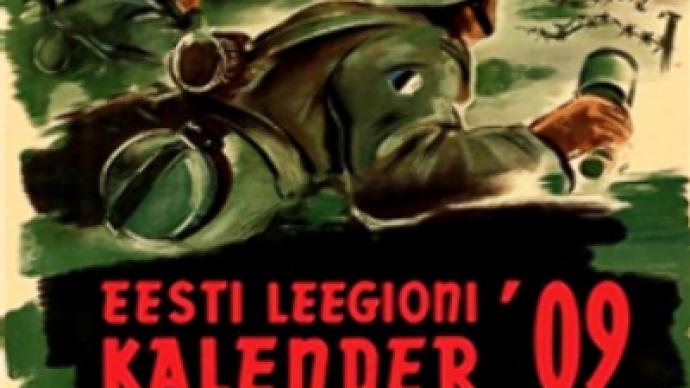 The UN General Assembly's Third Committee has adopted a resolution proposed by Russia on tackling the glorification of Nazism and the desecration of WWII monuments. Meanwhile a 2008-2009 calendar published in Estonia can easily be considered the glorifyin
As George Orwell once noted, 'who controls the present controls the past'.
It looks like those, who control 'the present' in certain counties don't mind at all to rewrite the past in favor of Nazism.
This is something that hardly goes in line with the United Nations principles. This was stressed once more when the General Assembly's Third Committee (on social and humanitarian issues) voted in favour of the Russian-proposed resolution on "combating racism, racial discrimination, xenophobia and related intolerance."
Resolution to be adopted by the General Assembly
Since the early 2000s governmental bodies of Russia have called to investigate what they call 'a glorification of fascism' in Estonia and discrimination against the Russian-speaking minority in the country, which has negatively affected the relations between the countries.
Addressing the committee members, Russian representative to the UN Grigory Lukyantsev drew attention to the fact that "monuments to Nazis are opened in solemn ceremonies in certain states, and the dates of liberation from fascism are announced as days of mourning there," and those who opposed consigning to oblivion soldiers who fought against Nazis during WW2 are arrested.
The resolution was adopted with 122 countries voting in favor, while 54 delegations abstained, including Ukraine, Estonia and Latvia.
The U.S., whose number of causalities in WWII was 40 times less then those of the Soviet Union (0.4 million against 23.1 million) was the only country to vote against the resolution.
Now, having been adopted by the Third Committee, the document is practically guaranteed to be adopted by the UN General Assembly at its next session in December.
'SS' logos retouched
Meanwhile a 2008-2009 calendar published in Estonia is bound to spawn another round of Russo-Estonian controversies both on the international level and within the country.
It features a dozen retouched posters that in 1940s calling fellow Estonians to support the 20th (1st Estonian) Waffen Grenadier Division of the SS.
The calendar, which hit the stands in September, features slogans like 'The pride of the Estonian people – the Estonian legionary', 'Every real Estonian has to be in the legion' etc.
The project's supervisor Aimur Kruuse believes the calendar just reflects Estonian history.
Police commissioner Andres Kahar, quoted by Postimees daily, believes the calendar does not violate Estonian law, despite the fact that it prohibits the usage of both Soviet and Nazi symbols as they were two occupational regimes.
Though the 'SS' logos were carefully retouched from the posters, the Nazi uniform is still easily recognizable. Whether a uniform can be considered a symbol will probably have to be decided in court.
Ruben Zarbabyan, RT


You can share this story on social media: