Miami Vice: Runaway millionaire, murder suspect McAfee returns to US
Published time: 13 Dec, 2012 08:50
Edited time: 13 Dec, 2012 12:50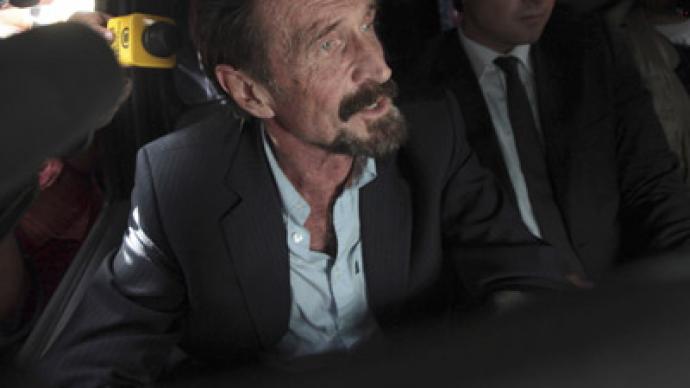 Runaway anti-virus magnate John McAfee has returned to the US after being extradited from Guatemala, where he was hiding from Belize authorities who want him for questioning over a murder case.
McAfee arrived in Miami, Florida on an American Airlines commercial jet on Wednesday evening. Passengers onboard the flight say the extravagant millionaire was escorted to the plane by security officers prior to takeoff.
"They asked us to please stay seated and said, 'Mr. John McAfee, come to the front,' and he did," said one of the passengers adding that he did not seem stressed.
McAfee has opted to present his trip to the US as voluntary. "I'm free. I'm going to America," he said before boarding the plane.
US authorities did not issue an immediate comment on whether the fugitive software magnate is to be detained and questioned in the US, but  said there was no active arrest warrant that would justify taking McAfee into custody.
Shortly after his arrival, McAfee wrote on his website that he was at a hotel in Miami waiting for his girlfriend to call. The 20-year-old Belizean Samantha Vanegas did not travel with McAfee to Miami, but is expected to come later.
Arriving in Guatemala in early December, McAfee asked for political asylum after several weeks of hiding in neighboring Belize, where he is wanted for questioning over the murder of American expatriate Gregory Faull.
The millionaire denied his involvement in the crime, but did not turn himself in to Belizean authorities citing concerns for his personal safety.